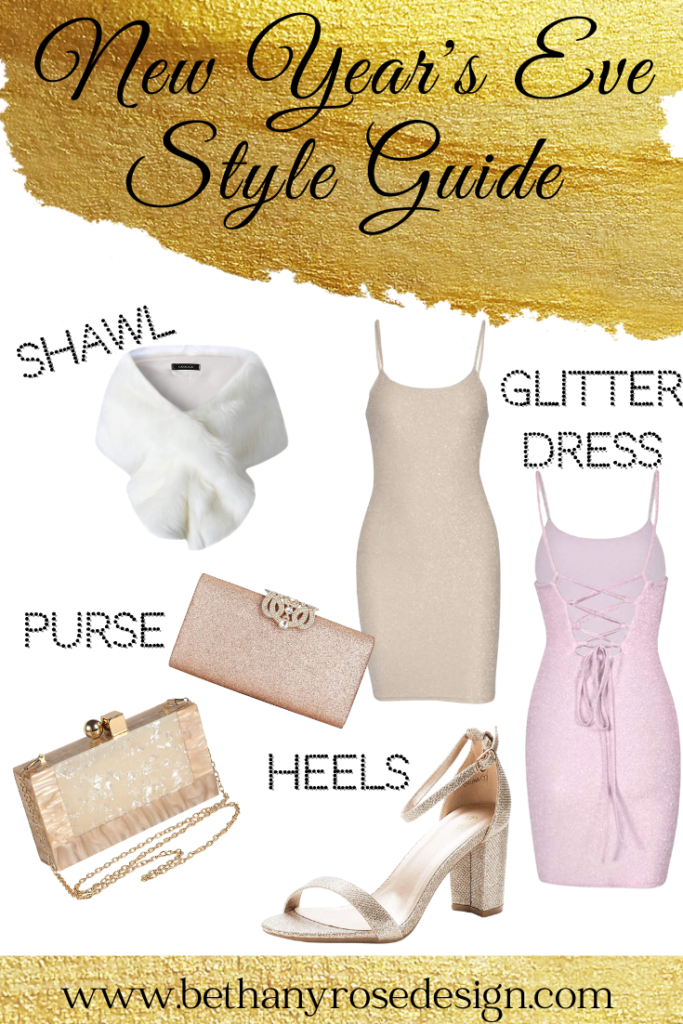 This New Year's Eve may be different once again from our 2019 NYE; however, we can still party in style! Whether you're going out or staying in with family and friends, this outfit is sure to put you in a positive mood.
If you choose to spend the night in your pj's, that is totally okay too! I love getting glammed up for a bit and then changing once I'm ready to be comfy 🙂
This glitter dress can be found on Amazon and is so cute! I love the variety of colors available for the dress – particularly the nude and the pink. And look at the back of that dress!! (Any fun dress in your closet will do though!)
The dress is a bit revealing, so if it is chillier then this shawl would be so fun and cute. It adds an extra level of glam while keeping you cozy!
The heels shown in the photo above would be perfect with this outfit. Chunky heels with a slinky dress and posh shawl? Sign me up!
Finally, a nice clutch is essential for completing your outfit and keeping your belongings safe.
These two clutches vary in style but I love both! The first clutch is acrylic with a marble pattern. I love how it looks, plus it has great reviews.
The other clutch option for this outfit is a glittery faux leather purse which would look perfect with a variety of outfits.
Like I said, I'll probably dress up a bit and then go straight into my pajamas! haha Let me know what you plan on doing this NYE ✨??
---
Happy New Year!!
Thanks for reading! ?

xo,

---
Follow my accounts below for more content!