**As an Amazon Associate I earn from qualifying purchases. This post contains affiliate links. I may receive a small commission if you purchase through the links below, at no additional cost to you!**
Coffee Bar Essentials… If you're a coffee drinker (and lover) like me, then you've probably dreamt of having an at home coffee bar!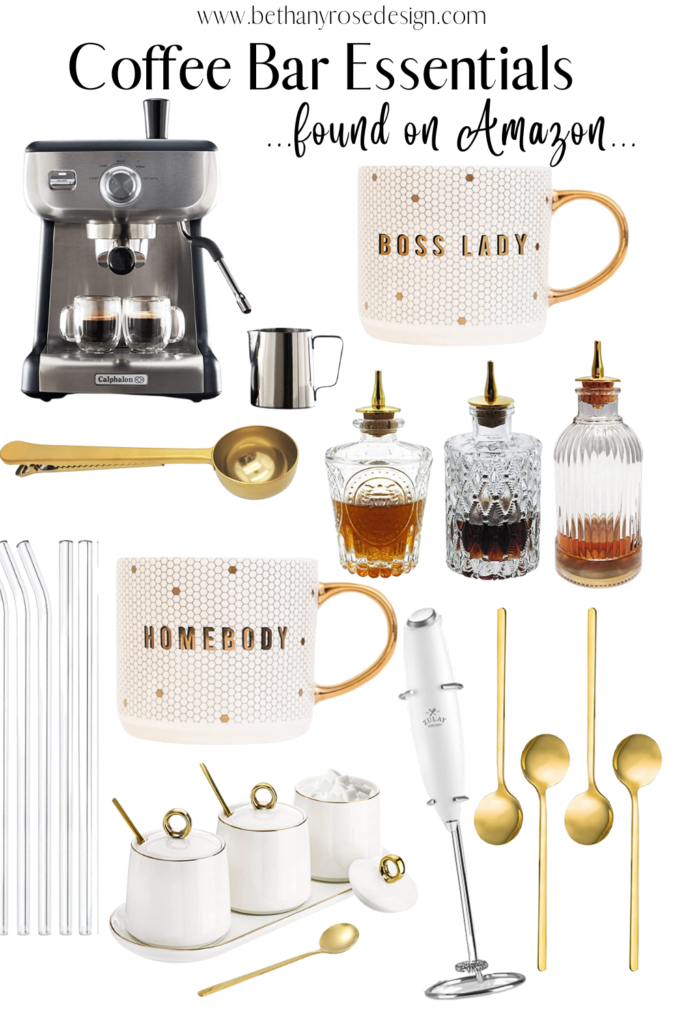 I am obsessed with our coffee bar, to say the least. This is one of my favorite spots in our home as I can brew myself a cup of coffee or a nice latte and take a minute to chill. As one of my favorite spots, I wanted to share some necessities if you are planning to decorate your own coffee bar! Some of these items I have, and some I have been eyeing for a while now 🙂
---
An Espresso or Coffee machine is one of the first essentials to purchase for your little coffee bar. Tim and I started out with a regular coffee maker, and slowly upgraded to our Calphalon Espresso Machine. We're so fortunate to have received our espresso machine as a wedding gift. This machine allows you to steam milk, brew 1 or 2 shots of espresso, and provides tools to steam your milk and to tamp your coffee grounds!
If you're looking to froth your milk or cream, this Frother is inexpensive and comes in a variety of colors!
Next up is a nice coffee cup to enjoy your coffee in! Personally, I am loving these Bistro Style Mugs. I may or may not relate to the "Homebody" mug with a "Boss Lady" attitude, haha
These Gold Spoons would be the perfect addition to any coffee bar! A useful accessory, and so cute in a glass mason jar or lying on a dish. Similarly, Gold Coffee Scoop and Bag Clip is also extremely useful! Easy to store and use, while glamming up your coffee station 🙂
Vintage looking cut-glass syrup bottles, also known as the Bitters Bottle Set, can add a glam look to your coffee bar as well. Add your favorite syrups and enjoy! Tip: Add a small label to the bottom of each dispenser with the syrup name – that way you won't forget.
The Trio Porcelain Jars allow for easy access to sugar, artificial sweeteners, raw sugar, etc. Feel free to add your faves into this gorgeous set!
Lastly, I love using Glass Straws for my iced lattes. This 8-Pack has 4 straight straws, as well as 4 bent straws. Tim and I use these in our kitchen and love them!
---
Here is a peek at our coffee bar!
---
Thanks for reading!


---
Don't forget to follow my accounts for more content!