Tim and I got engaged in June of 2020 (read about our proposal story here ♥️). We decided to have our engagement party in October! Of course Covid-19 made things a little more difficult but it was completely perfect to me.
---
When deciding how to hold our engagement party, we knew that the best idea would be to have it outside in order to allow for social distancing. Tim and I thought over restaurant and club limitations and safety measures and asked my parents if we could hold the party in their backyard. Which they said yes!
In addition, Tim really wanted to have a bonfire at the party – so hosting on their lawn made that element quite easier as well.
I'm not really into the rustic theme; however, slowly our party turned into a floral rustic design and it turned out beautifully!
We bought our engagement cards from Zazzle and they looked very similar to this!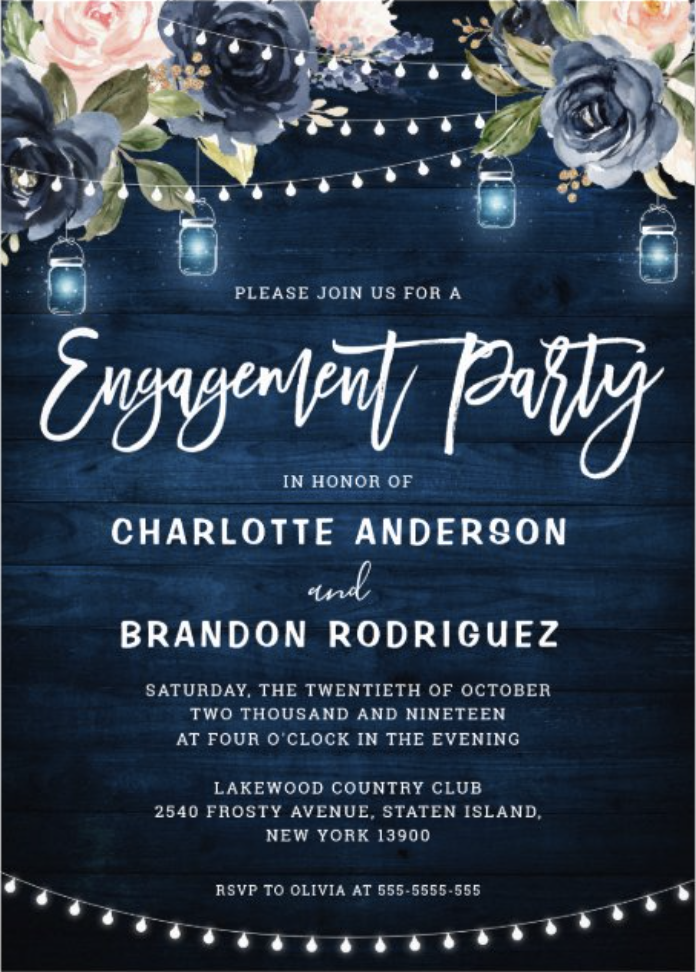 Next we chose our decor, which ended up being almost all Amazon purchases! We also found some of our lanterns, fairy lights, vases, and picture frames from Walmart.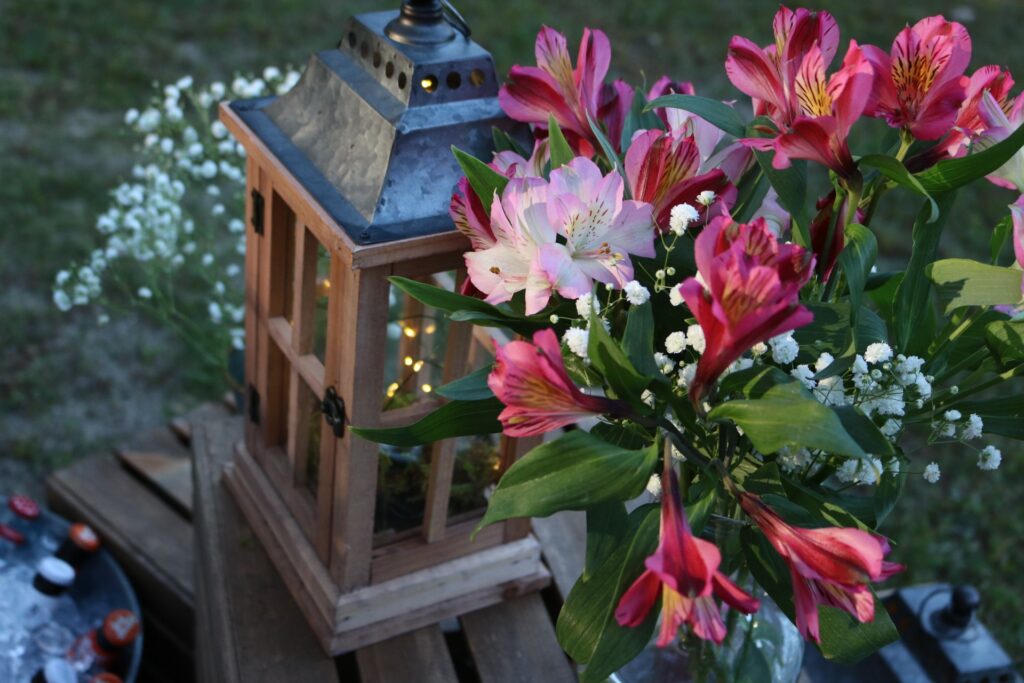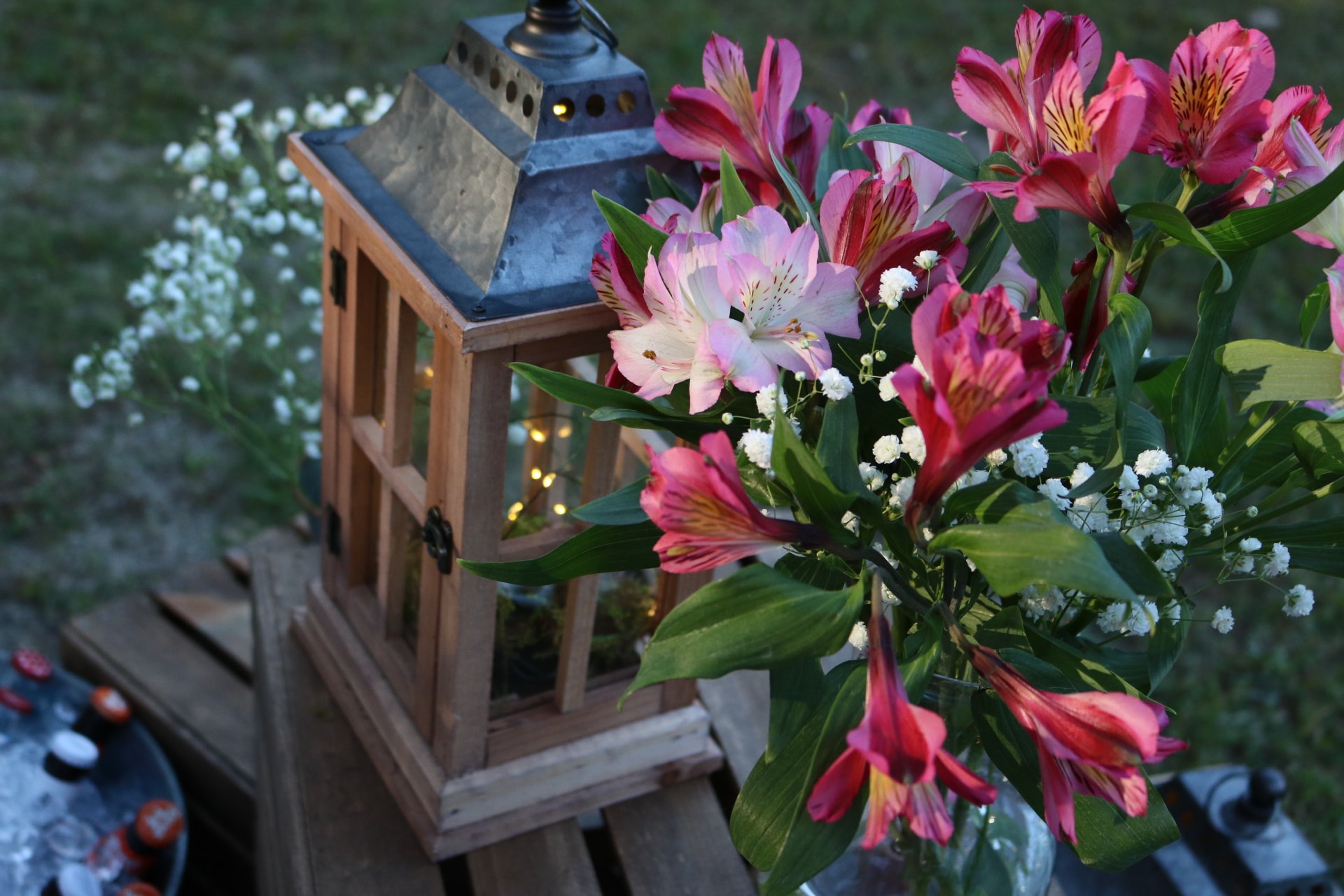 We purchased these flowers from a grocery store that morning. Simple but beautiful. I love how they turned out!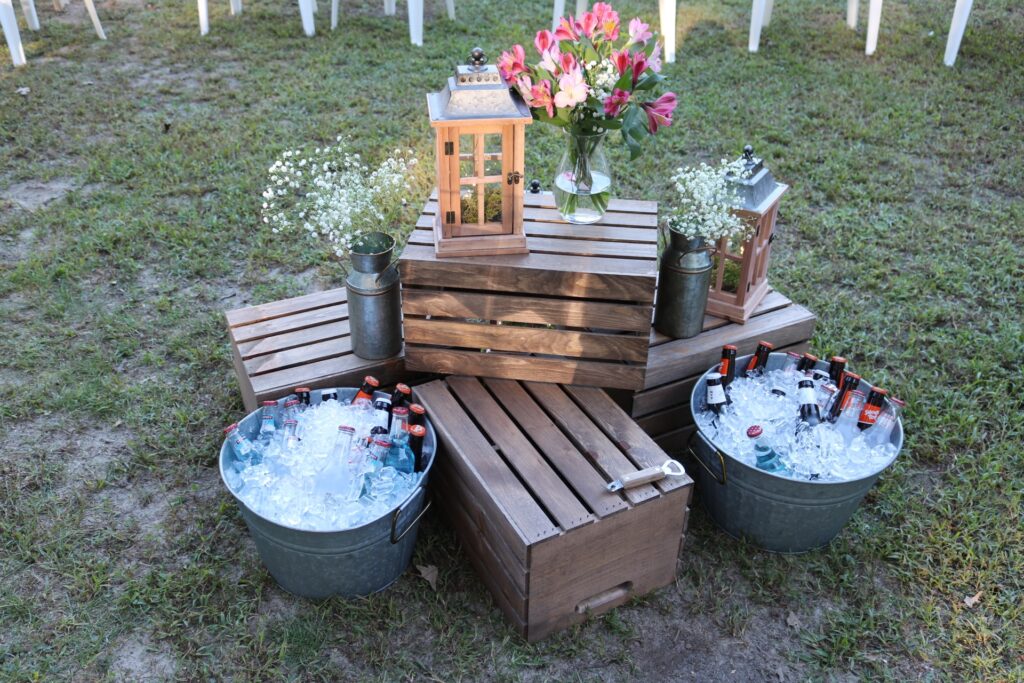 These crates were purchased from Michaels and my dad and sister ended up staining them to create a more rustic look! The stacked and propped photos were created from Pinterest inspiration.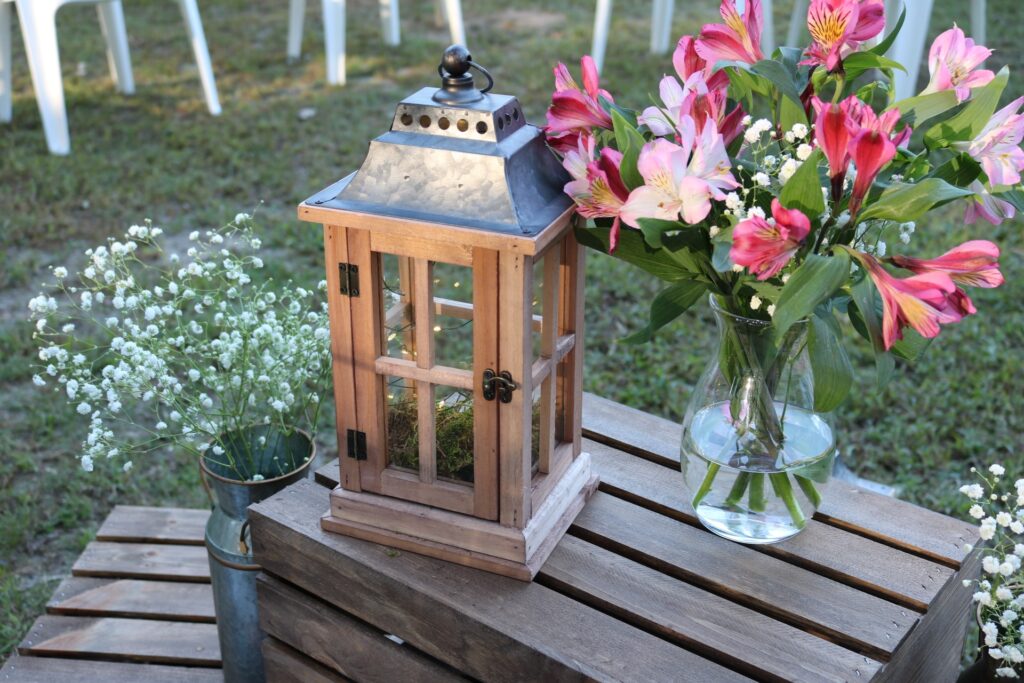 We purchased our lanterns from Walmart! My sister found fairy lights and moss at Walmart as well which looked perfect in the lanterns! All of the galvanized tins and buckets were found at Walmart as well for great prices.
For our engagement party, my dad went out of his way to make it the perfect evening. He built a nice little set up so that people could spread out, sit together, and still be safe with Covid standards. Fortunately our backyard is larger, so we were able to have a great party 🙂 He built a square setting with posts, hung lights up, and then we added cute burlap banners!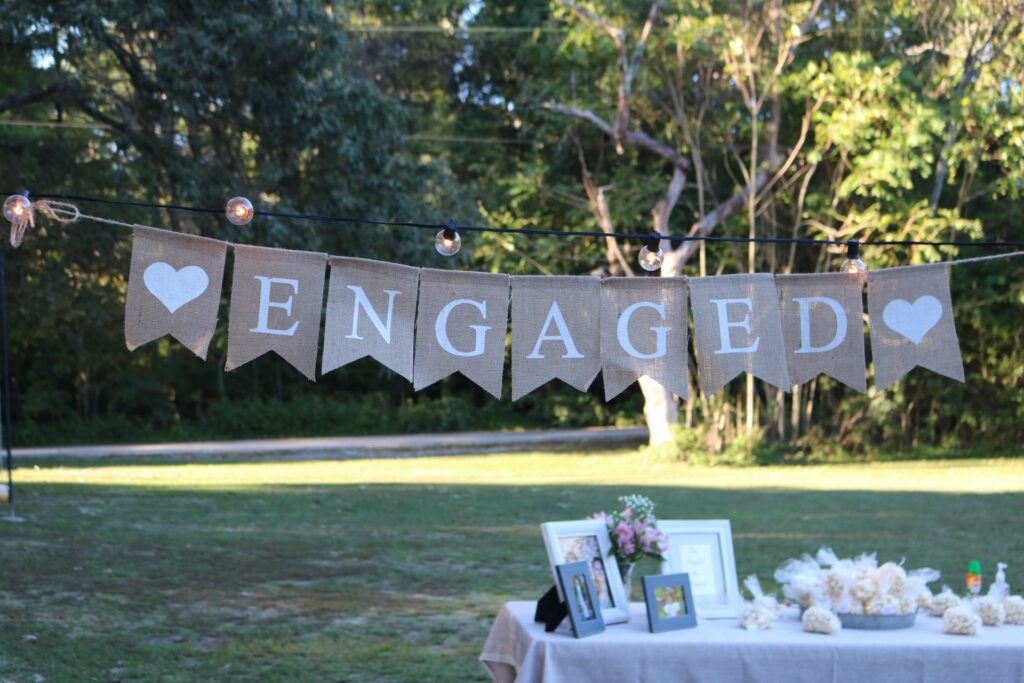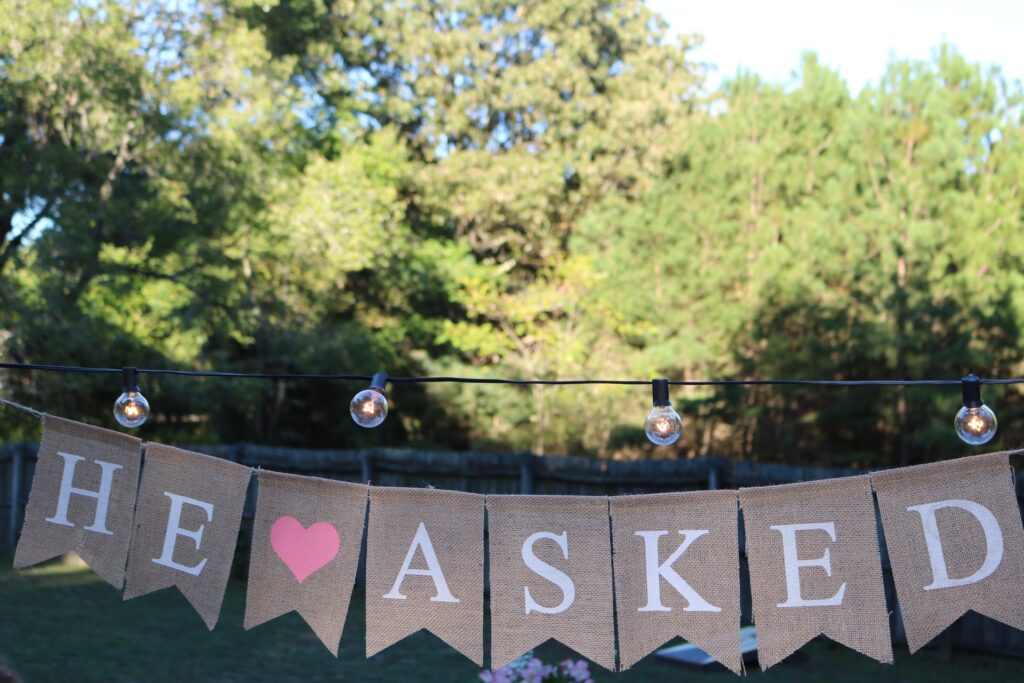 We purchased our banners from Amazon.
To add to the fun and celebrations, we added a few photos of ourselves, as well as cute sayings, as our table decor among the party food!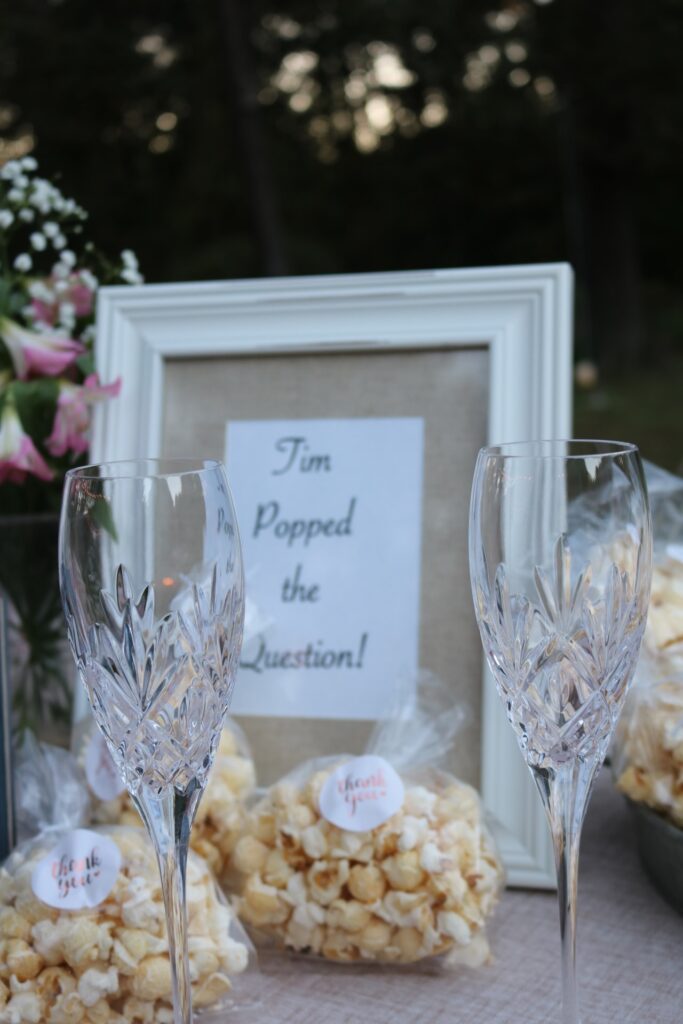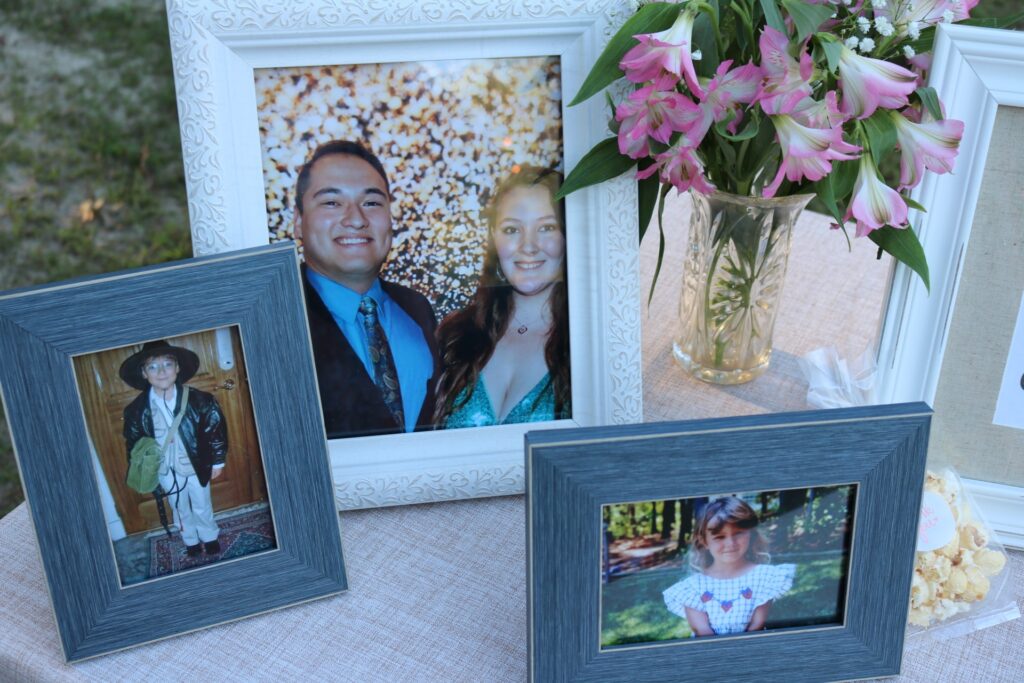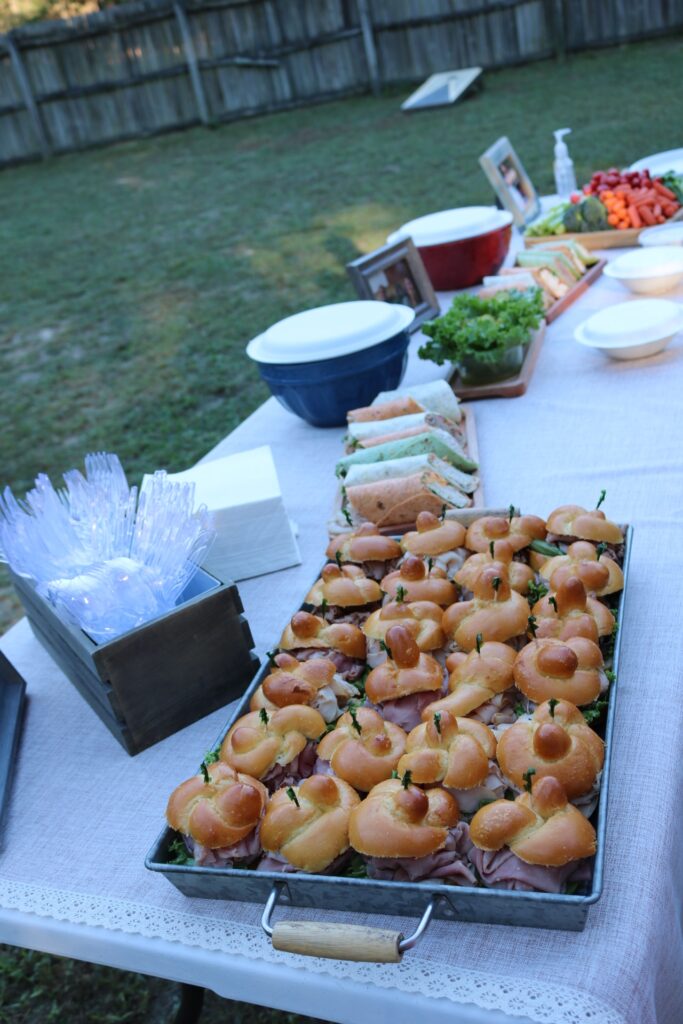 Our tablecloths were also from Amazon, which gave the look of burlap and had a nice lace trim. They are made from a polyester material, so they aren't so rough to the touch.
While looking for ideas for our engagement party, of course I had to check Pinterest out! I found variations of decor similar to this but thought it was a great idea. The tree has pictures from throughout our relationship ♥️
My dad, continuing to be amazing, wrapped lights around the tree to make the evening feel more magical ? (P.S. The lights also help people to see the photos into the evening!)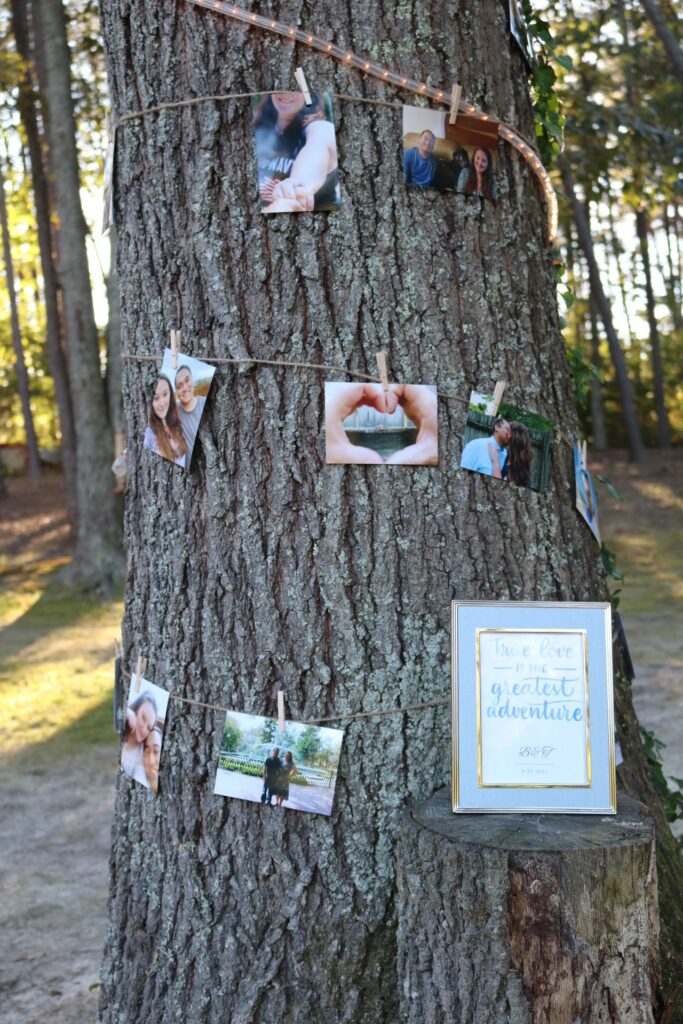 Since we decided to have a bonfire, we thought why not have a S'mores bar as well?! Tim and I were both involved in scouting, so s'mores have been a common theme throughout our lives haha. Both the crate and the tin were from Walmart. The sign was purchased from Amazon and is actually a great quality sign! Plus, this is a cute keepsake that we are able to keep in our kitchen.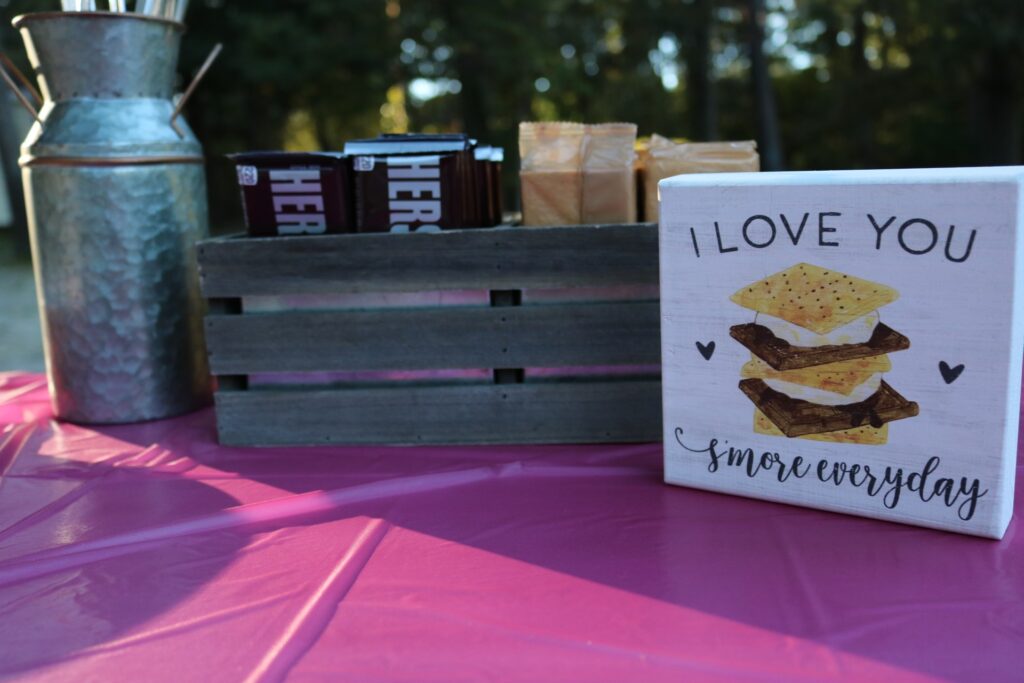 Another item I loved about our engagement party is our engagement cake! It was a beautiful blush with multi-sized pearls decorating its top and sides.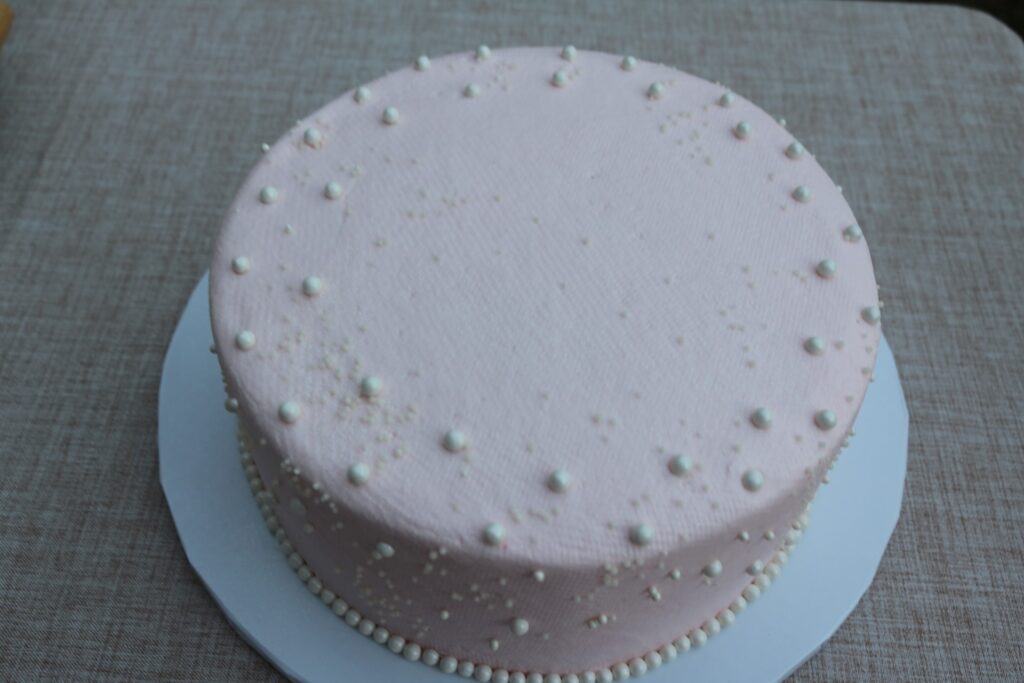 Our cake was made by a local baker in our area and it turned out beautifully and exactly what I was looking for! Our cake topper was also perfect, and again, was found on Amazon.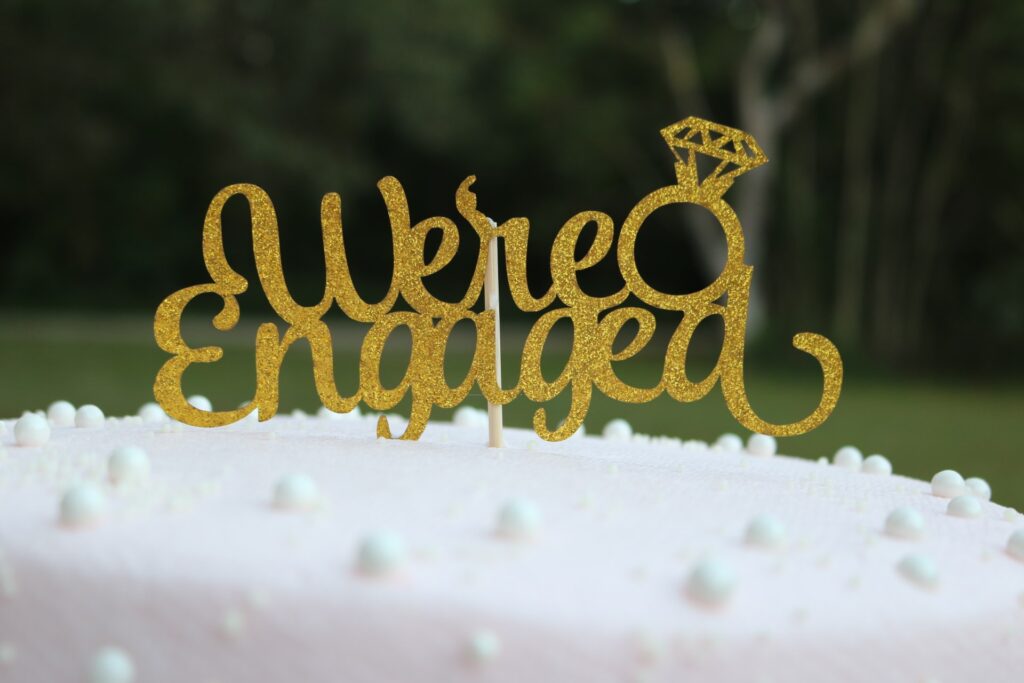 As you may have seen in the photo frame section, we thought a popcorn bar would be cute and fun! We purchased kettle corn from a local vendor in our area and bagged and stickered the favors prior to the beginning of the party. Our "Thank you" stickers are in rose gold from Amazon. They are versatile and can be used for cards and favors!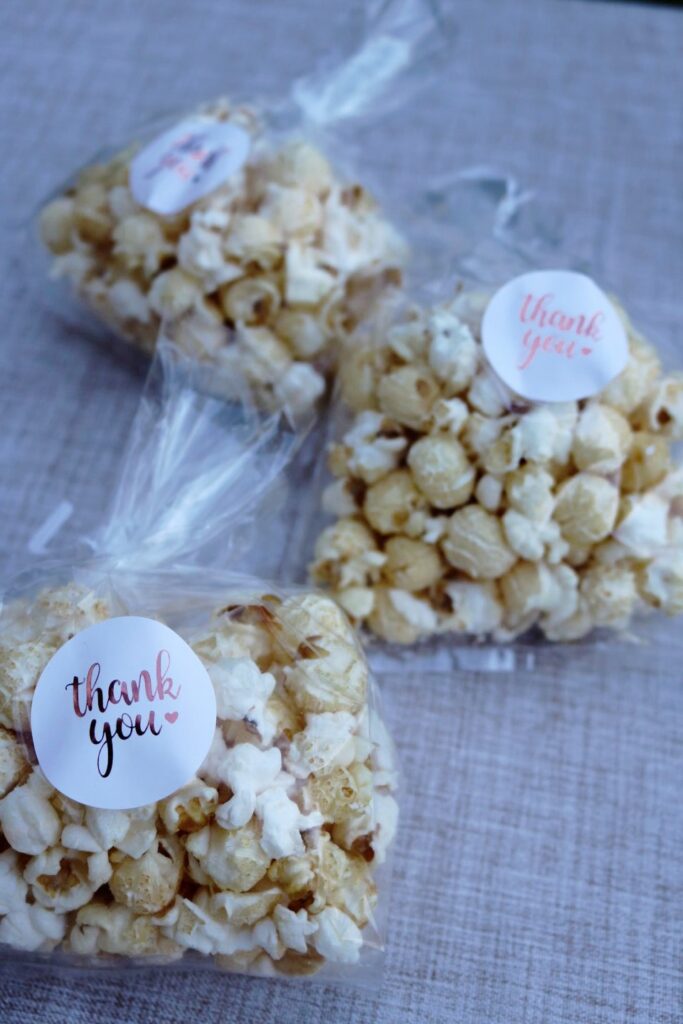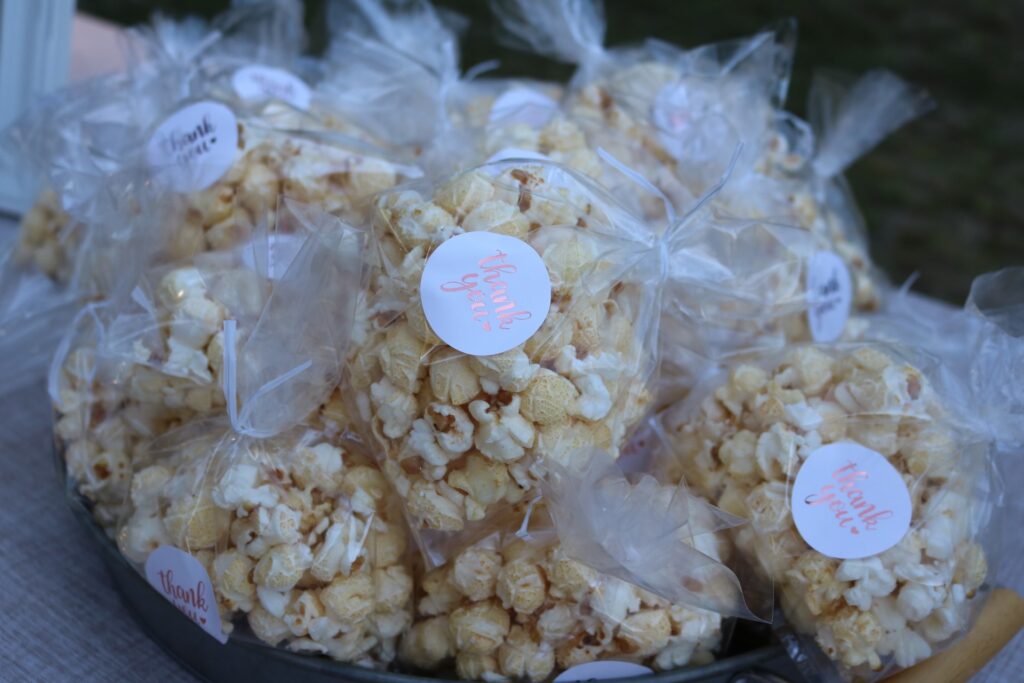 Another element of our party was a rustic and floral looking backdrop! It made for a fun photoshoot area for our guests and for ourselves. Find it here!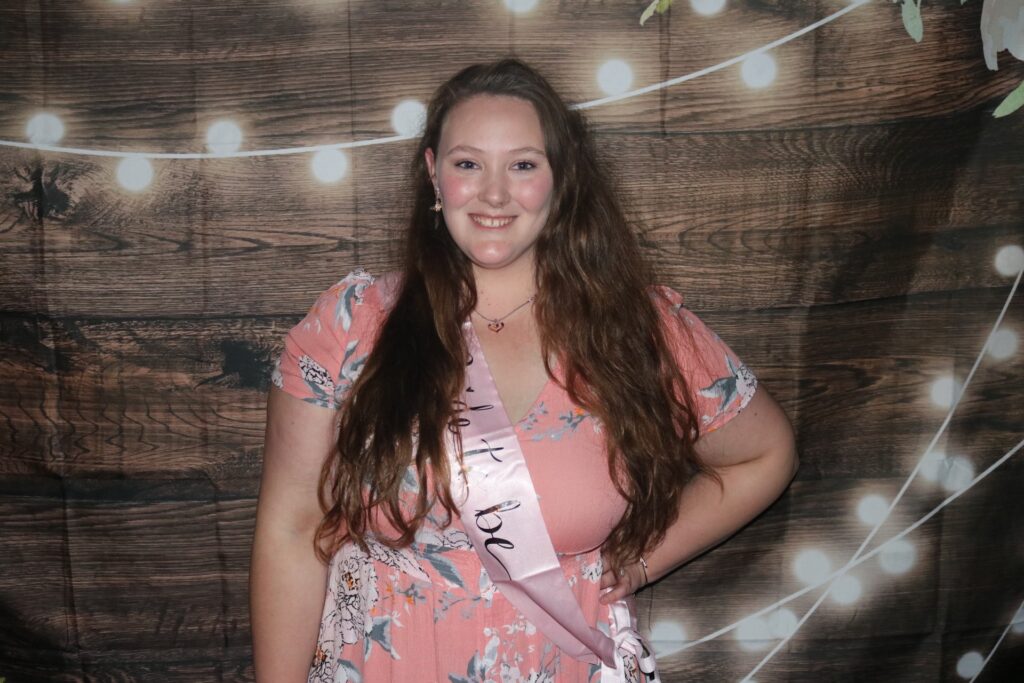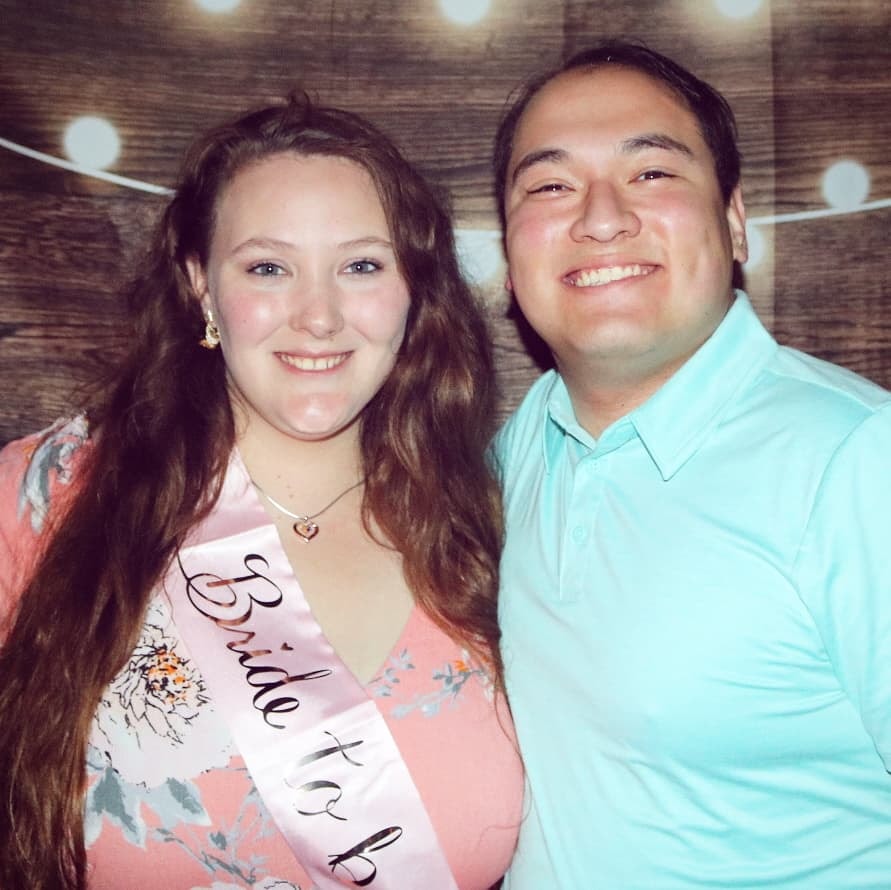 Finally, we had a drink of the night that we called the "Main Squeeze". It is a copycat of one of my favorite drinks. It's made from raspberry vodka, pink lemonade, and sprite!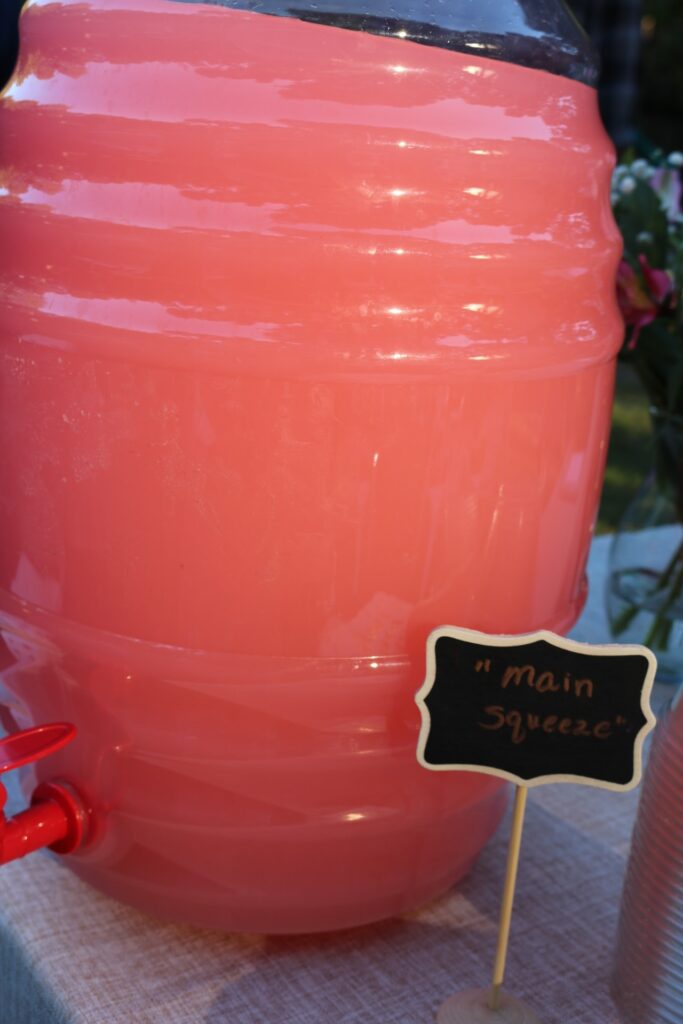 My brother and sister-in-law made cornhole boards for the party, which was a blast! And our guests had a great time sitting by the fire, enjoying the twinkling lights, and eating a lot of popcorn!
Our engagement party couldn't have been any better. Spending time with family and friends to celebrate our engagement was amazing and I'm so glad that we were able to make it happen. The party was a perfect mix of rustic and floral as well. If you have any questions about where other items are from, please leave a comment below!
Enjoy the rest of the pictures!