Christmas is right around the corner, and I can't help but skip through Halloween and Thanksgiving and just jump right into the holiday spirit!
For me, Christmas is one of the best holidays. The month of December is typically full of family events – decorating the tree, driving to see houses decorated in lights, family movies, and more.
Another fun December event is Christmas shopping for my family and friends. Every year I try to avoid shopping at the last minute, so I typically begin looking in June or July. Call me crazy, but I am who I am! Haha
This year, I thought it would be fun to share a variety of gift guides to help you all through the brainstorm struggle of finding the perfect gift. Today's gift guide has home items in the price range of $25 to $50.
---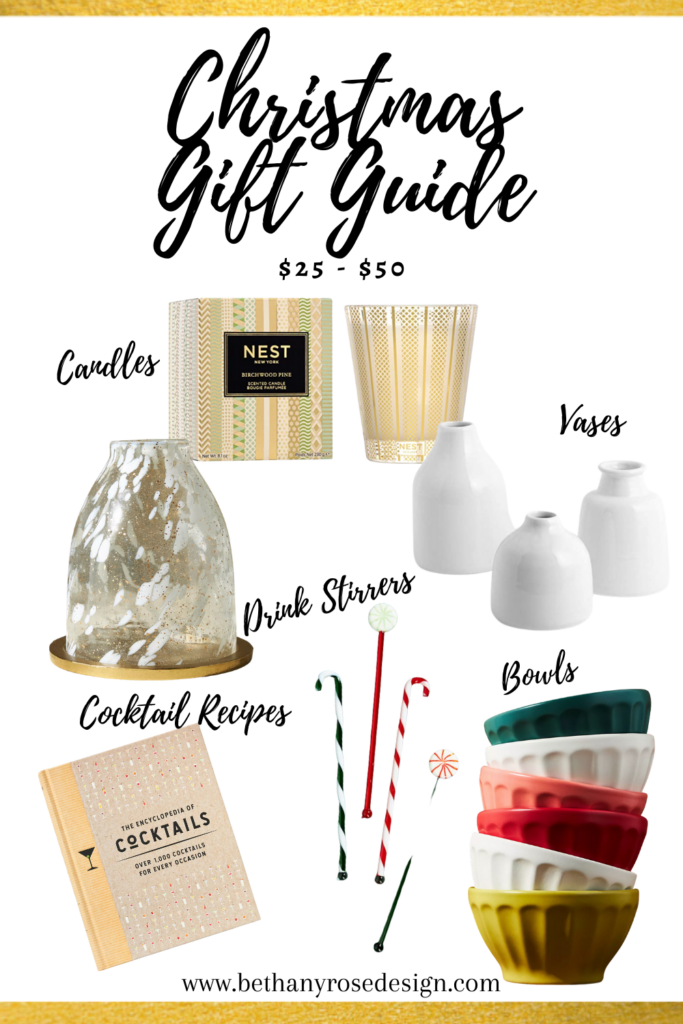 The Nest candle is a higher-end candle that would be such a nice gift to receive! Most of these gifts are something people wouldn't typically buy for themselves, but can be so nice to receive! The Swirled Glass Cloche is a fun candle accessory that would make the holidays even more cozy 🙂
In addition to these candles and cloche, a fun candle related item is this Rose Gold Candle Kit from Anthropologie. I love the ideas of these tools and think it is a unique present.
Another fun home item to gift is a vase. This can be great to gift with a floral arrangement or to wrap up! The vases shown above actually come as a three set, which I think is great to gift to a couple or possible divide into three gifts.
The Matte Latte Bowls come in a set of 6. This colored set is gorgeous and I haven't seen anything like it!
These Drink Stirrers are so fun and perfect for the holiday season. Pair this with a Cocktail Recipe Book and you'll be gifting some great holiday *spirits*. Haha, get it?
---
Let me know which present idea you'd prefer in the comments! 🙂
Thanks for reading! ?


---
Follow my accounts below for more content!