I've made this makeup wishlist with my wedding in mind! I'm trying to find products that will keep my face natural looking, will prevent black tears from running down my face, and will give me the *glowing* bridal look! We're getting married in late June, so preventing my face from being what I call "fire truck red" would be ideal, lol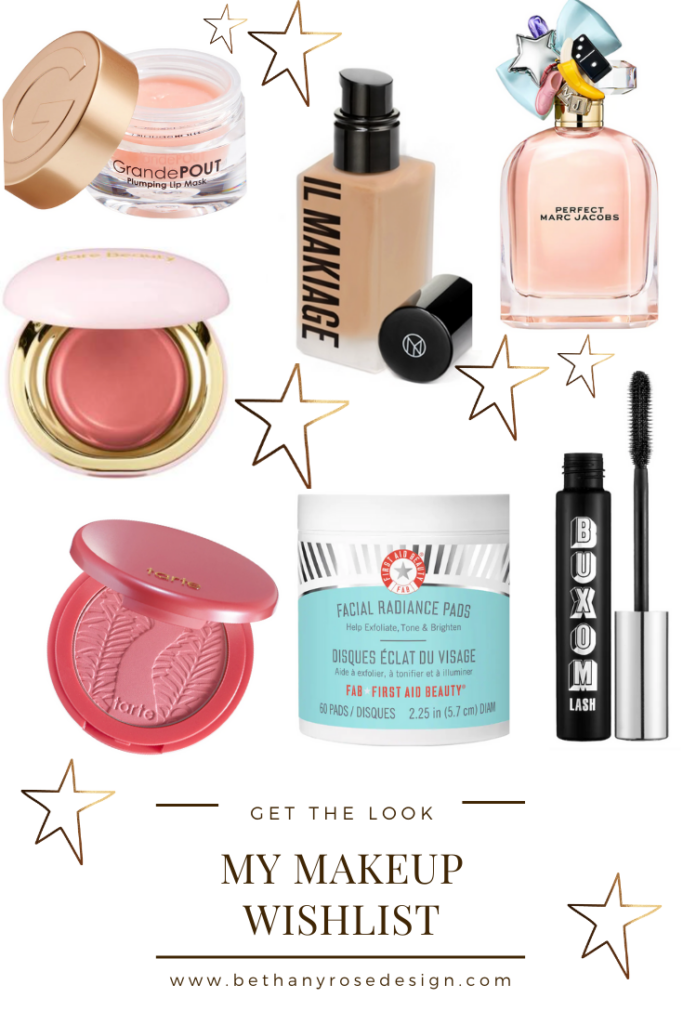 ---
GrandePOUT Plumping Lip Mask – This product is meant to plump and hydrate your lips! I would love to try out this product sooner rather than later so I can see how it looks before my wedding day is here.
IL MAKIAGE "Woke Up Like This" Flawless Base Foundation – I have been wanting to try this foundation ever since I saw ads for it. I took their quiz, and I believe I would be shade #60!
Buxom Lash Waterproof Volumizing Mascara – I already love Buxom mascara, so I think I may wear the waterproof version on my wedding day! I initially wanted to try the Too Faced "Better than Sex" waterproof mascara but the reviews weren't as great on the Sephora website.
Rare Beauty by Selena Gomez "Stay Vulnerable" Melting Cream Blush – Whether or not I wear this on my wedding day, this blush looks great!
Marc Jacobs Fragrances "Perfect" – I have yet to smell this scent yet, but just look at the bottle! I've heard that having a new perfume on your wedding day can be a wonderful idea, because everytime you smell the perfume it will remind you of your wedding day. So sweet!
First Aid Beauty Facial Radiance Pads – These pads are supposed to help tone and brighten your skin! I think this would be great to add to my skincare regimen!
Tarte Amazonian Clay 12-Hour Blush – I've already used Tarte blushes before. I love that the shades are true to their visible pigmentation. I have a coral shade already, but the shade "Dollface – light pink" would be a perfect bridal pink!
*Images are from the respective brands advertisements/ sales photos!
---
Fun Fact: I'm doing my own makeup for my wedding! Did you hire a makeup artist or did you do it yourself?
---
I hope you all enjoyed this post! If you're recently engaged, check out my Wedding Series!
Don't forget to follow my accounts for more content!