Hello lovelies,
In today's post, I wanted to share all about our wedding. My emotions, how it all went, and lovely detailed moments and reception décor photos with you!
I hope you enjoy!
**Photographer, Videographer, Venue, Florist, and more are credited below. If you have any other questions about our wedding or our décor items, let me know in the comments.**
---

To start, the night before our wedding, Tim and I had our rehearsal dinner and then celebrated my sister's birthday. You can read about our rehearsal dinner here!
After the birthday celebrations, Tim and I then exchanged our wedding gifts together. I gave him these rose gold cufflinks for him to wear on our wedding day (absolutely gorgeous, but the labeling of the box throws me off a bit haha).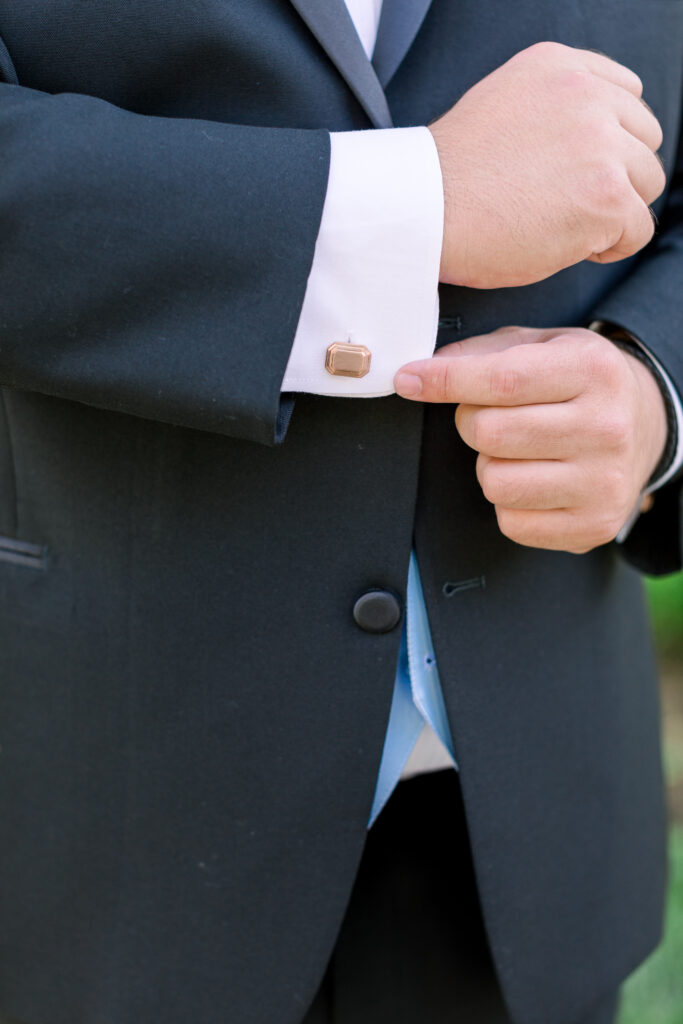 I also gave Tim a cologne for our wedding day, since I planned to wear a perfume he had given me for my birthday! He has never owned a high-end brand of cologne, so I thought this was the perfect opportunity for him to wear something nice. My allergies were terrible when I picked it out – and Tim is allergic to some colognes – so this was quite possibly a horrible gift to choose lol However, it worked out perfectly and he loved the Dolce & Gabbana Light Blue for men cologne that I gave him.
Tim gifted me a beautiful Pandora charm of a groom kissing and carrying his bride. It's my third charm on my bracelet and I love it!
After we exchanged our gifts, we said goodnight and he went home to sleep in our house while I slept in my childhood home (even in my old bedroom) 🙂 My niece's colored lights along the ceiling just made me so giddy and full of joy! Surprisingly, I slept like a baby.
---

We decided to write letters to each other and open them the next morning (off camera)- and Tim included a surprise with his letter to me!
Tim's letter clued me in to where I could find my (second) gift. I went downstairs and immediately had to open it! I called him right away and it was honestly amazing!
He made me a book all about our relationship. From our first text messages, to vacation memories, fun jokes, our engagement, and more. It made me laugh and cry. It was so amazing that I showed it off to my family and friends immediately!
---

My bridesmaids were meeting me at my parent's house around 11 a.m. to do our makeup. Earlier in the morning I scheduled a hair appointment for myself, and met up with everyone later on at the house.
It was so much fun and gave me My Big Fat Greek Wedding vibes! You know how everyone is everywhere and at the same place all at once? Yeah, it was kinda like that! haha I absolutely loved it and I'm so happy that I made these memories in my parent's kitchen.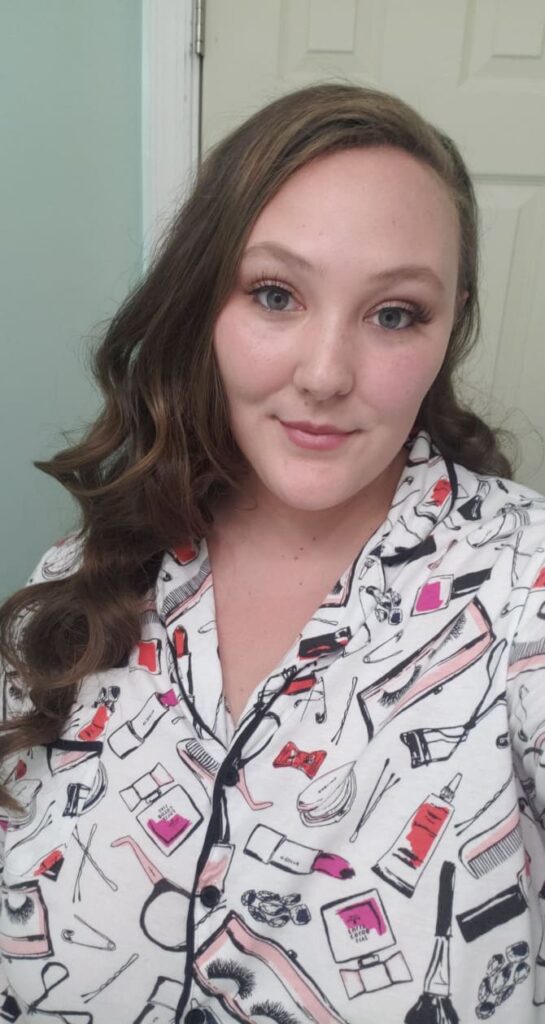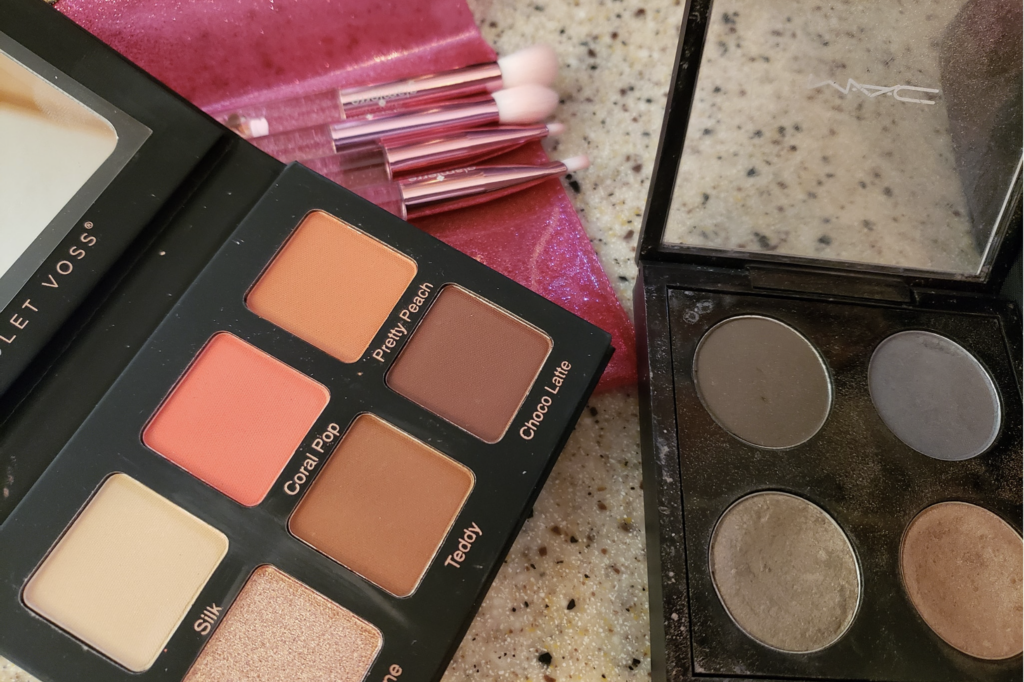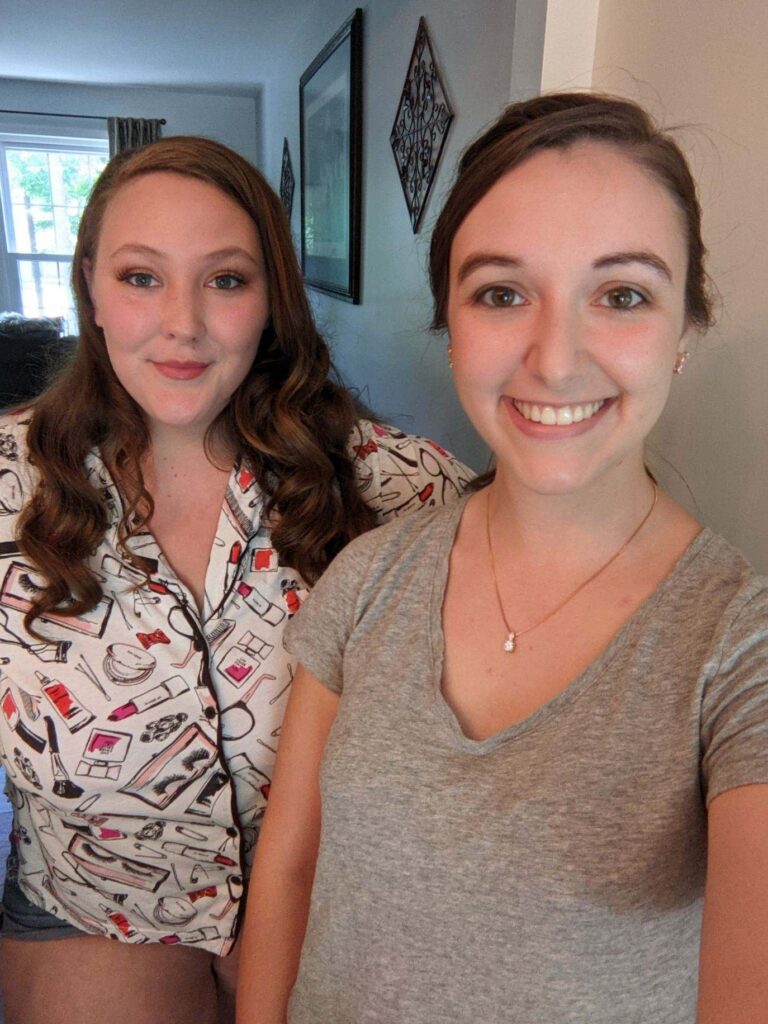 Around 1:30 it was time to pack up and hit the road because we were running just a bit behind. Cue a *little* bit of chaos as we were supposed to have the room in order when we met the videographers and photographer and instead, the videographers ended up greeting us there!
Plus there were slight complications with the front desk and they wouldn't let me check in without my license which was in another vehicle. They asked my relation to the groom… like hello, holding a wedding dress here! lol And it would have been fine; however, they let our florist into our rooms before we even arrived – so it felt a little backward to us!
Despite all of the initial "Eeks!", we finally got settled into our room and set up for our videographers and photographers to come in. I hung up my dress, set my shoes aside, grabbed my last few makeup essentials, and admired the gorgeous bouquet that my florist had made for me.
My bridal party and I started to get ready, our videographers filmed and our photographer snapped photos, and then all of a sudden it was go time!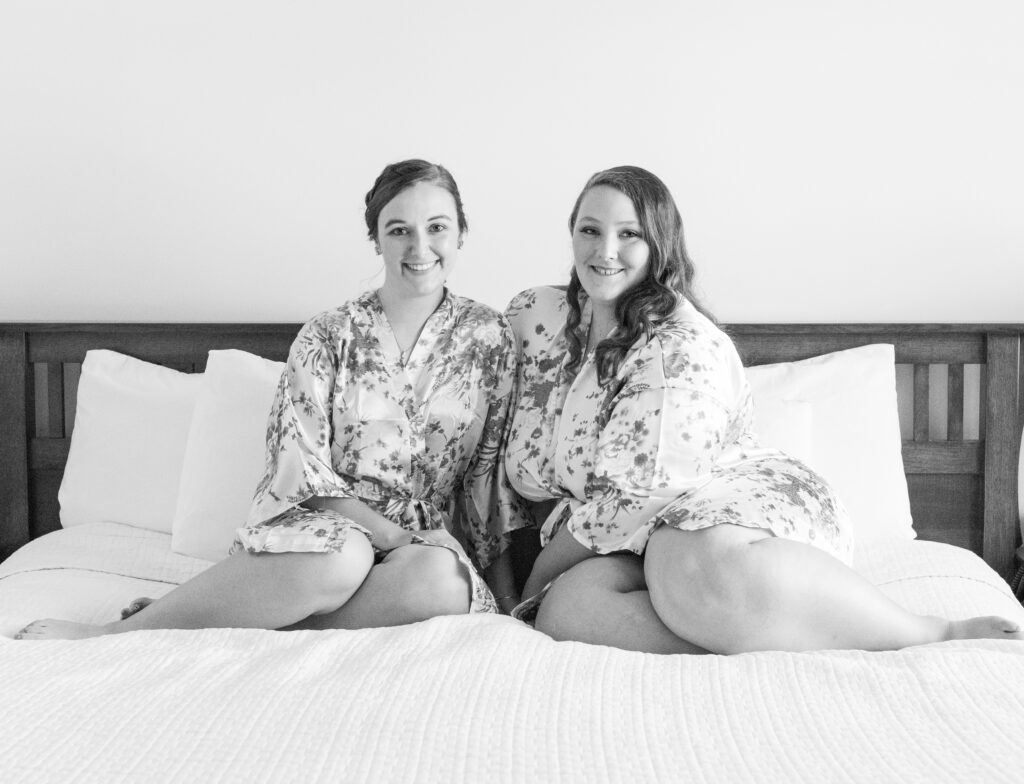 ---
Tim and I chose not to have a first look with each other; however, I decided to share one with my dad. If you're debating whether or not you should do this, do it! It's a moment that neither my dad nor I will ever forget.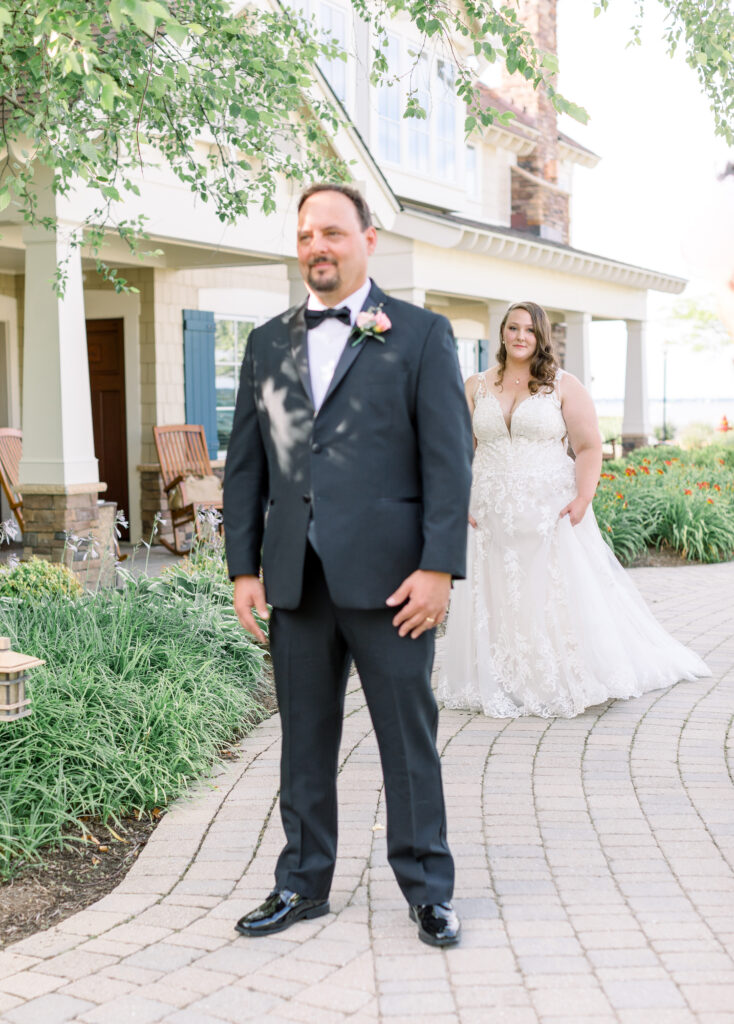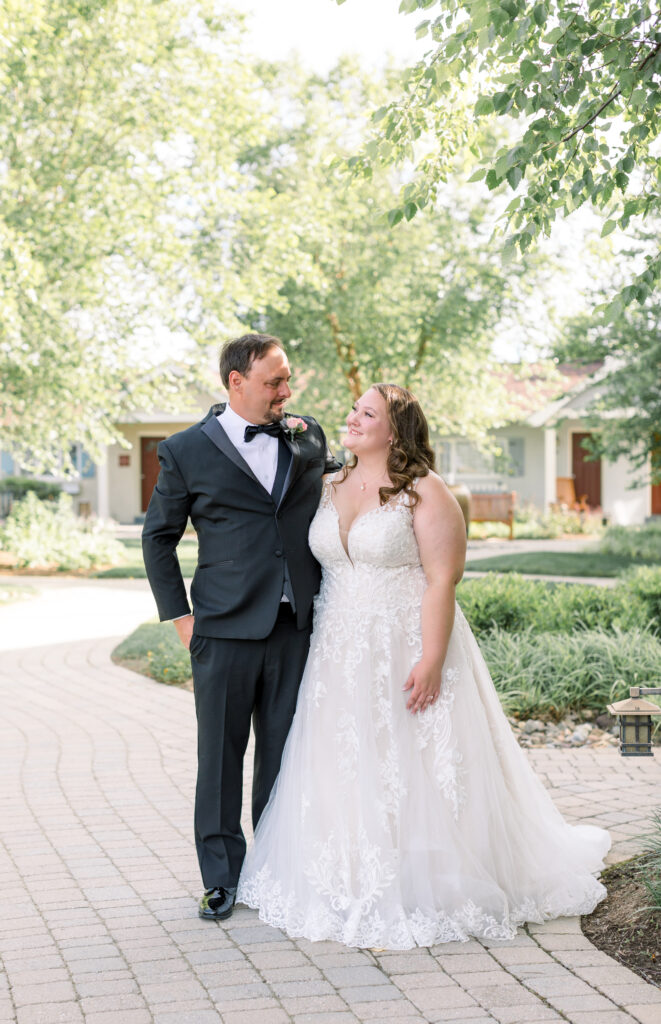 Our wedding ceremony site was a few minutes away from the inn where we got ready. My dad drove me over and all of a sudden I got so nervous. I was so full of excitement and also just nervous. I'm not sure why haha
We were hiding out and I got to see Tim walk down the aisle (which was so fun), and then it was time for my bridesmaids to walk down. Next, my gorgeous niece straightened her posture, raised her bouquet, smiled, and walked like the best flower girl there ever was!
And then… it was time for my dad and I to walk down the aisle together. Talk about emotional – I'm tearing up thinking about it.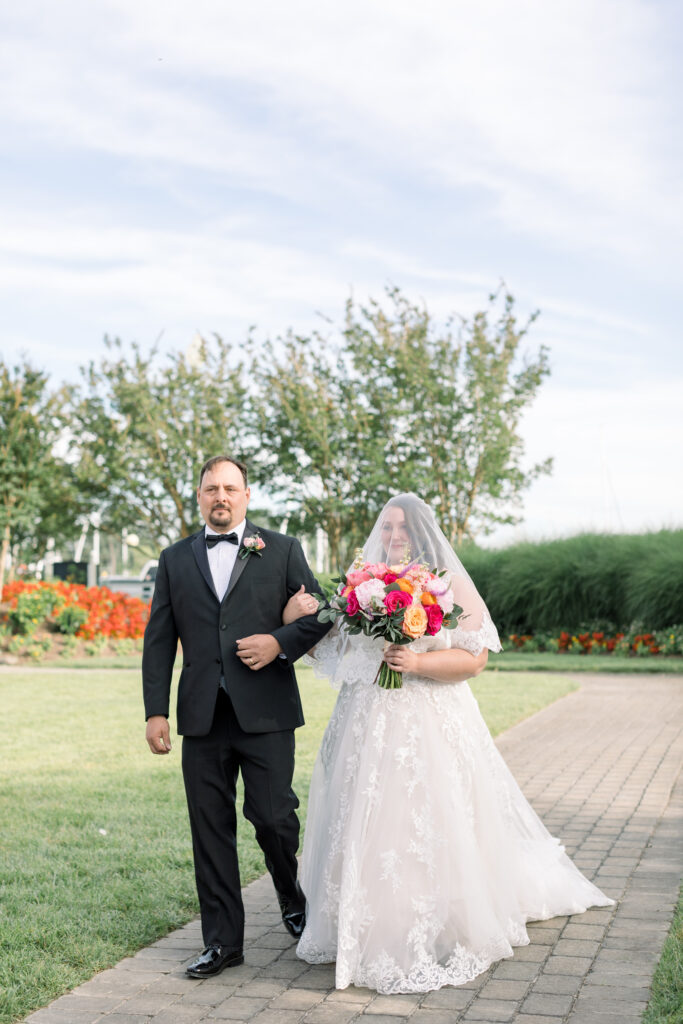 It honestly felt like a dream and I couldn't believe it was happening. The ceremony went quickly yet was amazing. I loved every moment but still felt like I was in a dream-like daze.
And just like that, we were pronounced "Mr. and Mrs.".
Tim and I shared our first kiss, and headed down the aisle together 🙂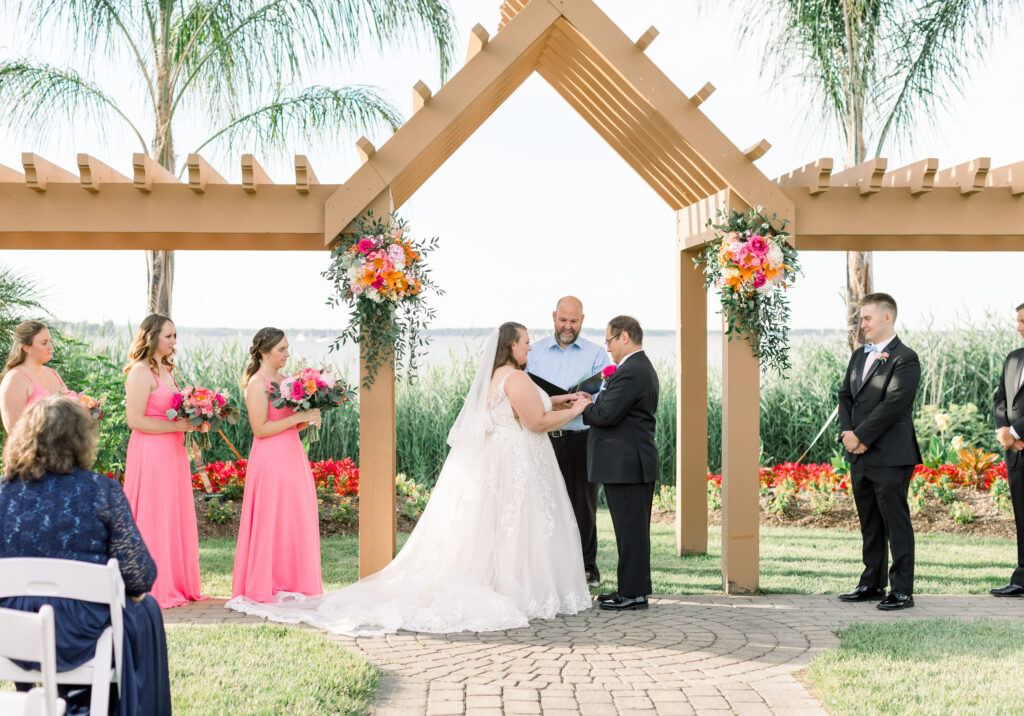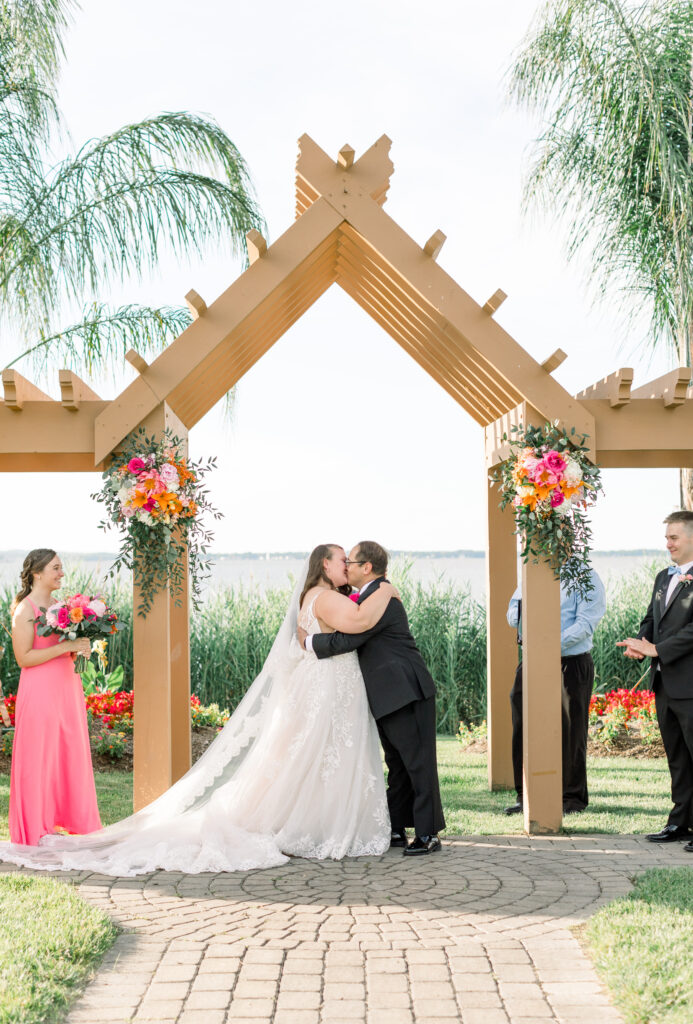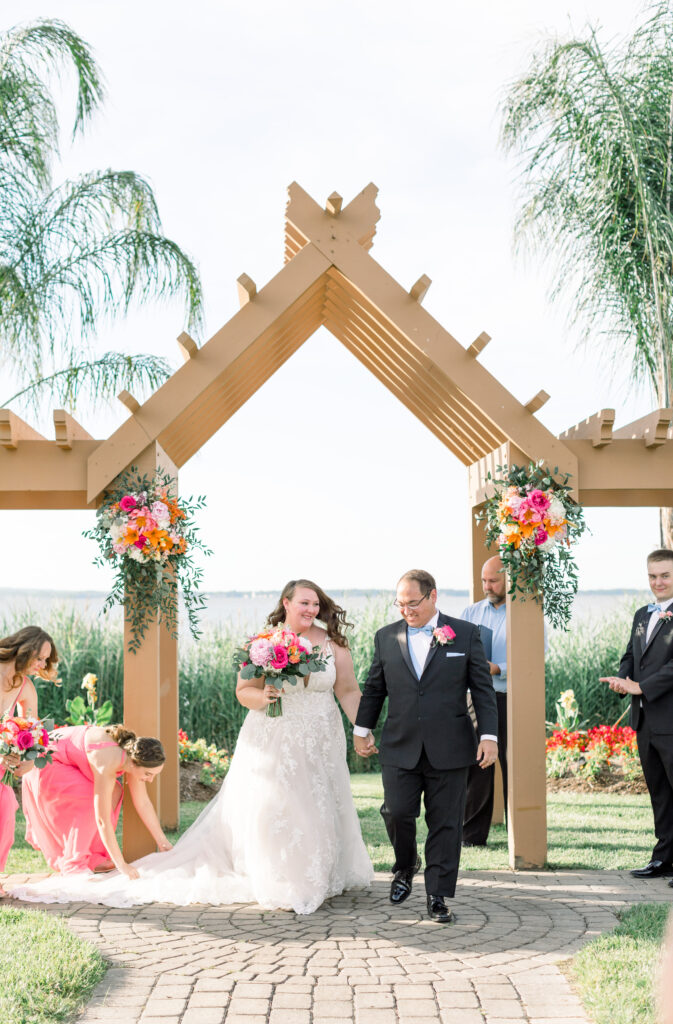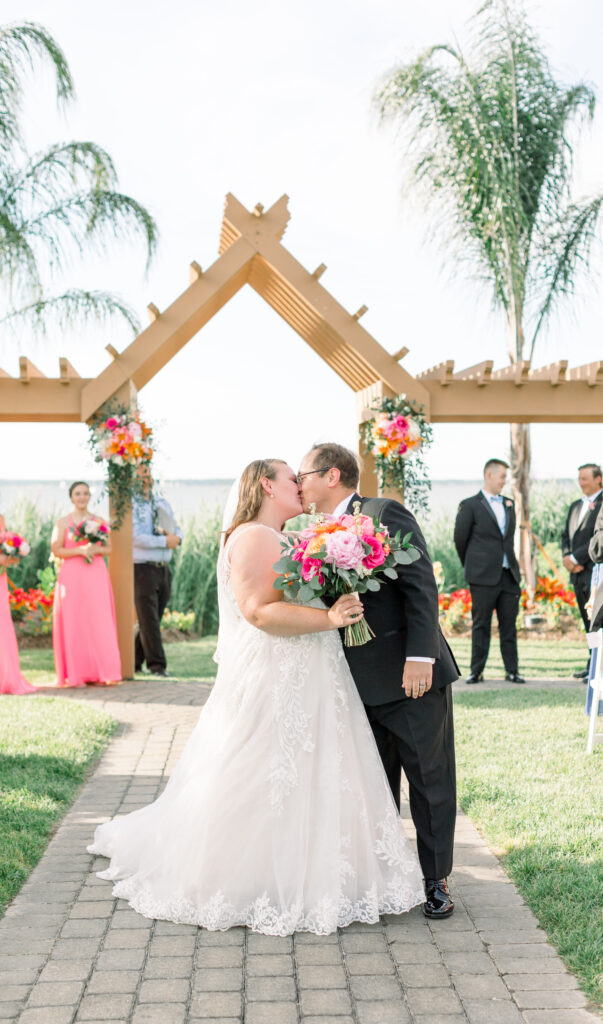 Tim and I ran down the aisle together, and circled around to the back of our ceremony sites for our portraits. Our photographer took our couple photos, bridal party photos, and our family portraits!
Meanwhile, our venue staff and event coordinator were amazing and had our drinks ready so that as bride and groom we could have our first drink together. They even brought out drinks for our bridal party while our guests enjoyed cocktail hour and the hors d'oeuvres.
Once we finished with our portraits, the bridal party and family members joined our other guests while we had more photos taken.
Tim and I went to the entrance of our venue to take photos near this gorgeous waterfall.
Here are some the beautiful photos that Holly captured!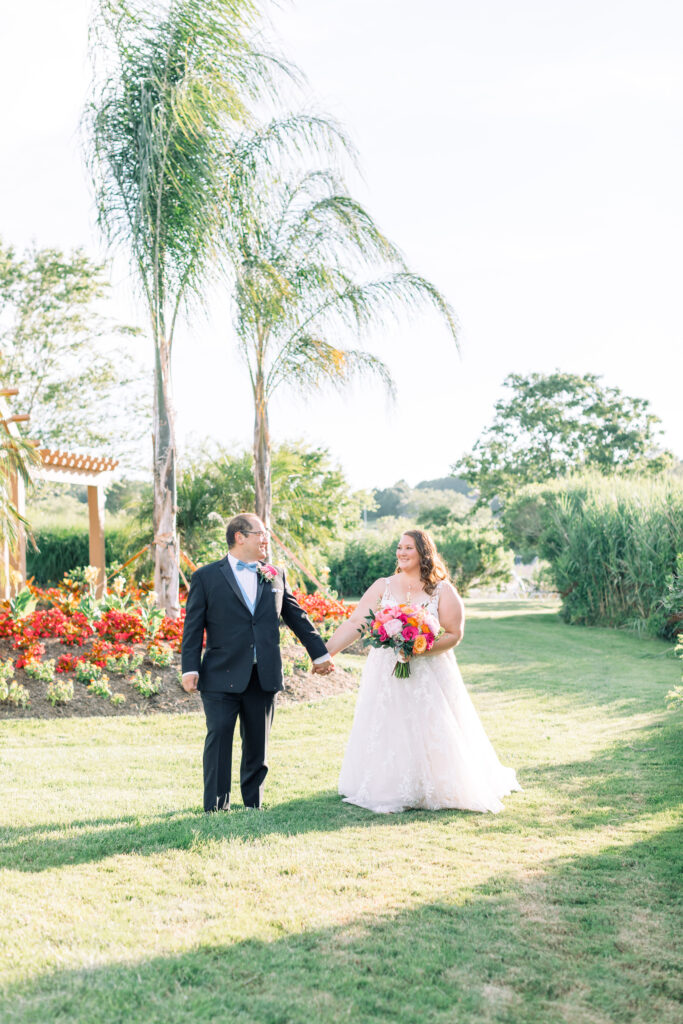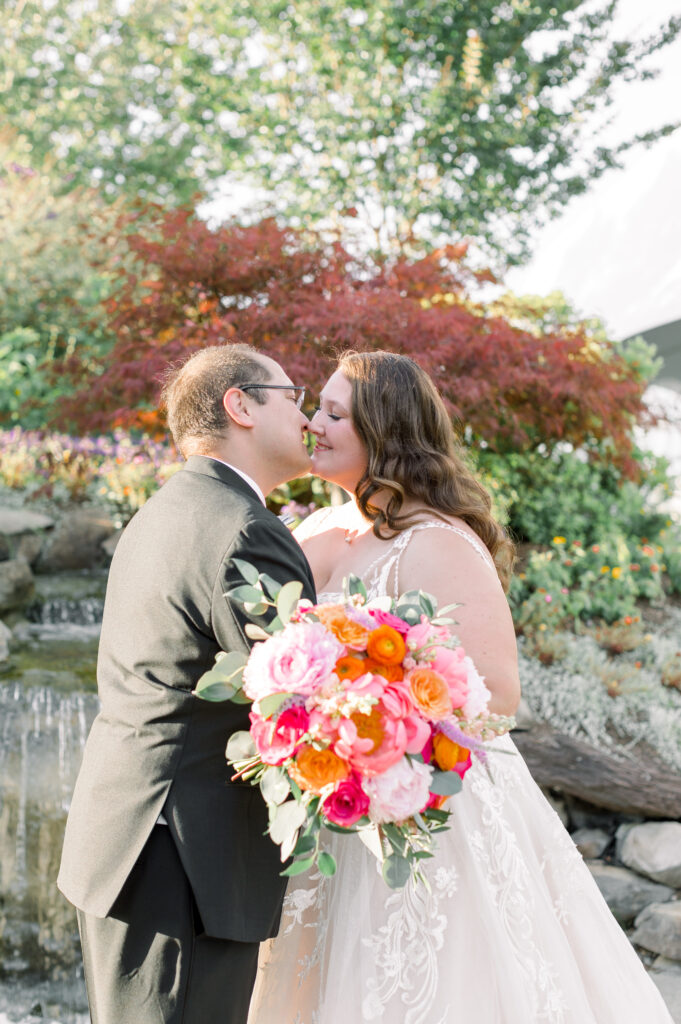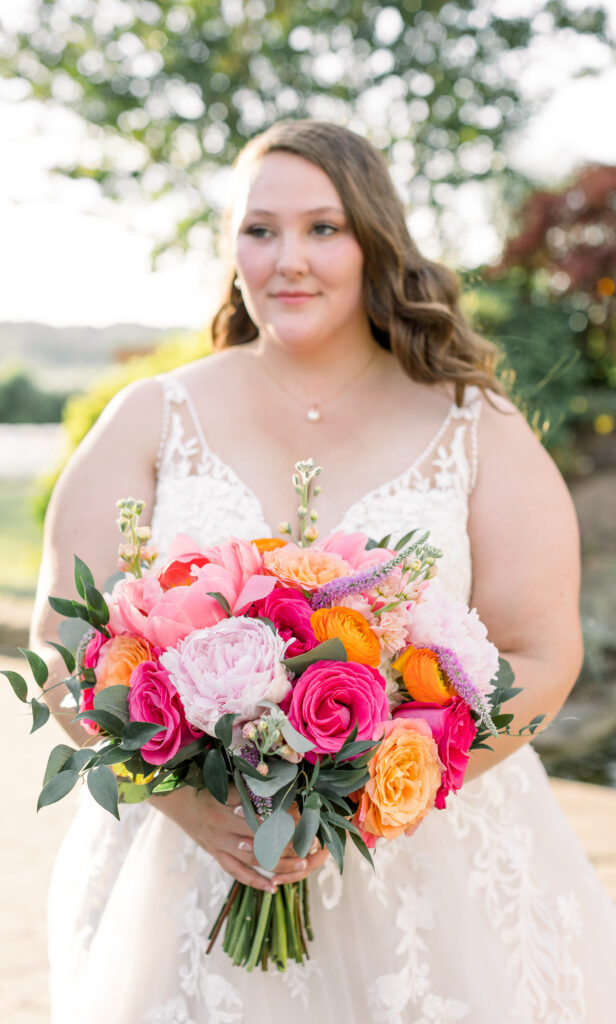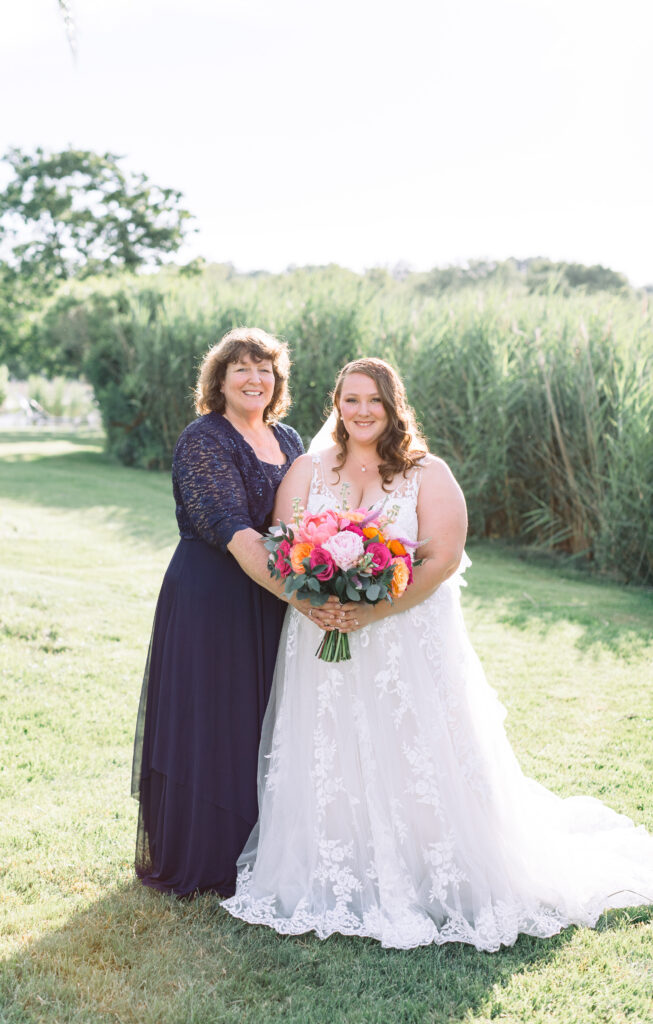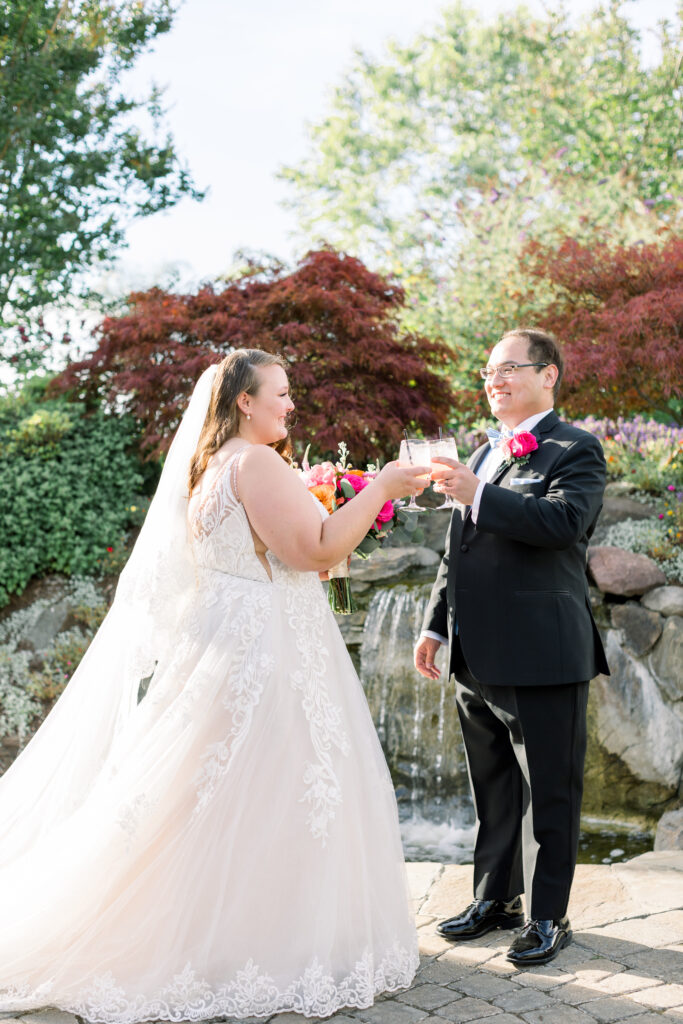 Our bride and groom photo sesh continued at sunset, and the photos turned out beautifully. I love revisiting our wedding photos – especially this set, as the photos are so magical.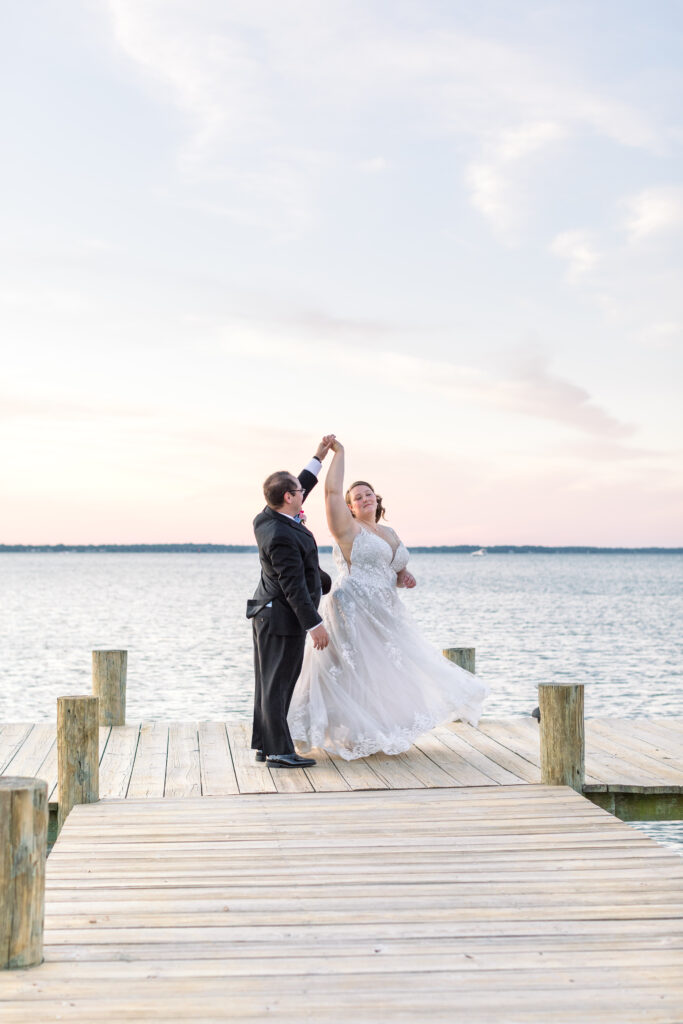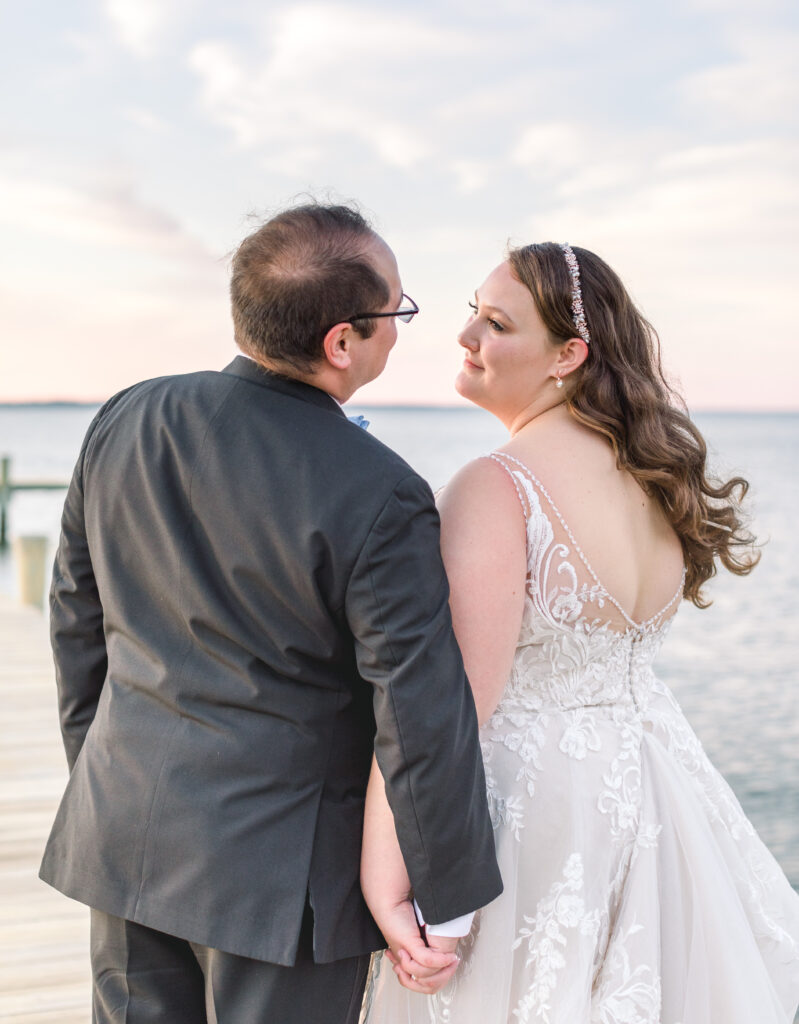 Our reception was a blast!
I loved my dad's welcoming toast and our speeches given by my Maid of Honor and Tim's Best Man.
Our wedding meal was delicious, the drinks were amazing, and dancing with our family and friends made the night incredibly fun and unforgettable!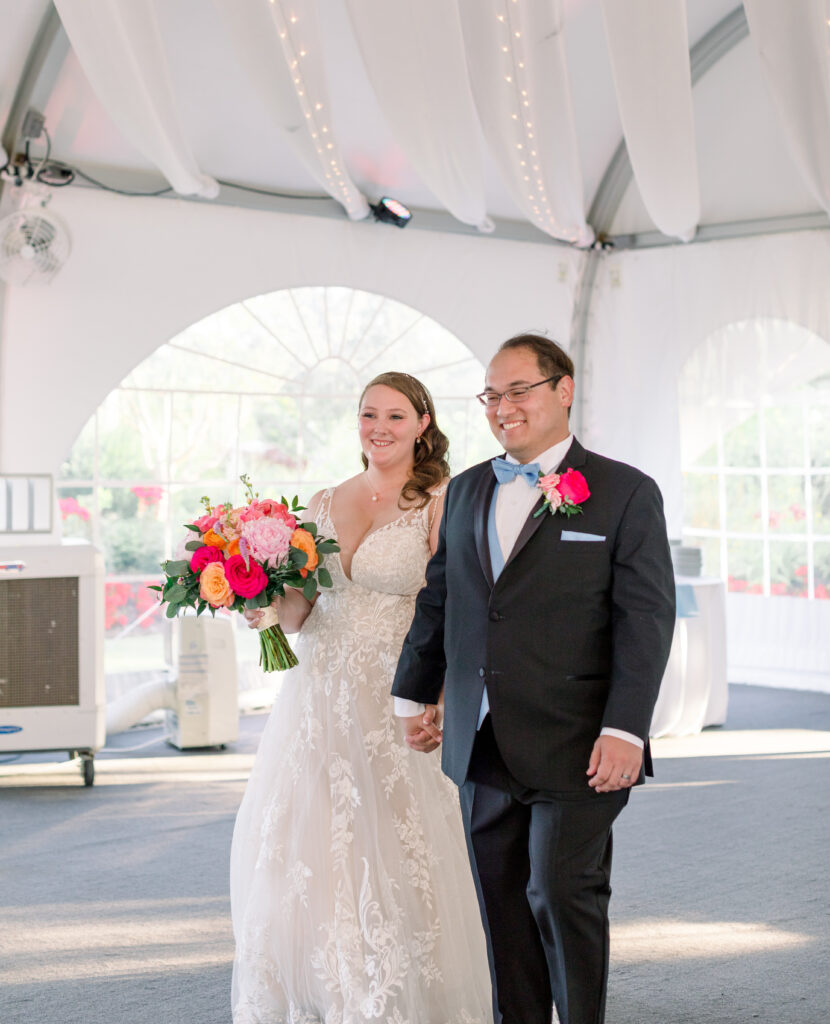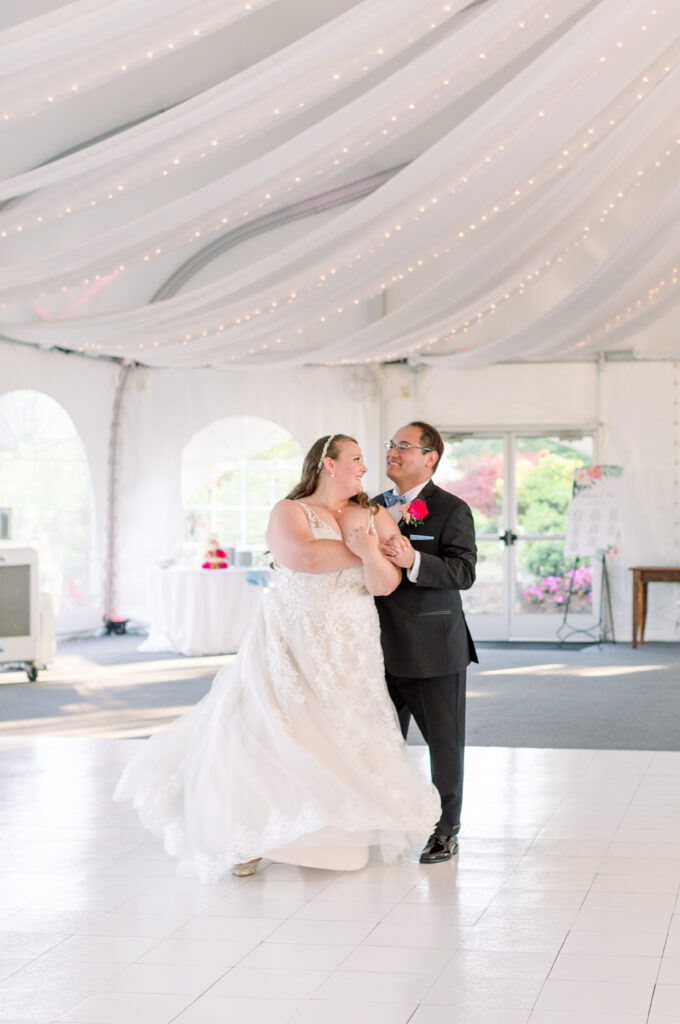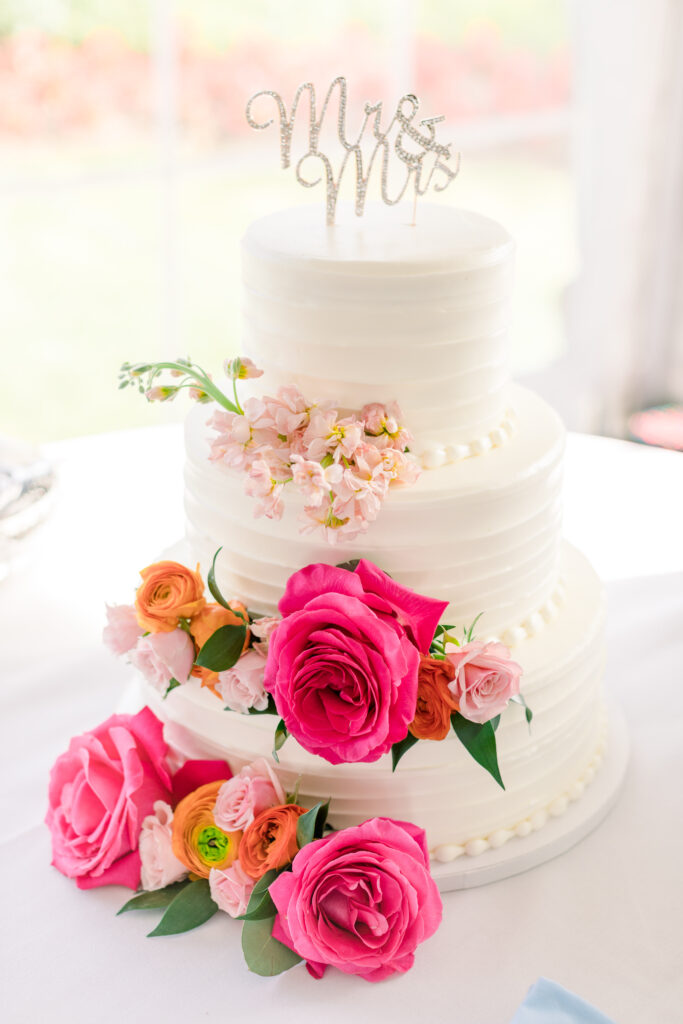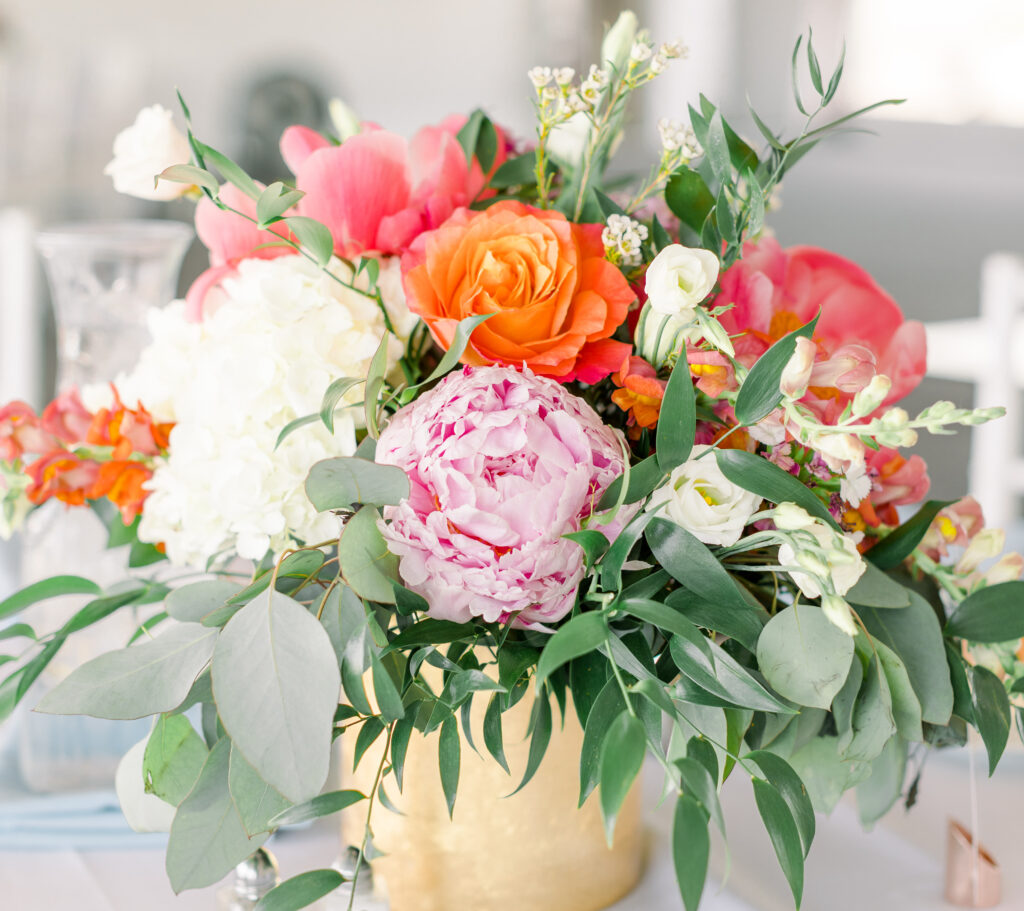 We ended the night with a gorgeous sparkler exit!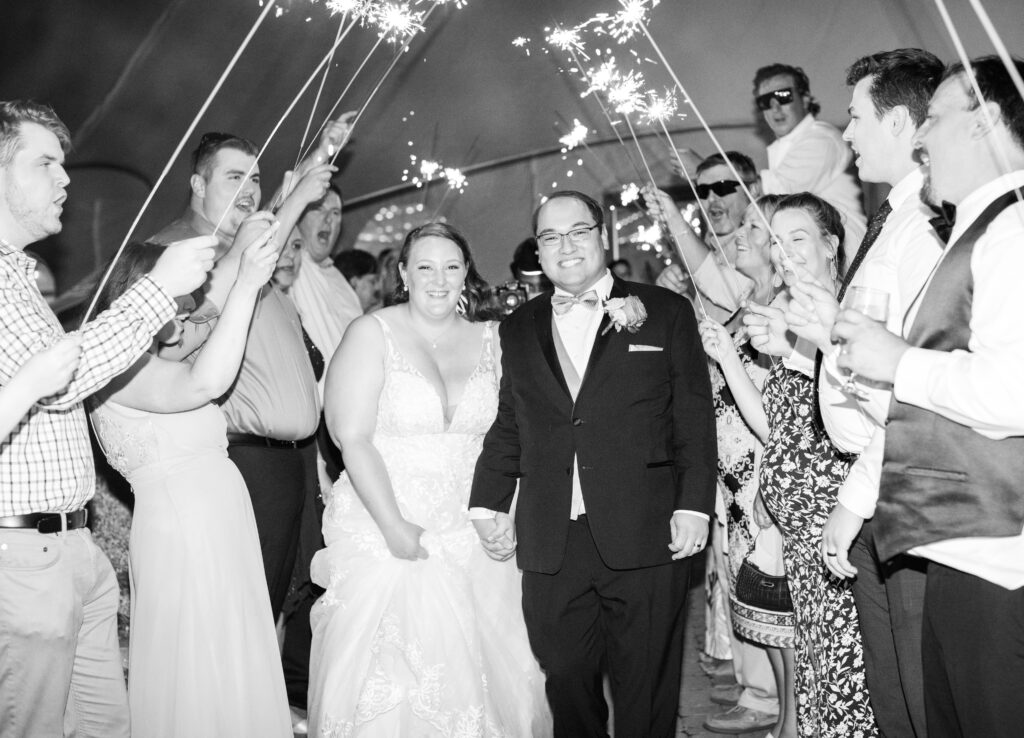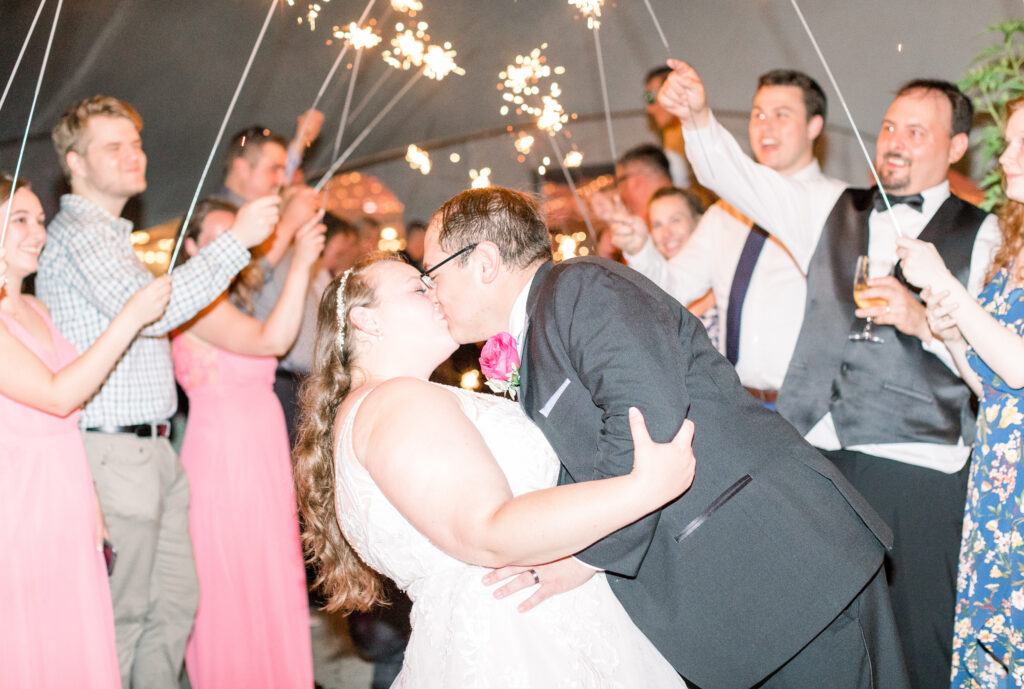 I hope you enjoyed reliving my wedding with me! Honestly, it was one of the best nights of my life and we love looking back on all of the photos and videos we have from that night.
It flew by so quickly, but I'm grateful for all the memories!
Thank you to…
Photographer: Coastal Roots Photography
Videographer: Yours Truly Media
Venue: Herrington on the Bay – Our wedding was held at the Polynesian Lawn and the reception was held in the Paradise Ballroom
Florist: Floral Expressions by Jennifer
Best Husband Ever: Tim Farr! *heart eyes* – Tim added that, so I'm going to keep it in! haha
---

For more wedding content, check out my All Things Wedding series.
Thanks for reading! ?


---
Don't forget to follow my accounts for more content!