If you're looking to travel to New Orleans, you're going to want to experience the most out of NOLA. This city is the OG for cities that never sleep.
Here are some of the top places where you can catch a bite in New Orleans.
The restaurants are in no particular order except for #1. This is probably one of the best restaurants that I have personally eaten at in my life.
---
#1 Vessel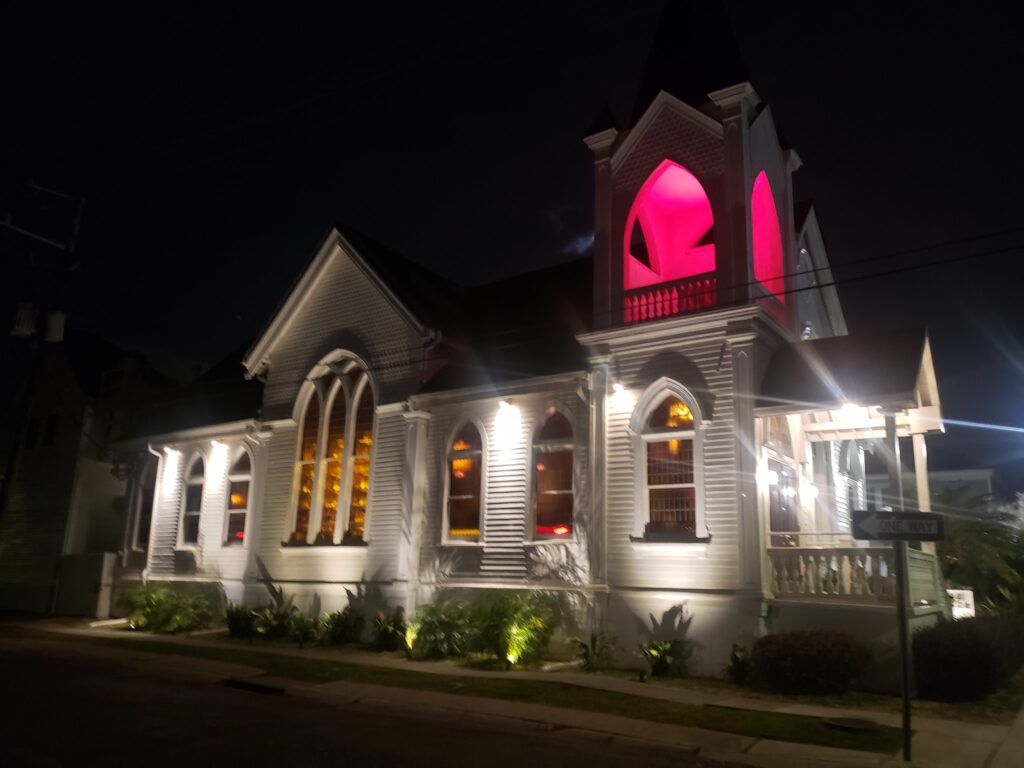 I had never heard of this restaurant until my fourth trip to New Orleans, but WOW. Wish I could have gone each time! This neat restaurant is located inside of an old church. If you're looking for a restaurant with true New Orleans vibes, look no further.
The service was amazing, the food was divine, and the drinks were wonderful.
We got to the restaurant close to closing time, but the staff was more than accommodating while taking our order and ensuring our food would be ready. We were very thankful and had a nice night together.
Here are some pics of what we ordered!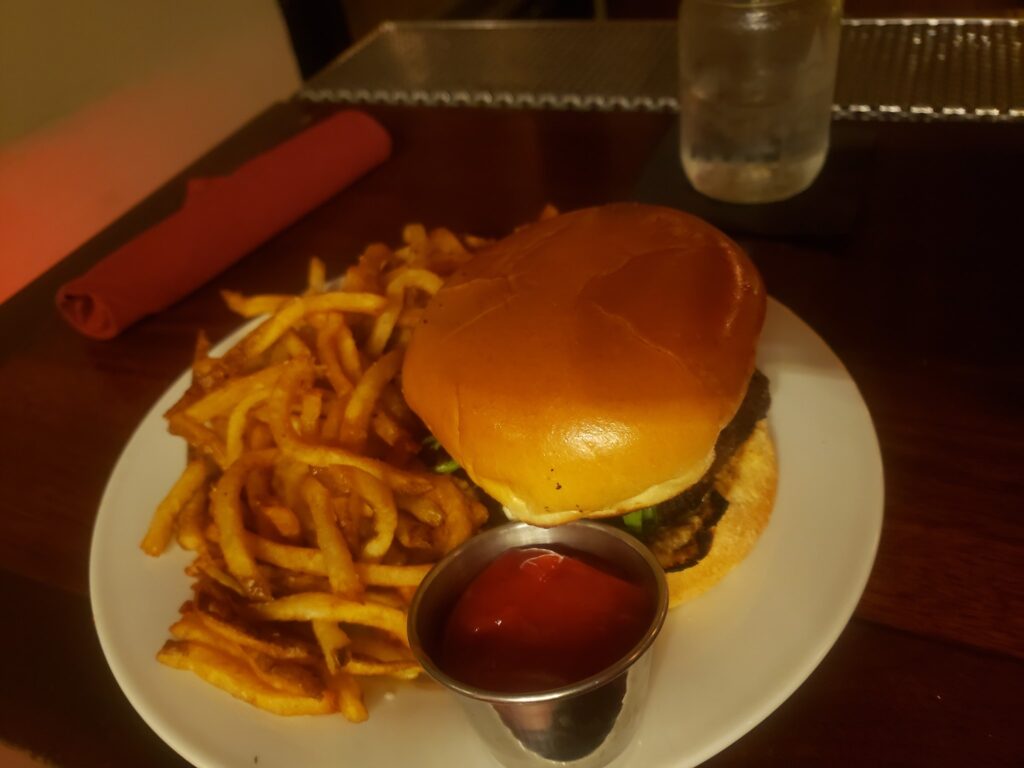 Tim ordered the Mediterranean Burger made with lamb and beef, topped with goat cheese and so many other delicious ingredients! I snuck a bite of his burger and it was truly an amazing flavor that I haven't experienced before.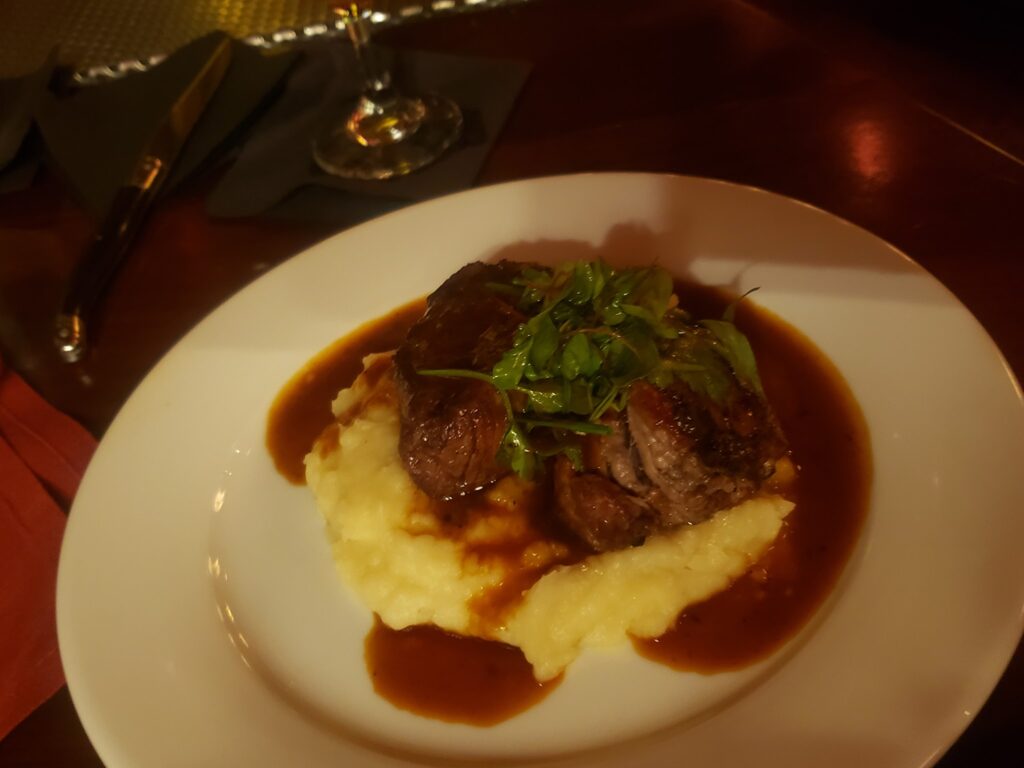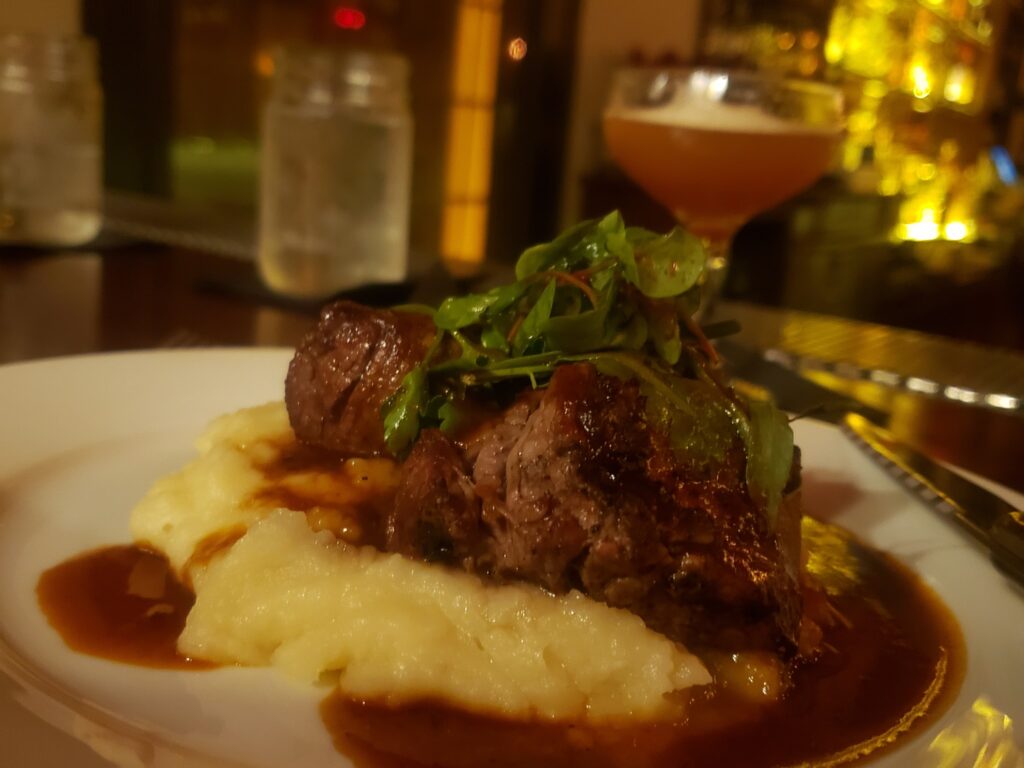 I ordered the Beef Tournedos with "garlic whipped potatoes, roasted mushrooms, fine herbs, and a red wine demi-glace" – from their menu. Honestly, one of the best things I've ever eaten in my life.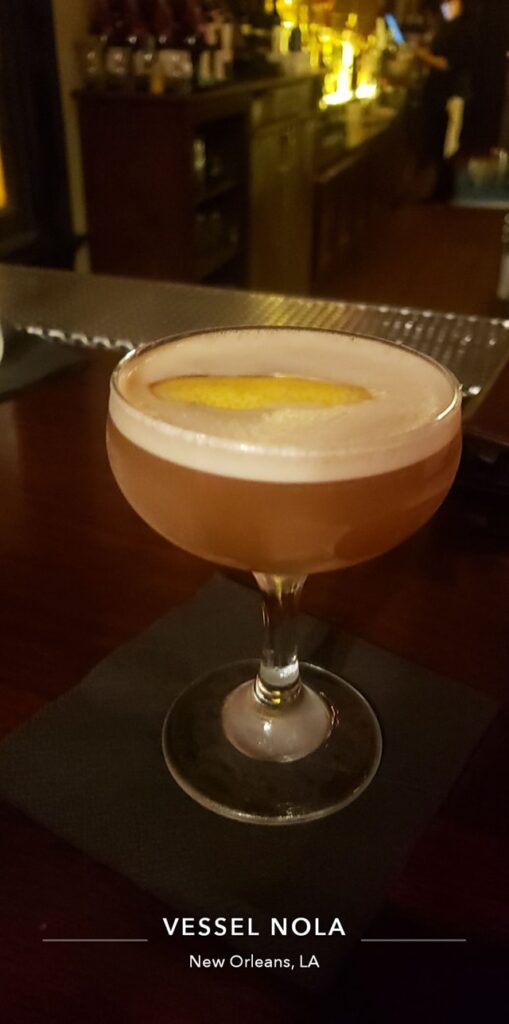 The drink above is the Bee's Knees, and it did not disappoint. I enjoyed two of these drinks while dining in the restaurant.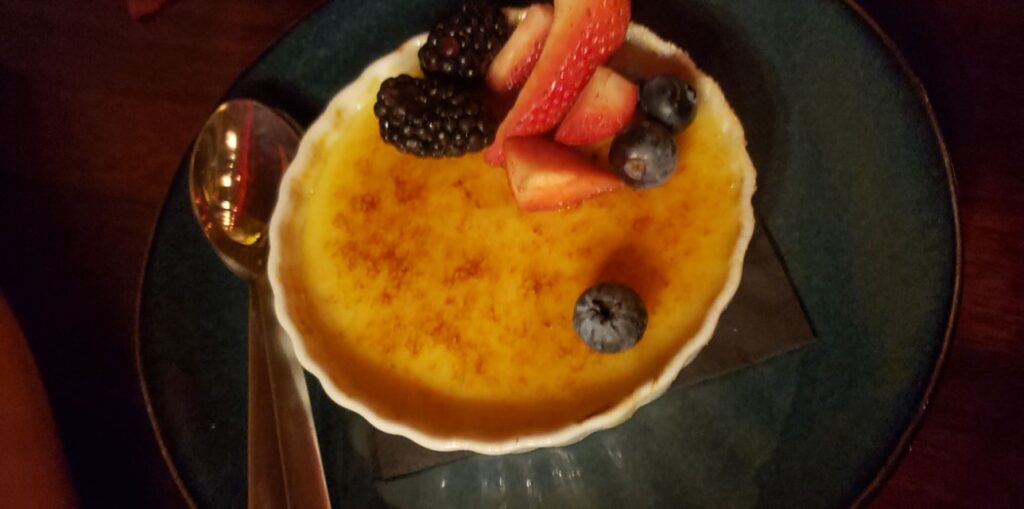 For dessert, we enjoyed a nice Crème Brûlée. We ate at the Vessel our first night in NOLA. After eating this dessert, we made it a tradition to have crème brûlée each day of our trip!
I took a few snaps of their menu. Not the best quality, since they were more so for memories.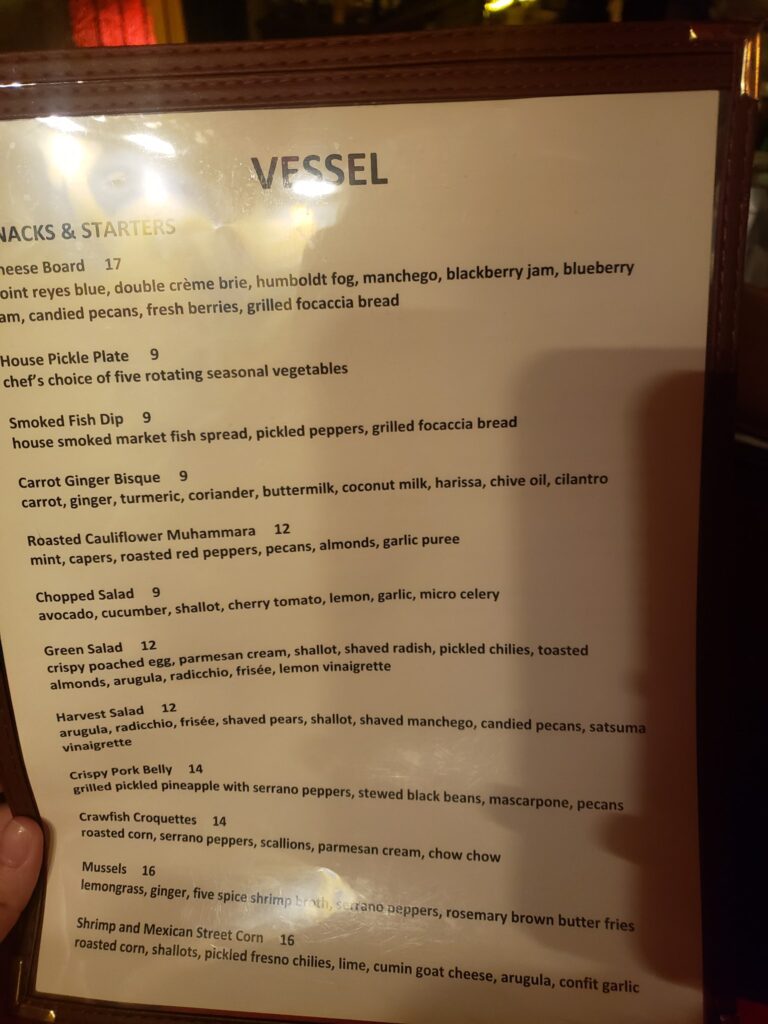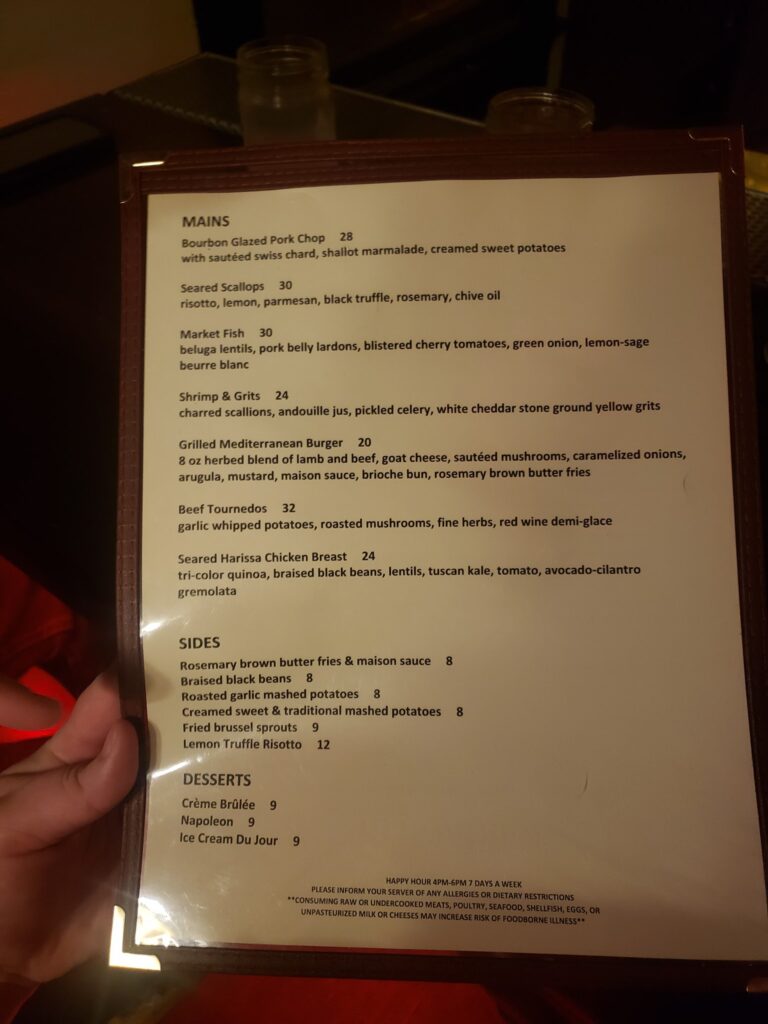 Here's their website if you're looking for more info, menus, hours, and location! https://vesselnola.com/
#2 Jacques-Imo's Cafe
Jacques-Imo's is a restaurant perfect for those looking for a true New Orleans cuisine, or in other words "Real N'Awlins Food".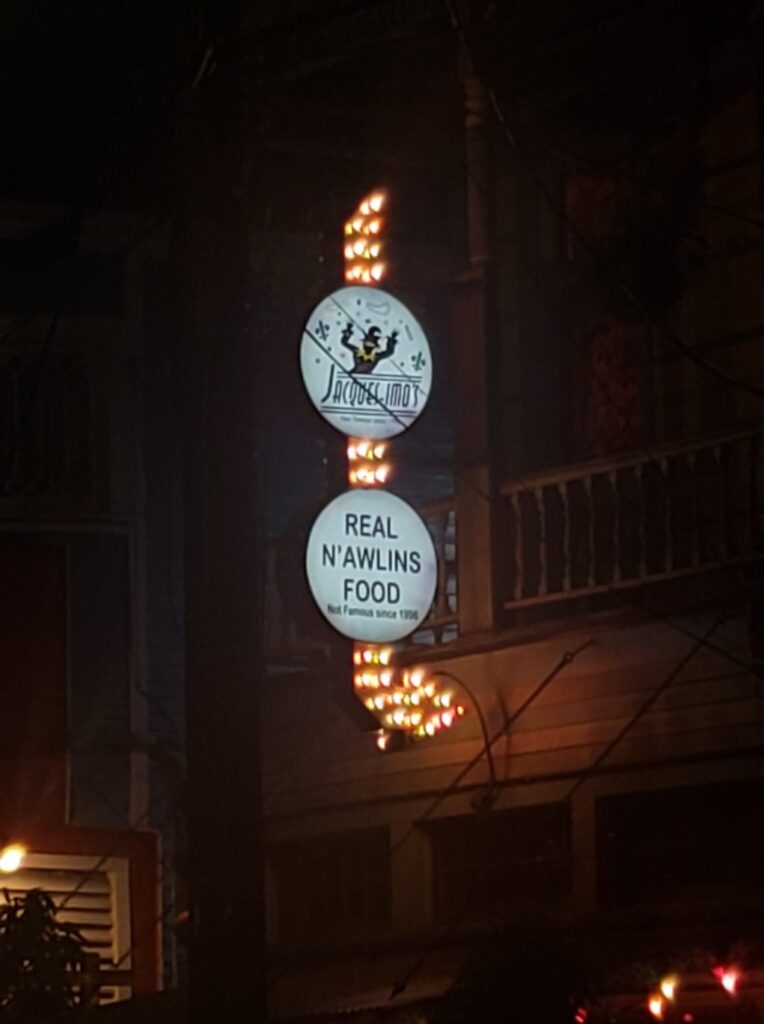 When you enter into the restaurant, you walk into the bar. The hostess will take you directly through the kitchen into the seating area. It's neat to see the kitchen experience while on your way in, and out, of the restaurant.
The atmosphere in the restaurant is fun, busy, and moody. The restaurant is dimly lit, making for a fun night.
Jacques-Imo's advertises their level of satire by "offering" – "Warm Beer", "Lousy Food" and "Poor Service". None of which is true, but hilarious to see on their site.
Jacques-Imo's starts out the meal with delicious cornbread and a spinach salad. The first few times I went, they had fried oysters with the salad; however, this past trip it was only a spinach salad.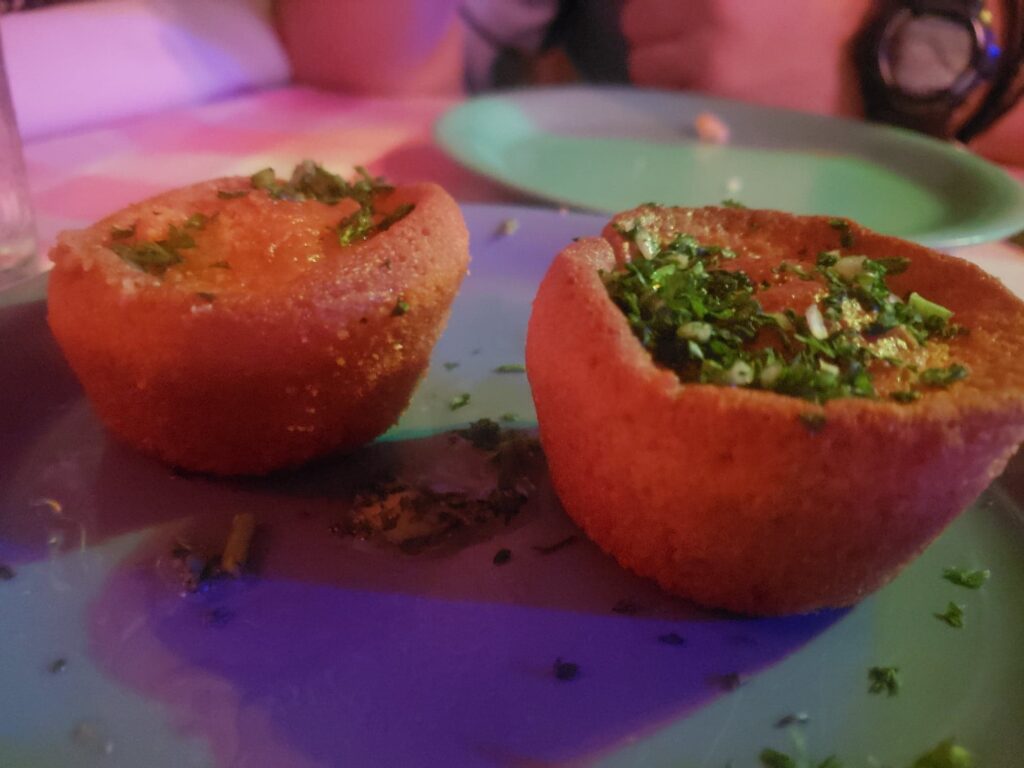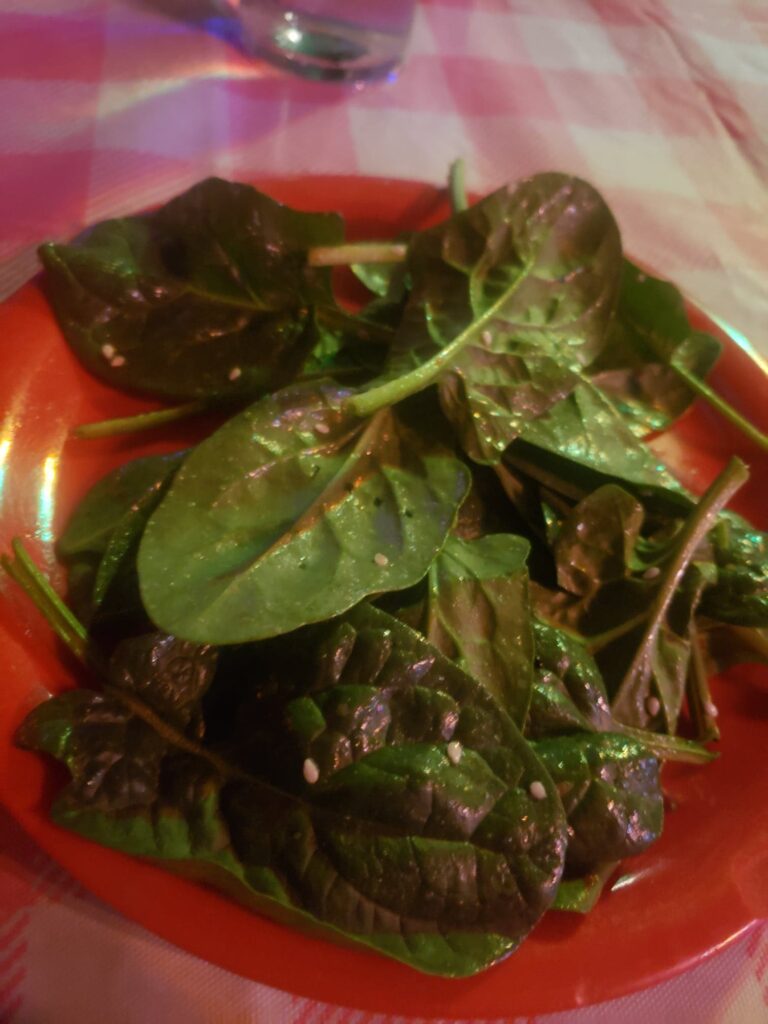 Tim enjoyed the Grilled Duck Breast for dinner.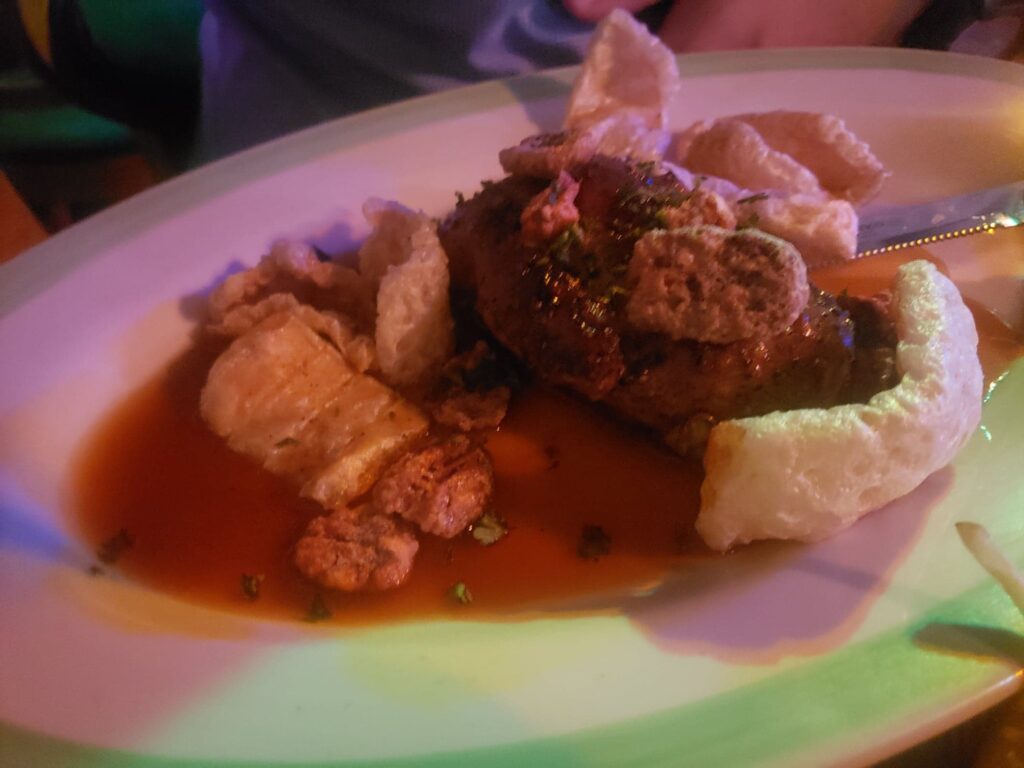 For dinner, I enjoyed a perfect Nawlin's Shrimp Creole served over rice. I've had this meal several times at Jacques-Imo's, and it has been delicious each time.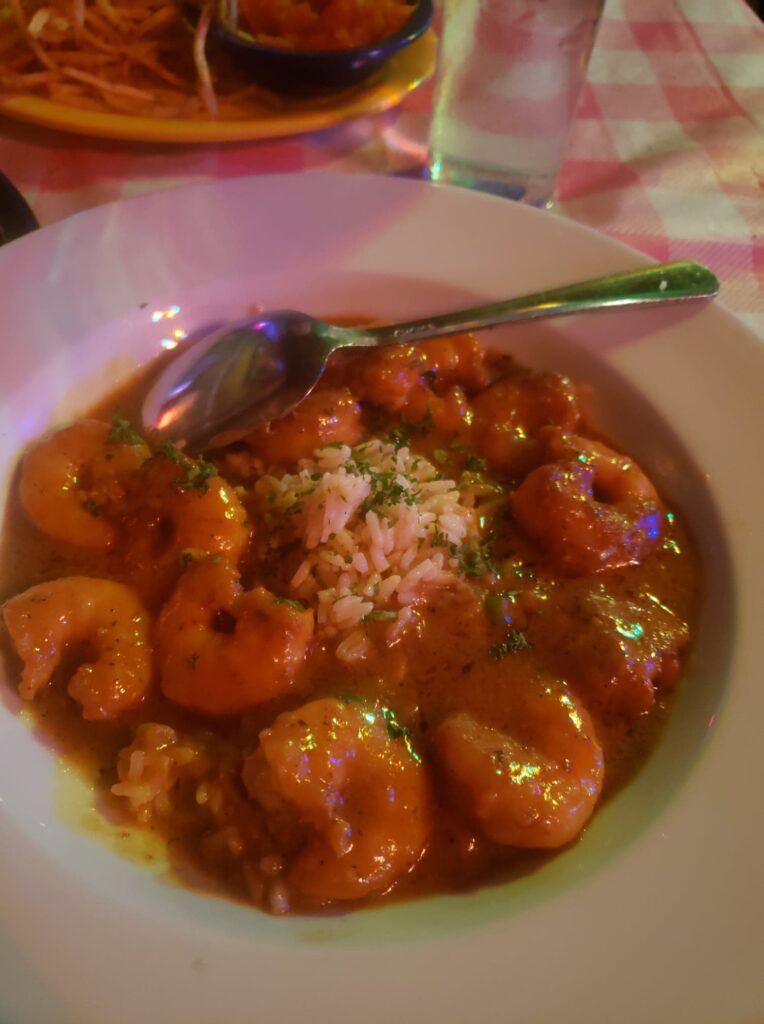 We both enjoyed mashed sweet potatoes and shoestring french fries for our sides.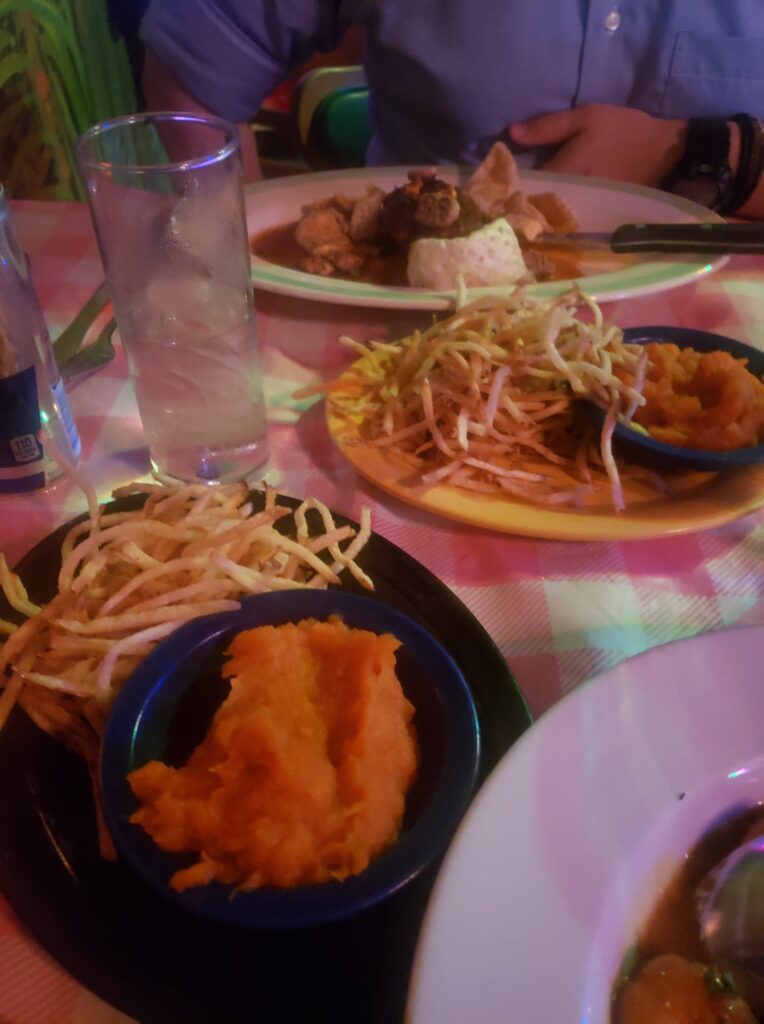 Jacqes-Imo's has a nice alcholol selection as well.
I enjoyed a Hurricane with my meal!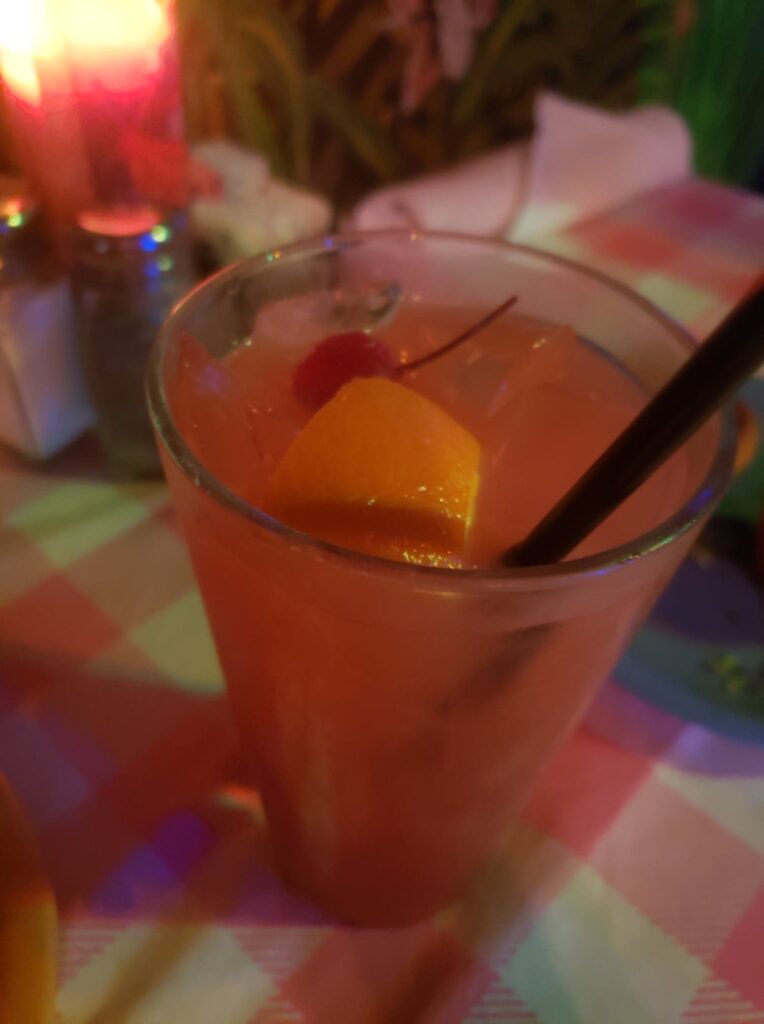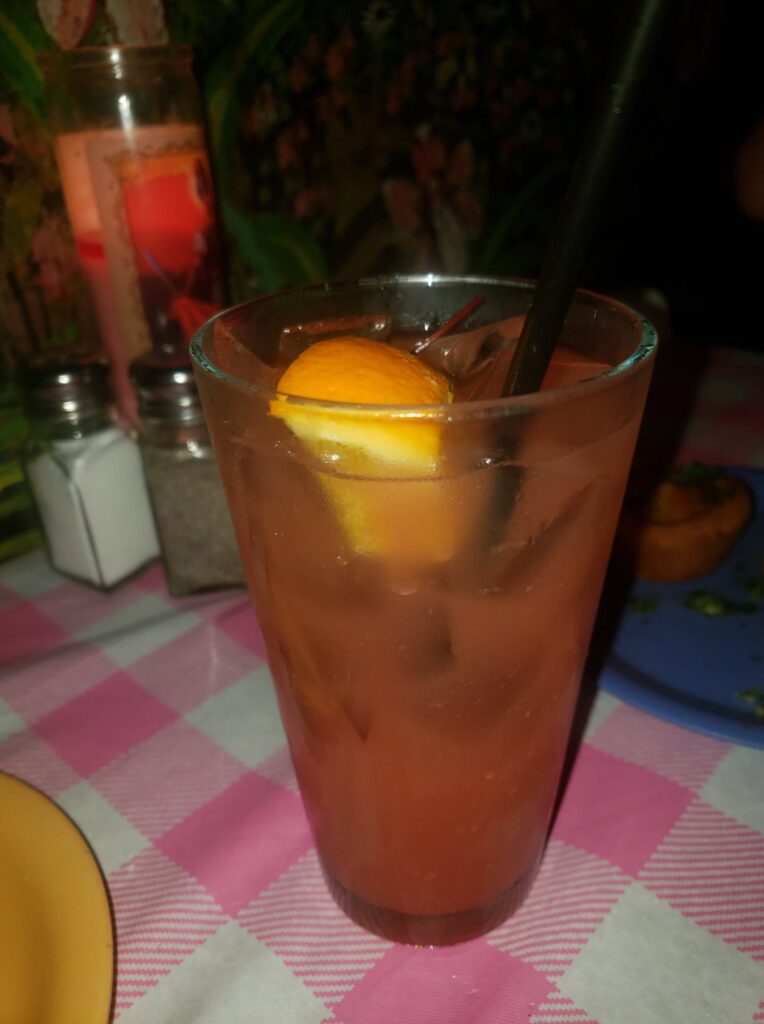 For dessert, we enjoyed crème brûlée (of course)!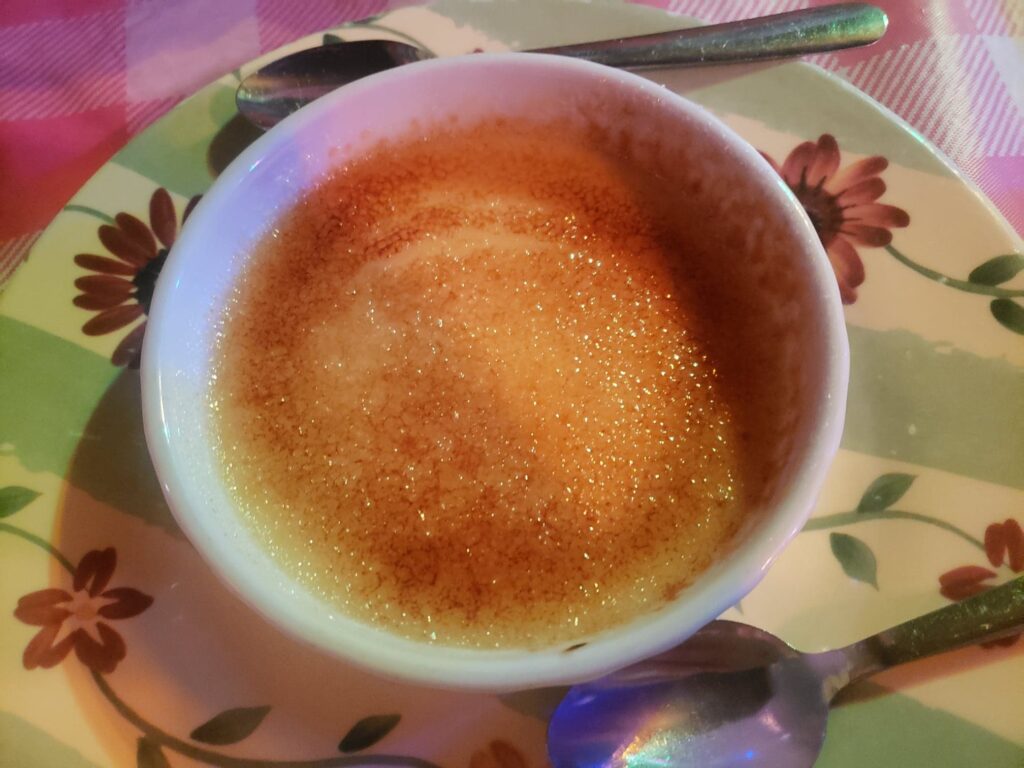 P.S. It was delicious!
#3 Dat Dog
Looking for a great hot dog with endless toppings? You've found the perfect place!
This restaurant is also frequented by many celebrities. The restaurant has a wall dedicated to their celebrity visitors.
Dat Dog adds creativity to almost every meal as customers can buy items off the menu or create their own topped hot dog!
You can choose more than just your own toppings, you can also choose the type of sausage you eat. I ate an alligator sausage while Tim ate a duck sausage!
In addition to sausages, Dat Dog offers burgers, cod, and grilled or fried chicken.
Tim ate a delicious duck sausage topped with chili!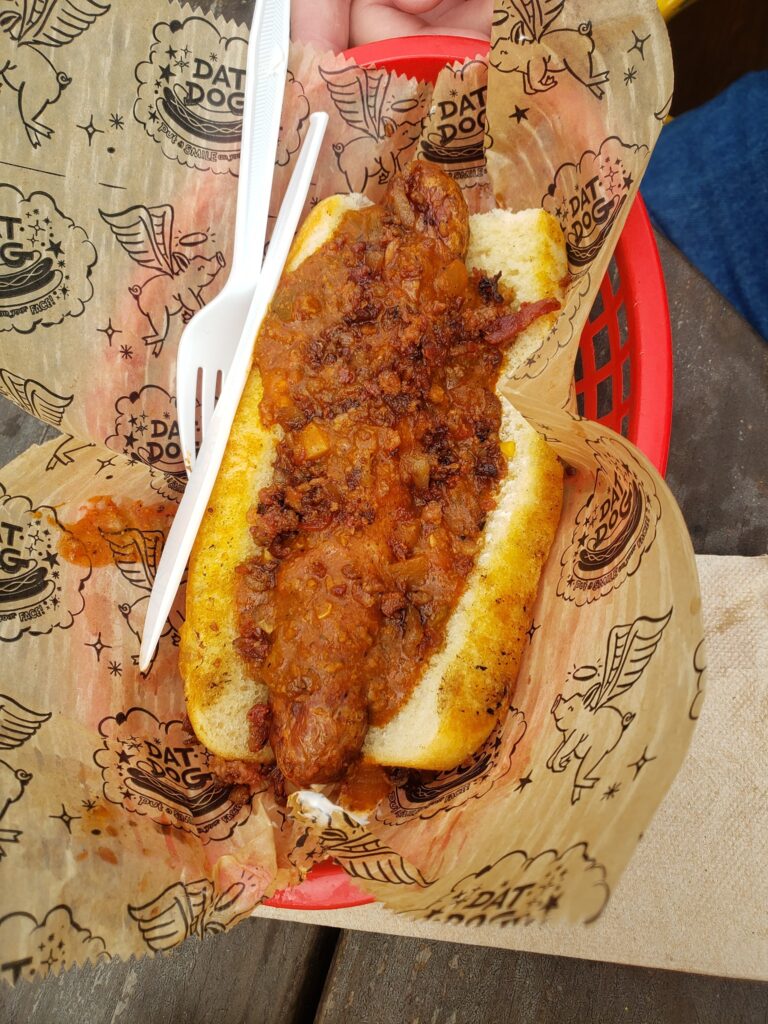 I had an alligator sausage with chili and jalapenos!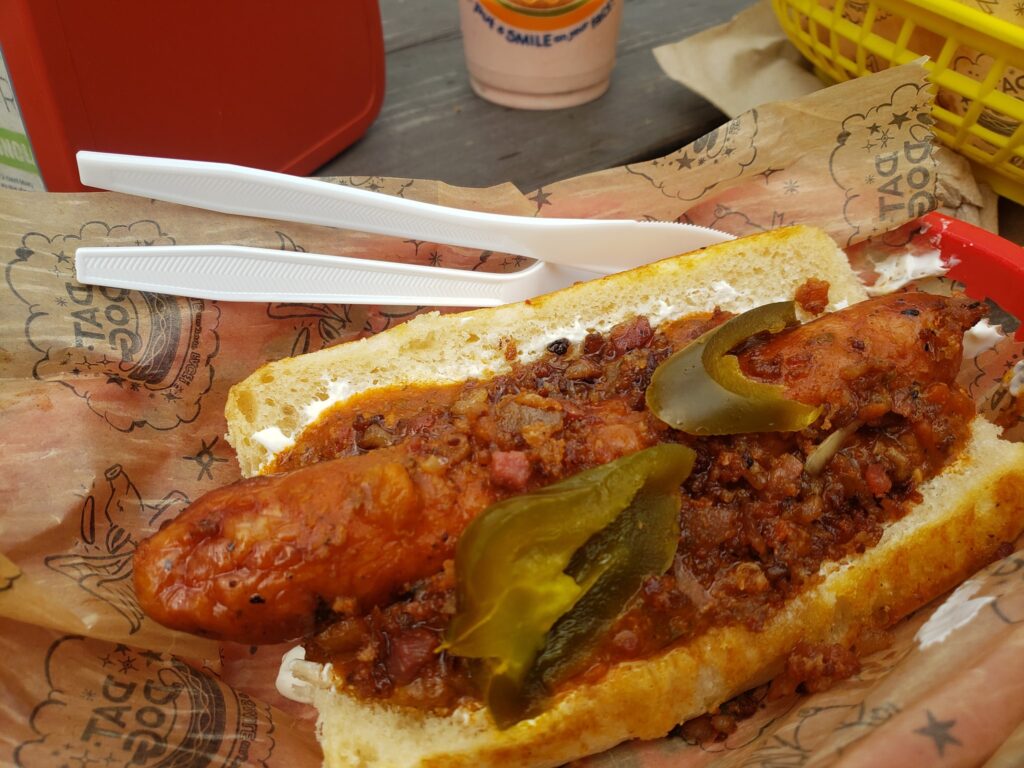 In addition to some of the best hot dogs I've ever enjoyed, they offer some pretty awesome fries!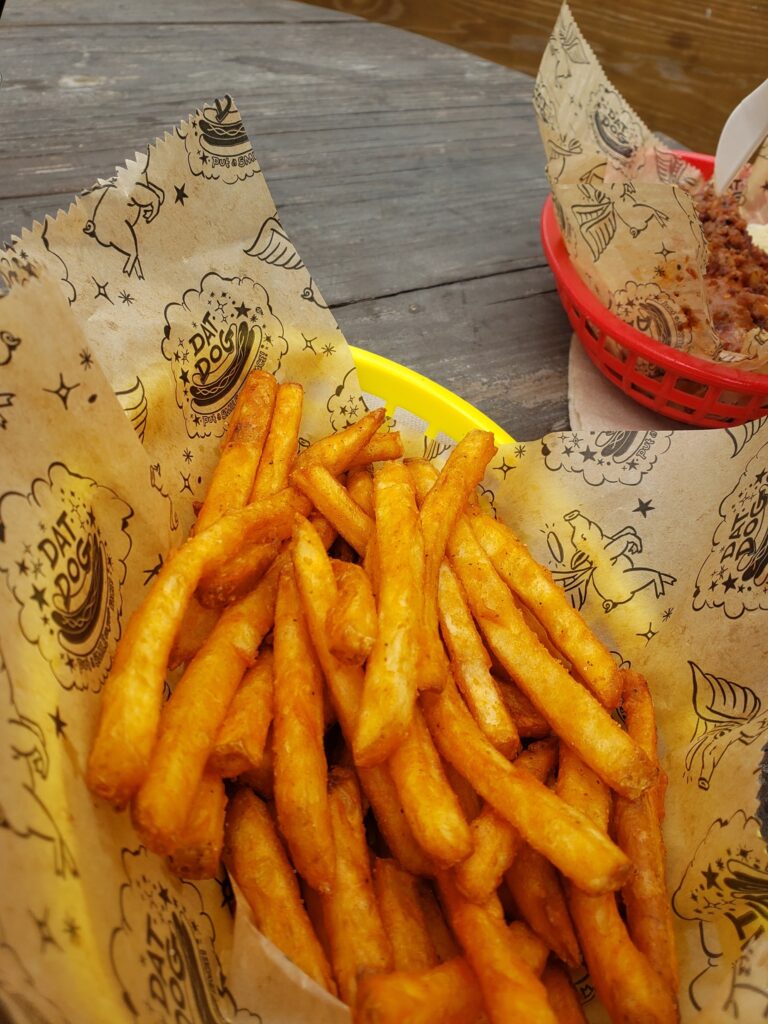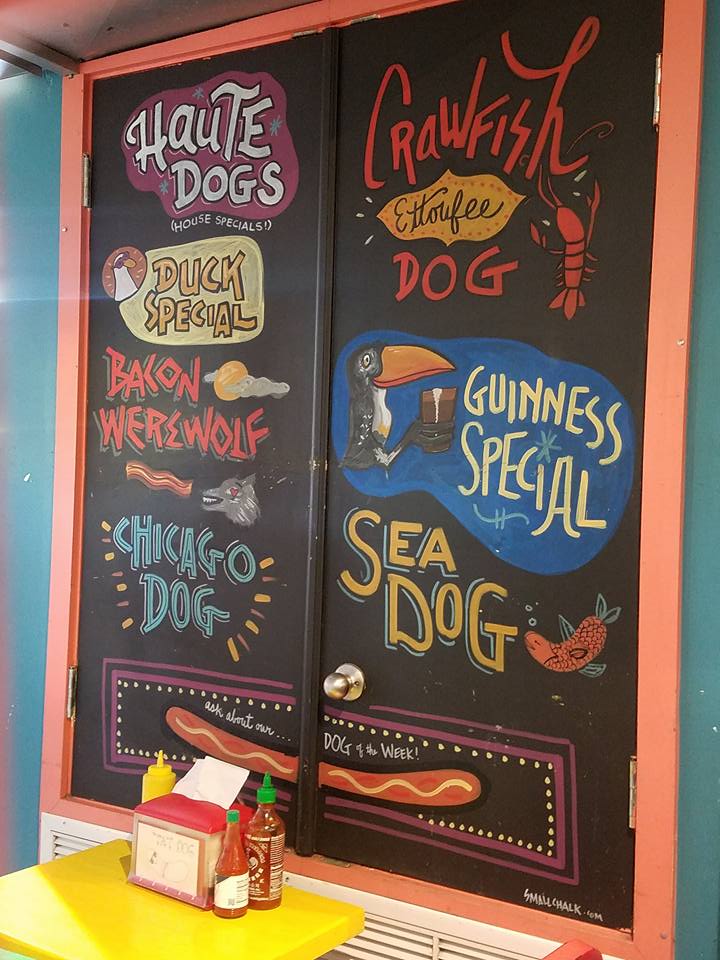 Check out their site to see more about their restaurant and their various locations! https://www.datdog.com/menus/
#4 Café du Monde
Café du Monde is a classic café for all tourists to visit at least once. I didn't have the opportunity to experience the well-known café until my most recent trip. I'm glad that I was able to check it off of my travel bucket list!
We enjoyed our classic beignets and café au laits while sitting in the bustling atmosphere of the restaurant.
Enjoy some photos of our beignets and coffees.
Be prepared to brush off some powdered sugar after your trip here!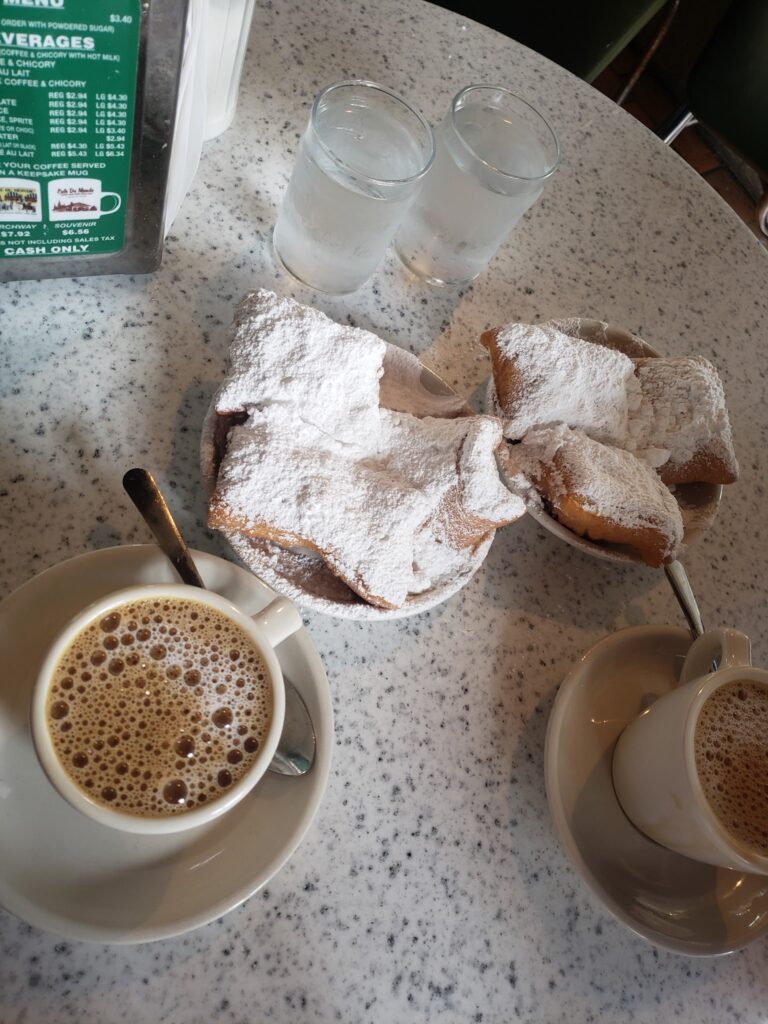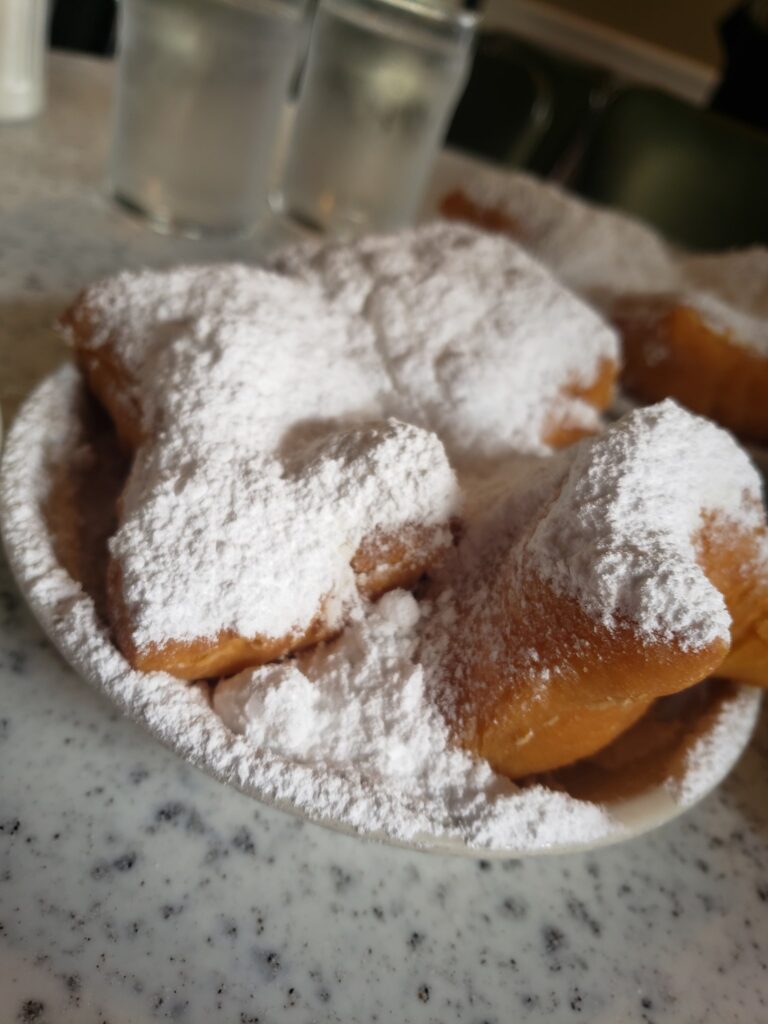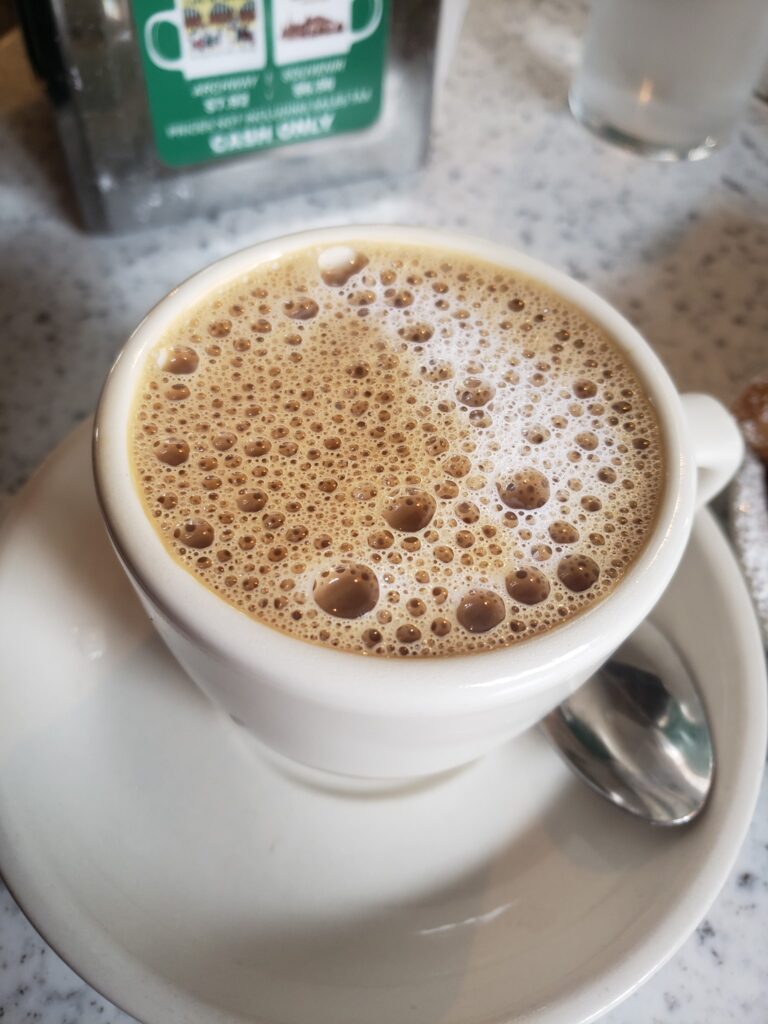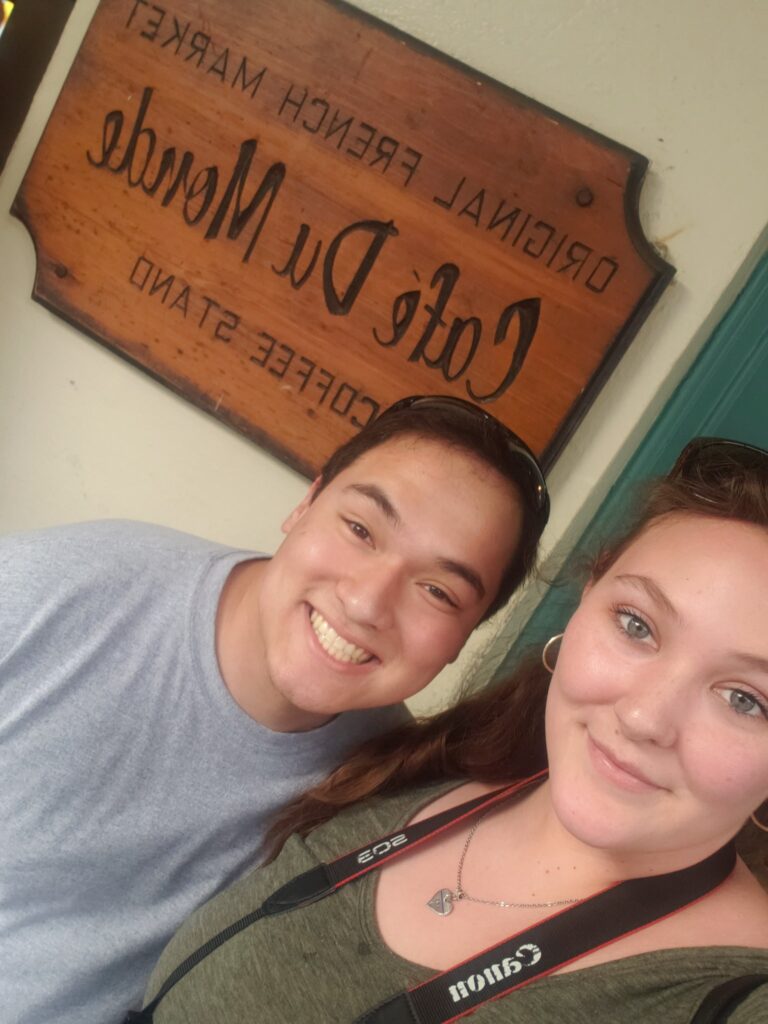 For more information, check out their website here: https://shop.cafedumonde.com/
#5 Breads on Oak
Breads on Oak is another café/bakery shop located in New Orleans. This vegan bakery is delicious and the perfect place to find a morning coffee and early treat.
Enjoy pastries, egg croissant sandwiches, king cake, coffees, and more!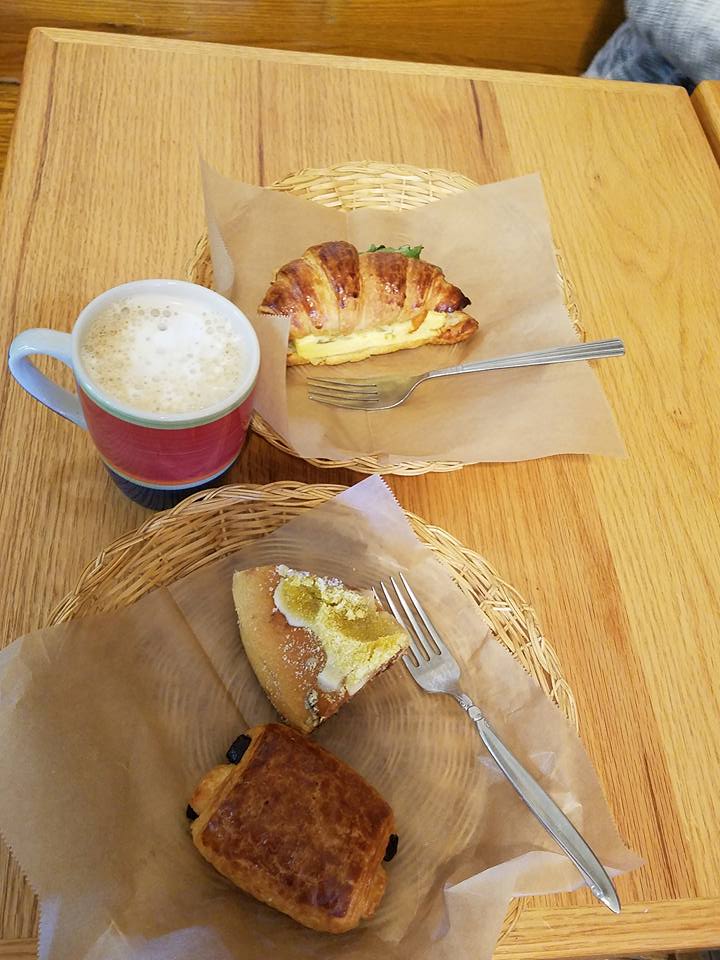 Find their website here: https://www.breadsonoak.com/
I follow their Instagram too… food aesthetics for the win. https://www.instagram.com/breadsonoak/?hl=en
#6 Mahony's Po-Boy Shop
When I was in NOLA, I ate at Mahony's Po-boys! It was pretty good too!
This is more so a general suggestion, but I've tried various restaurants that sell po boys, and most times, the tastes have been fairly similar! Trying a po boy is part of the New Orleans experience, just like eating a beignet. So go ahead and seek out your perfect po boy restaurant!
Check out the Mahony's website here: http://mahonyspoboys.com/
#7 District Donuts
District Donuts has several locations, but it is always a great treat to have when in NOLA!
Donuts and coffee are a perfect pick me up when strolling around New Orleans.
They offer a variety of creative donuts, some of which are shown below! There are also close-ups of Cereal + Milk and Dirt Cake. Mmm!!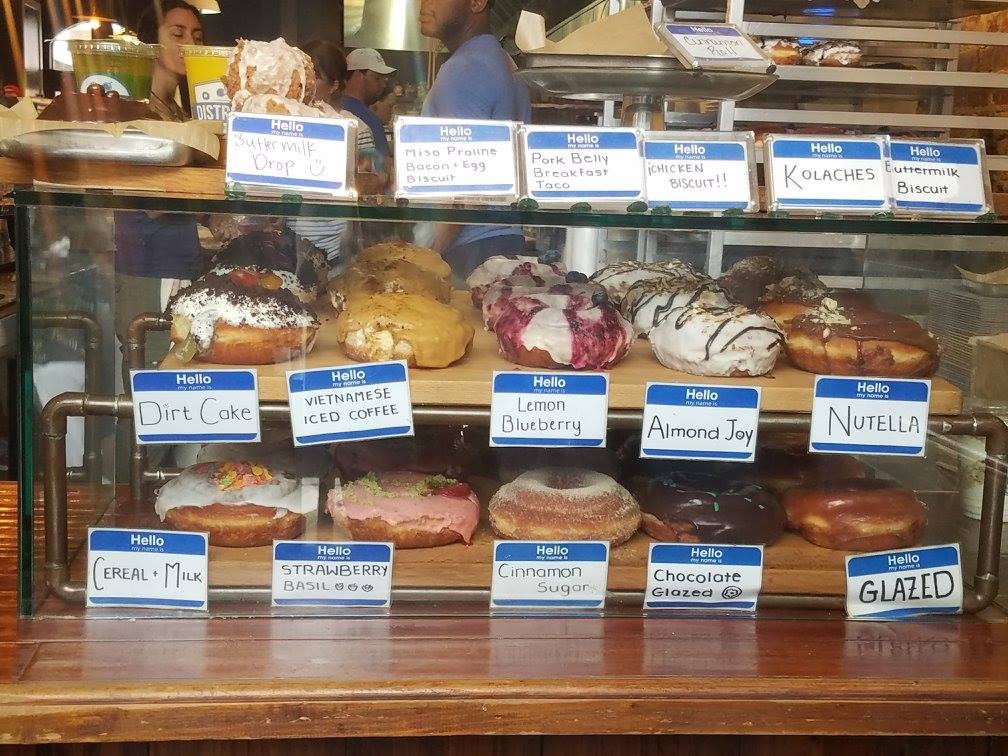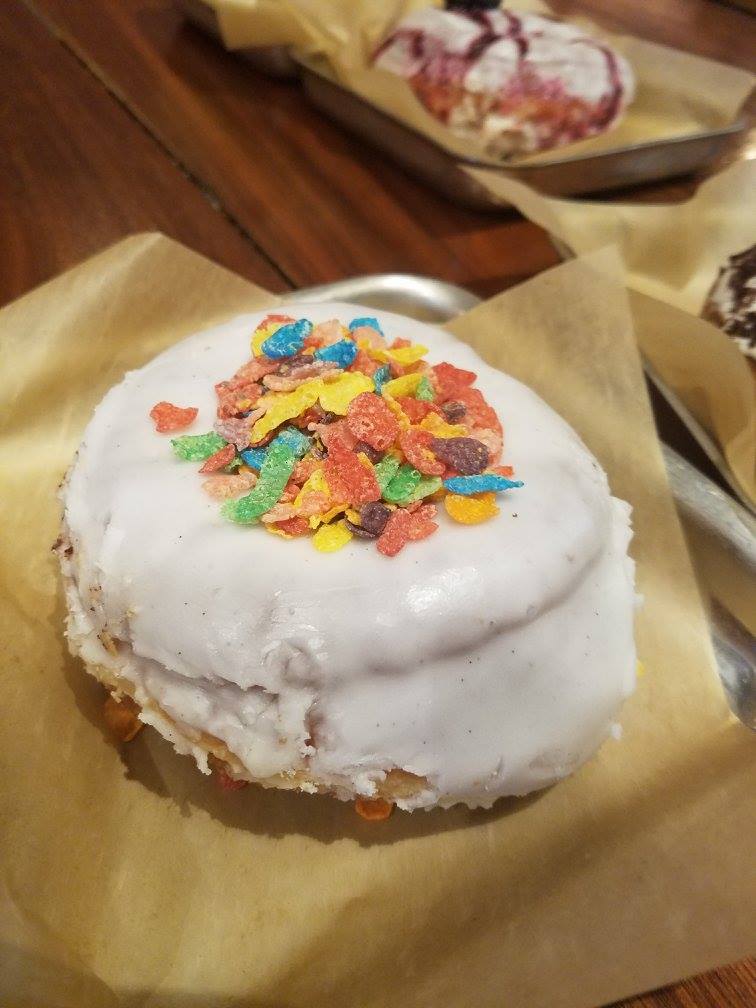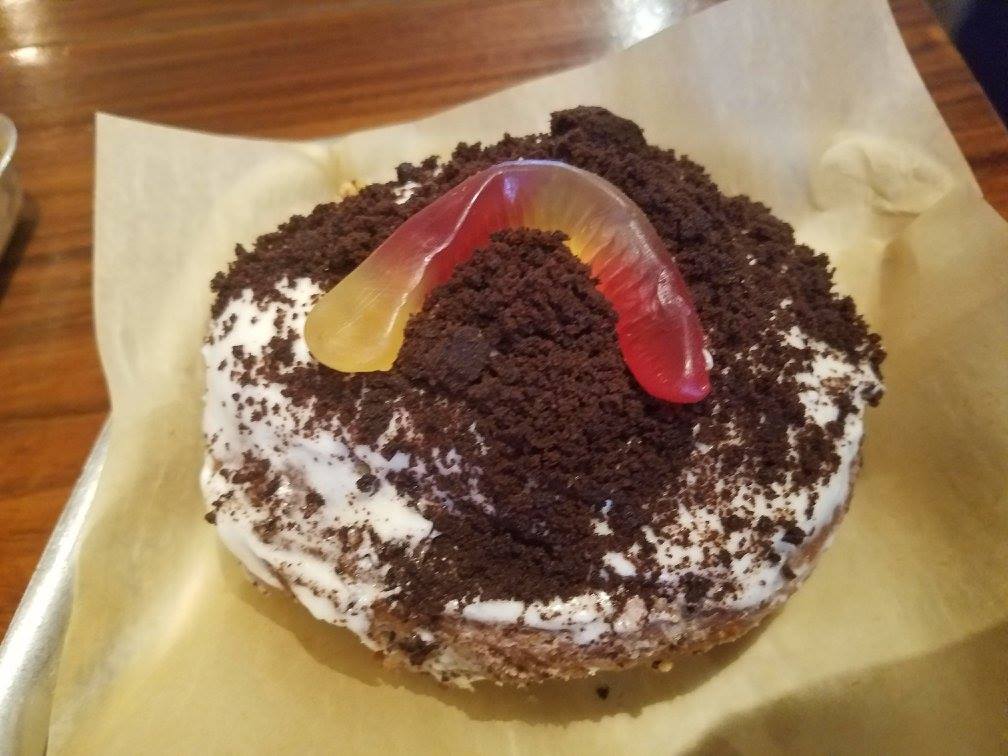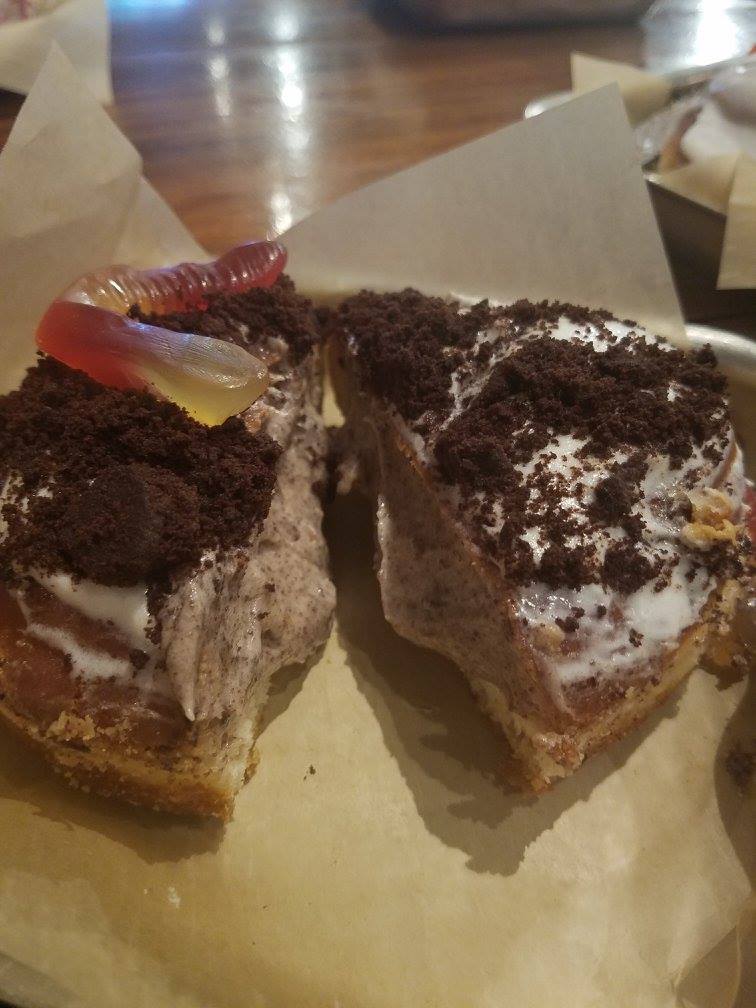 Their coffee is pretty great and I love the heart coffee art they left on our drinks ❤️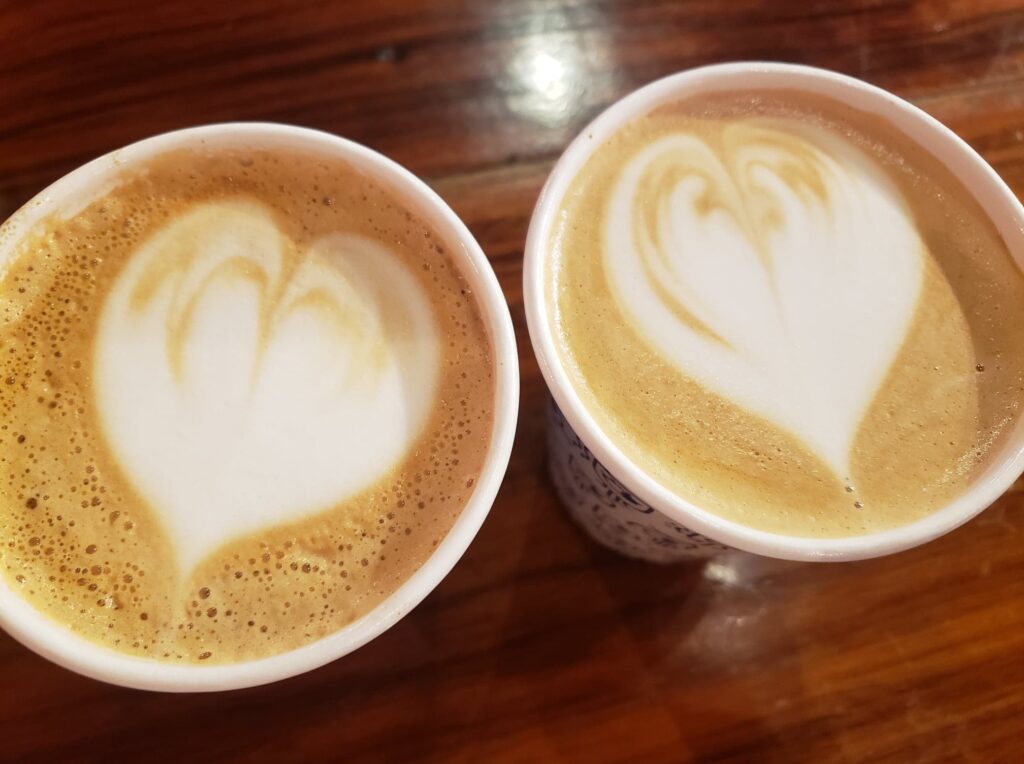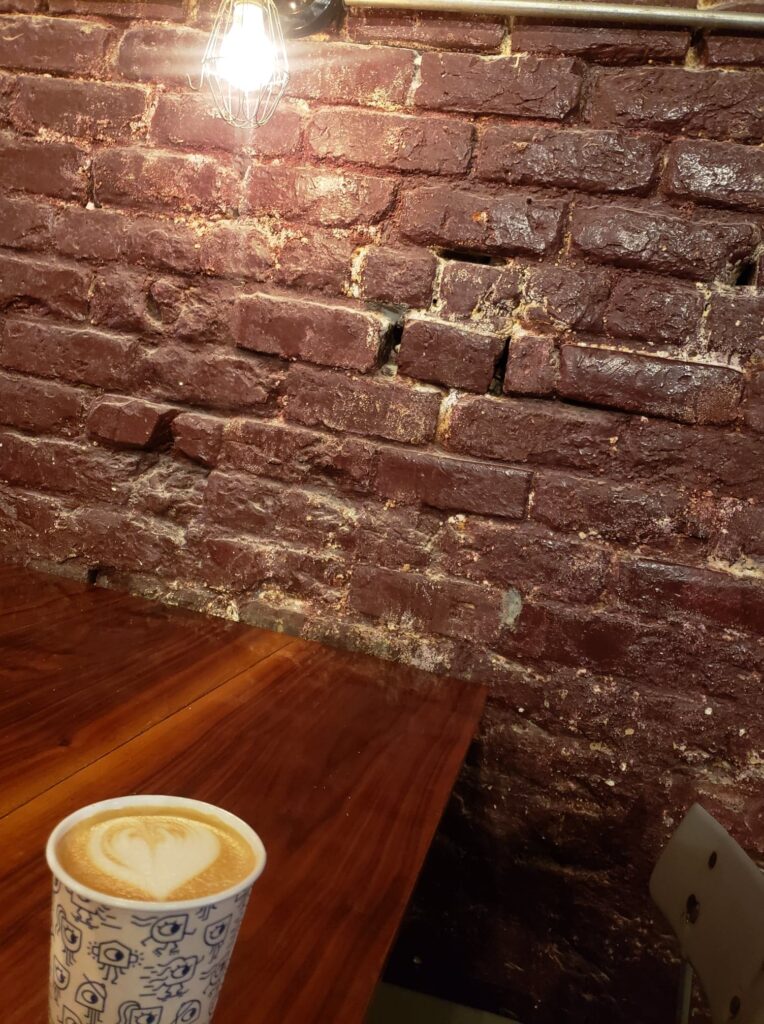 Their coffee is great for strolling the streets and being "on the go"!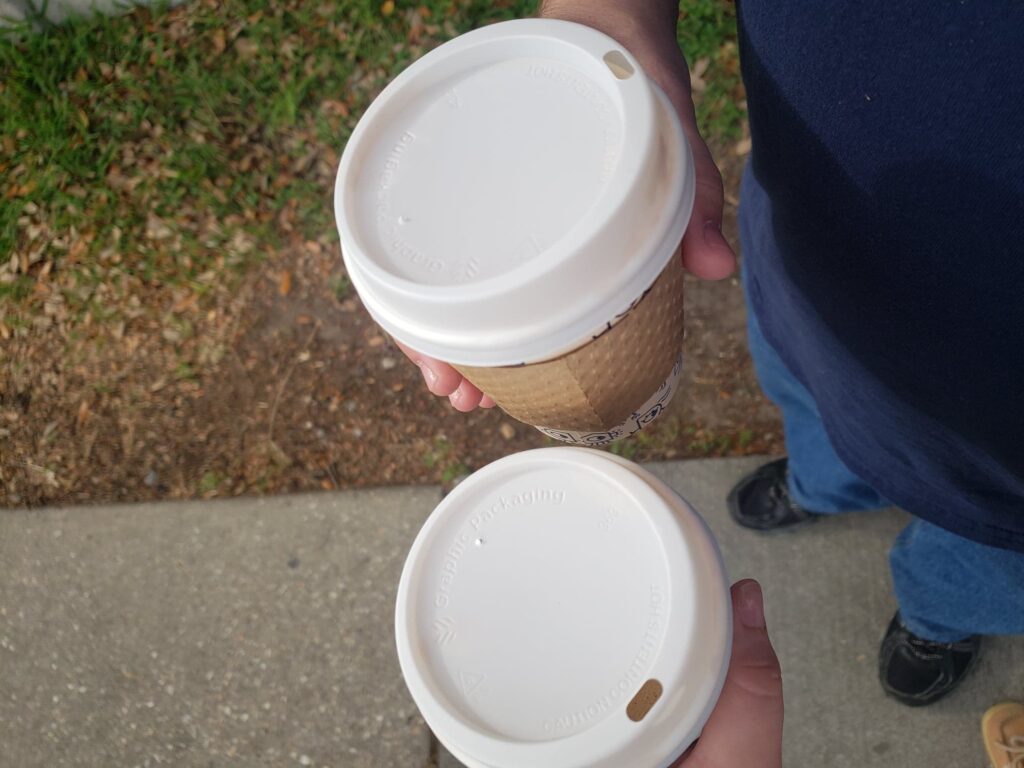 #8 Willa Jean
The Willa Jean bakery is located outside of the French Quarter and is located in the city. It was fairly easy to get to and sooo good.
Tim and I ordered a variety of treats to nibble on at our Airbnb, as well as a couple of items for our breakfast at the bakery.
We enjoyed a Breakfast Tart and Kolache for breakfast with some nice iced coffees! This tart is amazing. Tim and I have attempted to recreate this fun dish at home.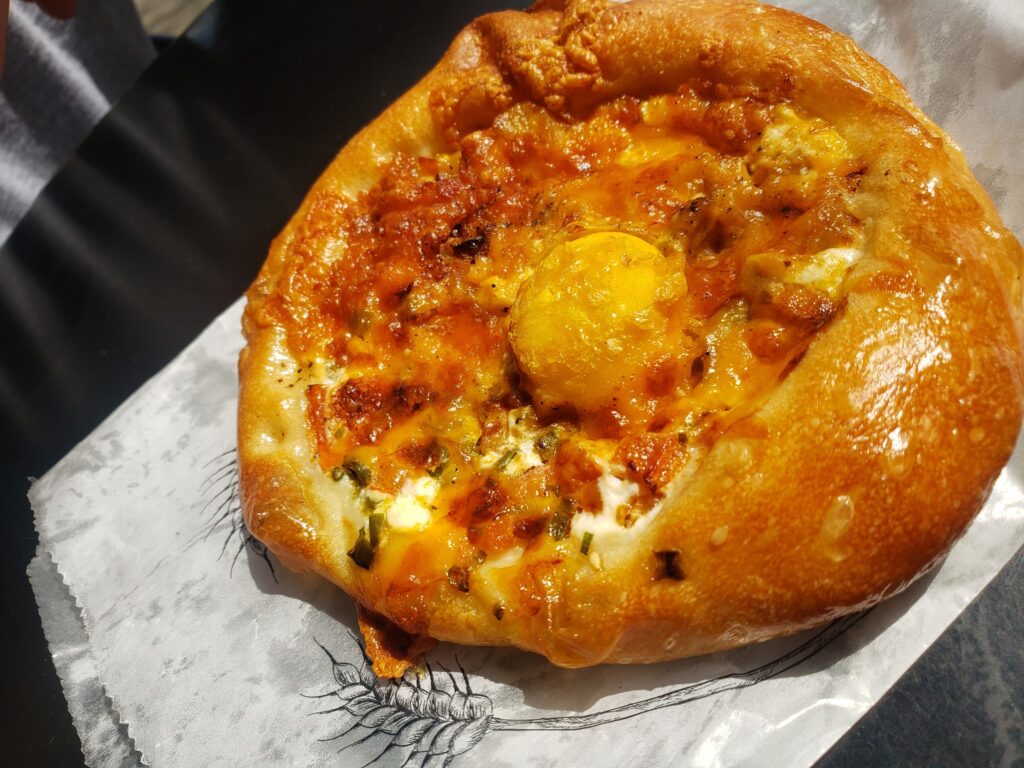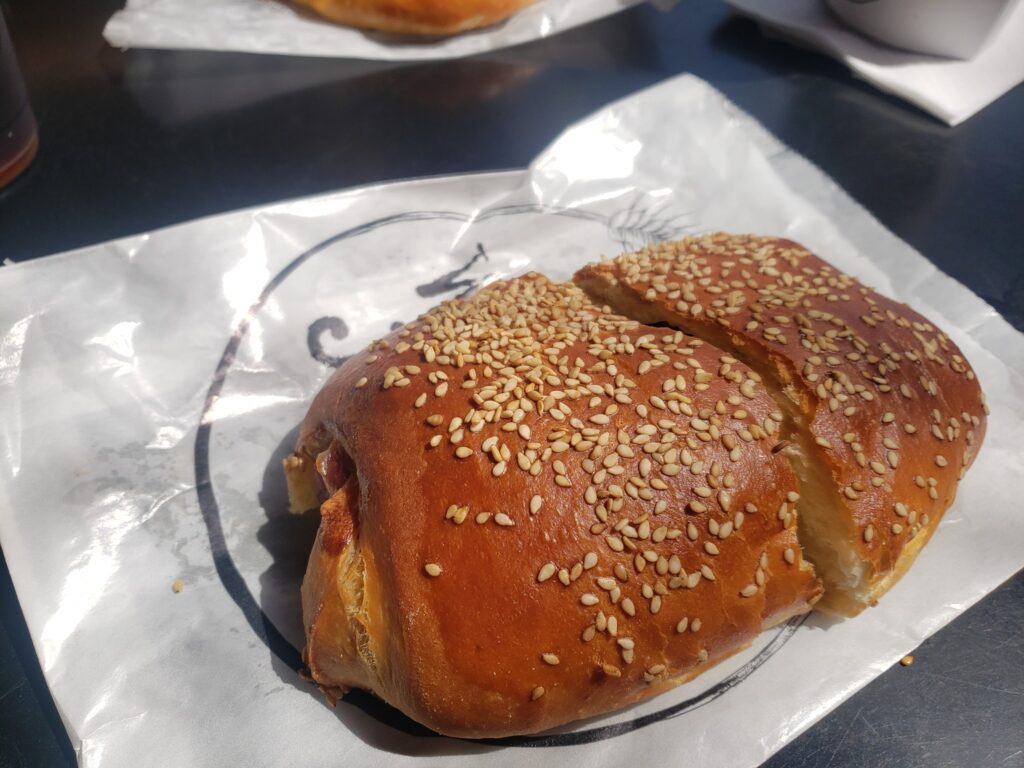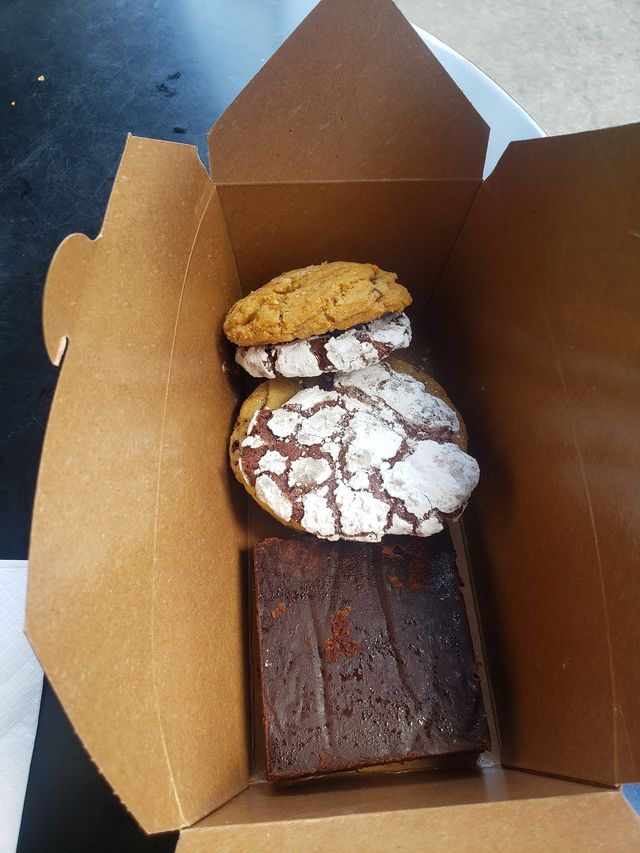 Visit their website here: https://willajean.com/
Honorary Mention: K-Paul's Louisiana Kitchen
K-Paul's was going to be one of the featured restaurants in this post; however, I found out that, sadly, the restaurant has closed its doors.
Due to the amazing quality of the staff, the food, and the atmosphere of the restaurant, I thought I would share the dishes we had.
Tim enjoyed K-Paul's Ribeye, while I had the wonderful Duck, Shrimp, and Andouille Alfredo Pasta.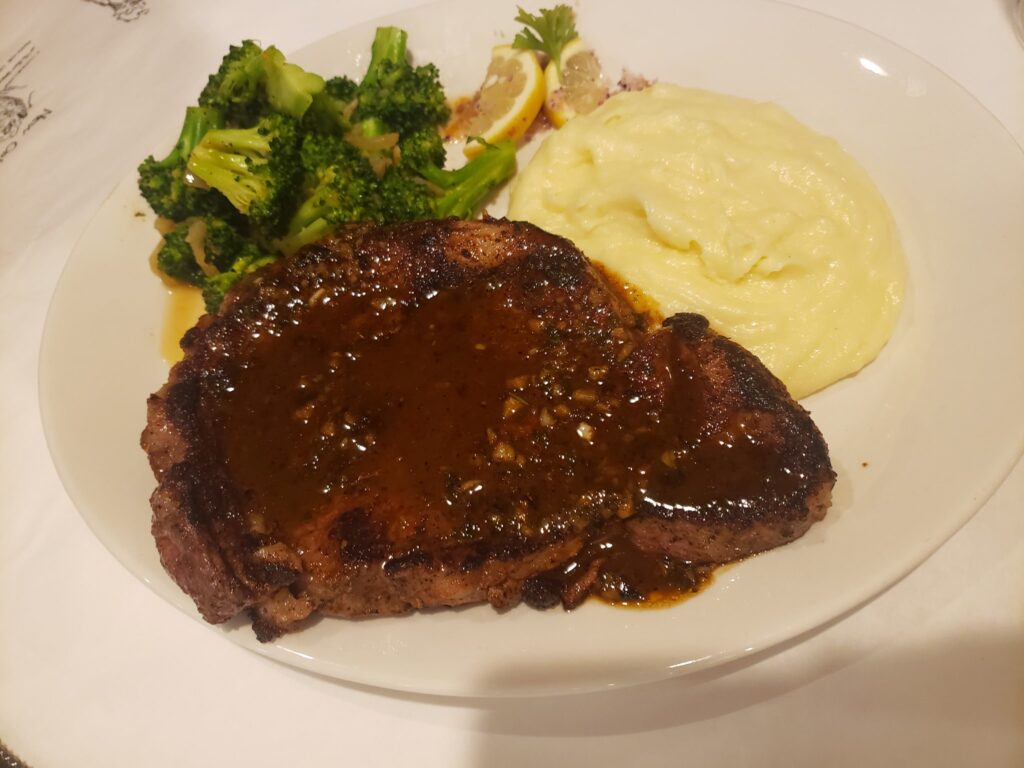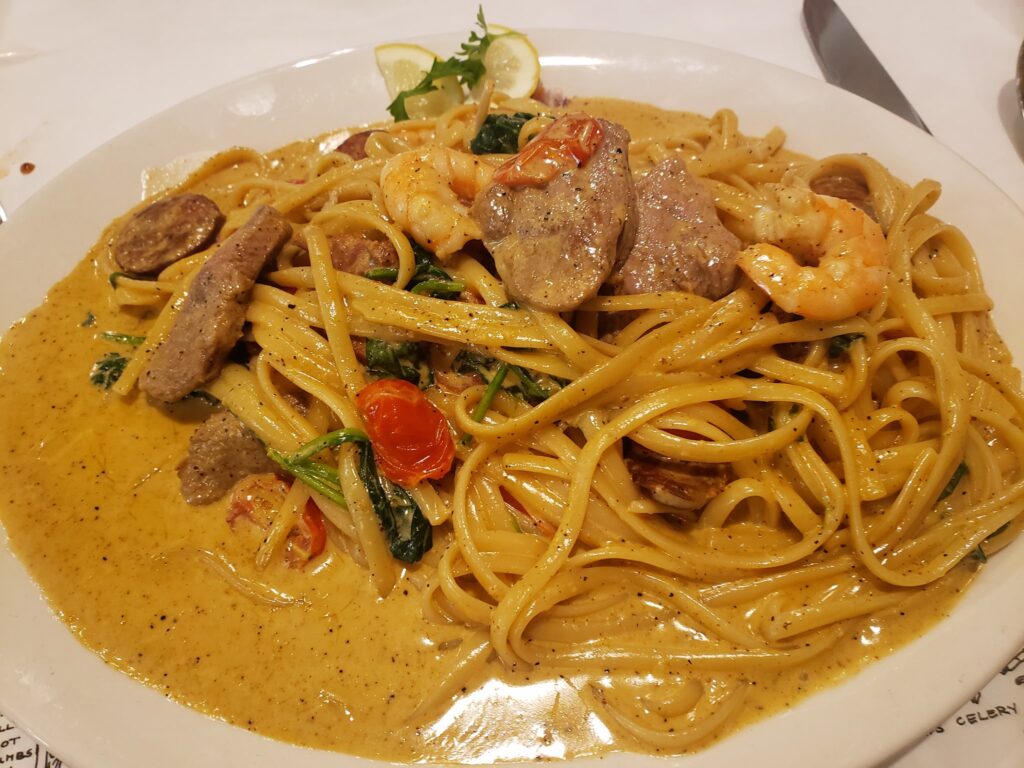 I had their Streetcar with my dinner, which was garnished with cinnamon.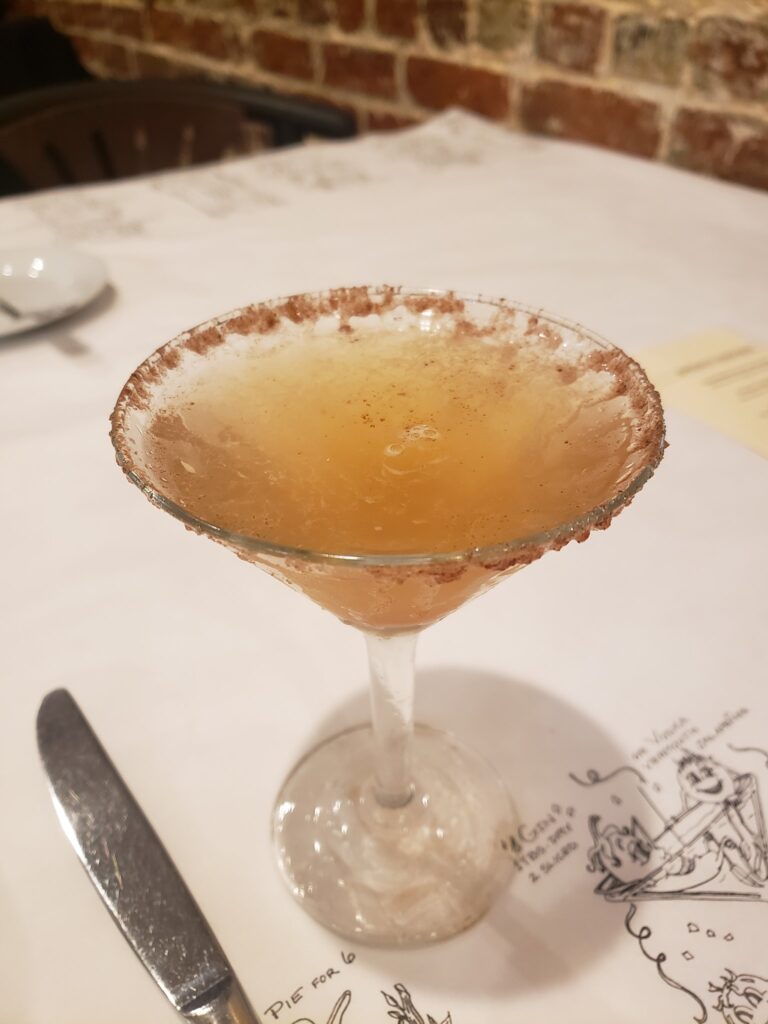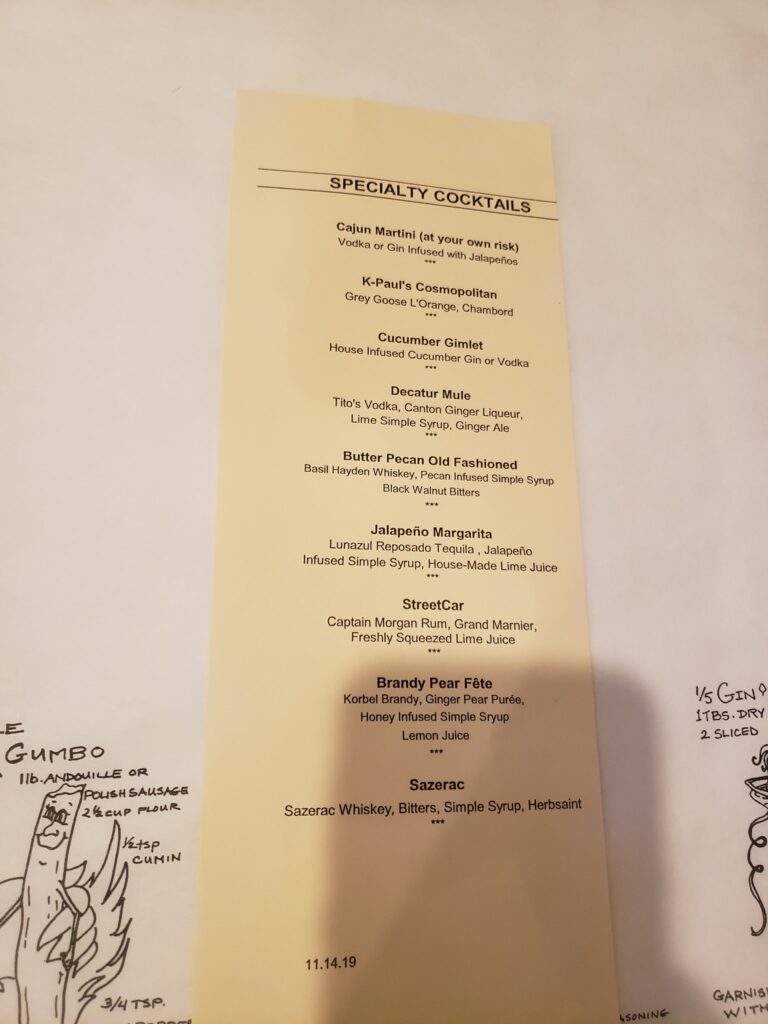 Per our tradition, we enjoyed their version of crème brûlée with a praline bottom. Delicious!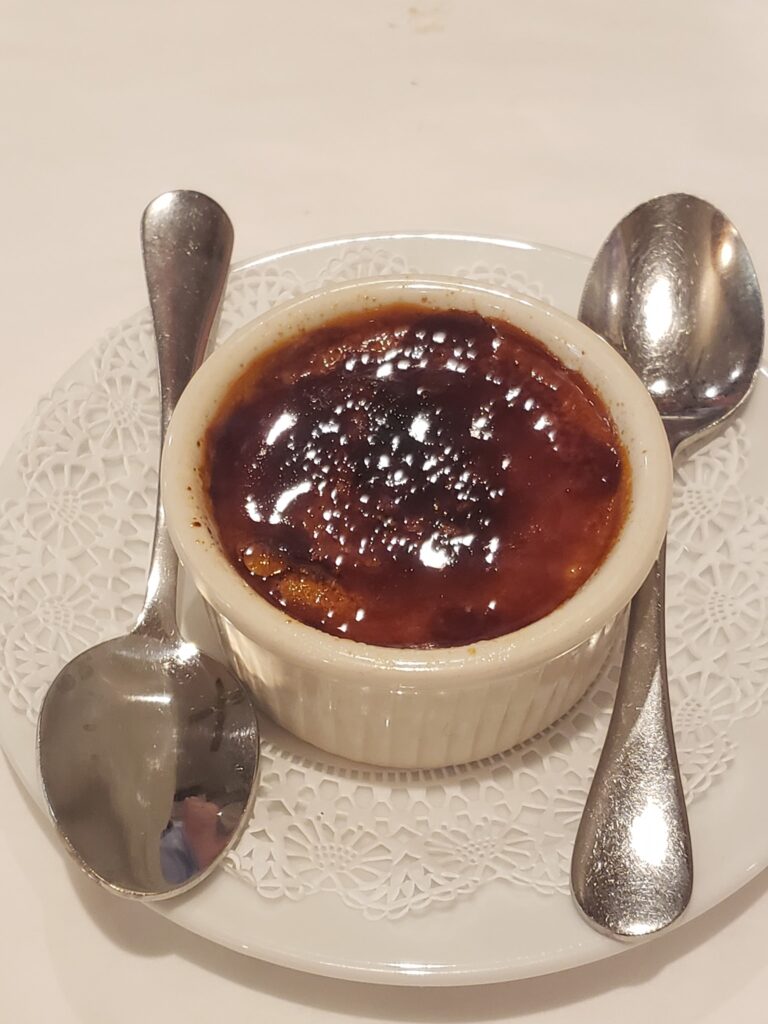 With dessert, I enjoyed a Bailey's Irish Cream Coffee. This was the perfect way to end dinner!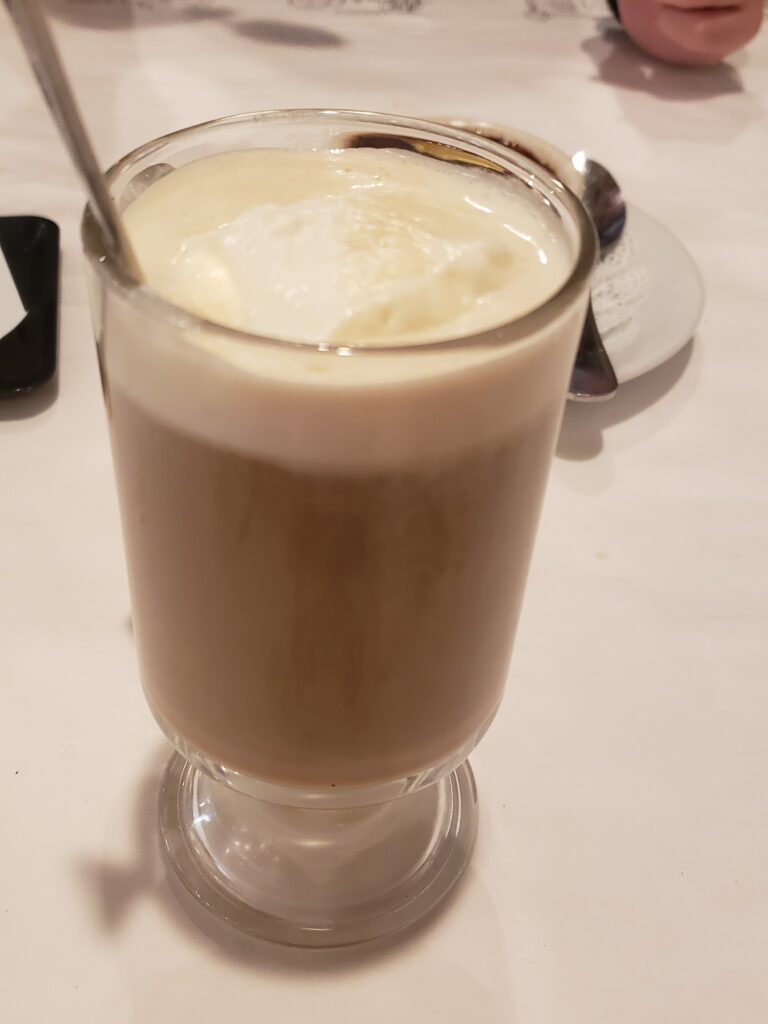 The tablecloths were made from paper and decorated with recipes and fun illustrations to go along with them.
The staff was amazing at the restaurant and I am glad I have had the pleasure of dining at K-Paul's Louisiana Kitchen.
Here's the link to their website for a glimpse into the life and service of the restaurant: http://www.kpauls.com/.
---
What's your favorite restaurant or bakery in New Orleans?
Don't forget to follow for more content!