Road trips can be so much fun, as long as you're comfortable… When planning for a long road trip, it's important that you pack the essentials with you! I've taken quite a few cross country road trips so I hope these items are useful to you as they were to me.
---
Toiletries:
The worst thing about road trips is not being able to use the bathroom as you normally would. Time zones can mess up sleep cycles and when you would be normally going to bed / waking up, so it's nice to have a pack of necessities close to you in the car and not buried in a suitcase in the bottom of the trunk.
Being in a car for hours on end also ends up drying my skin out SO badly. I always make sure to pack some moisturizing products.
Carrying these items will make running into a rest stop much easier!
Mouthwash
Toothbrush
Toothpaste
Floss picks
Deodorant
Moisturizer
Lotion
Hand Sanitizer
Face spray
Tissues
Comb
Hair brush
Scrunchies
Medicines (such as Benadryl, Tylenol/Ibuprofen, Neosporin, Dramamine, etc.
Glasses/ Contacts Necessities
Retainer
All other personal necessities
With the pandemic, everyone is aiming to be more cautious while out and about. I feel that our habits will be continuing with us in the future, so I've included these products for now and in the future (hopefully without the face masks, *fingers crossed*).
Lysol or Clorox Wipes
Gloves
Face Masks
---
On most of my road trips, I ended up staying in a hotel about every other day. I waited to shower until we were at the hotels, but it's nice to have shower gel, shampoo, and conditioner with you for easy access!
Brushing your teeth and using mouthwash can be one of the best ways to rejuvenate feeling (and being) fresh!
Things like having food stuck in your teeth can you make you so uncomfortable. Which is why floss picks (or regular floss) can be so nice to have with you!
---
Travel Paperwork:
Hotel / Airbnb Reservation Paperwork
Passport (if crossing borders)
ID
Map of Route
Emergency Contact Info
---
Entertainment:
Hours and hours on the road can be fun with the right person! After a while though, it can by nice to have a bit of entertainment other than talking and looking out the window. Games, music, mini photoshoots, and more can be perfect to keep the driver and passengers awake and happy!
The Perfect Road Trip Playlist
Phone
Earbuds
Chargers for all devices
Tablet / Handheld Games
Laptop
Camera (extra SD cards, batteries, etc.)
Deck of Cards
Dice
Travel – Sized Games
Books
Crossword puzzles, word searches, sudoku, etc.
P.S. Madlibs can be perfect for a long drive!
When my family goes on road trips we tend to play games based on the scenery. Such as, looking for as many license plates from different states as possible! For some reason, it's exciting to see an Alaska plate in Ohio lol. This can be a lot of fun for little ones while keeping them on the lookout and enjoying the views.
---
Comfort/Miscellaneous:
Neck Pillow
Eye Mask
Jacket
Blanket
Umbrella
Grocery Bags/ Trash Bags
A Folding Fan (It may sound odd, but for those of us who get car sick, a physical cheap little fan can help so much!)
Snacks
Water
Emergency Medical Kit in Car
Pens
Flip Flops (Easy to slip on and off!)
Pairs of comfy pants
Socks
---
There are so many items that you can bring on to a road trip, but I feel that these are items are some of the most necessary and essential things to have. While some of these items aren't necessarily "essential", they can be extremely useful or helpful in keeping awake and still having fun!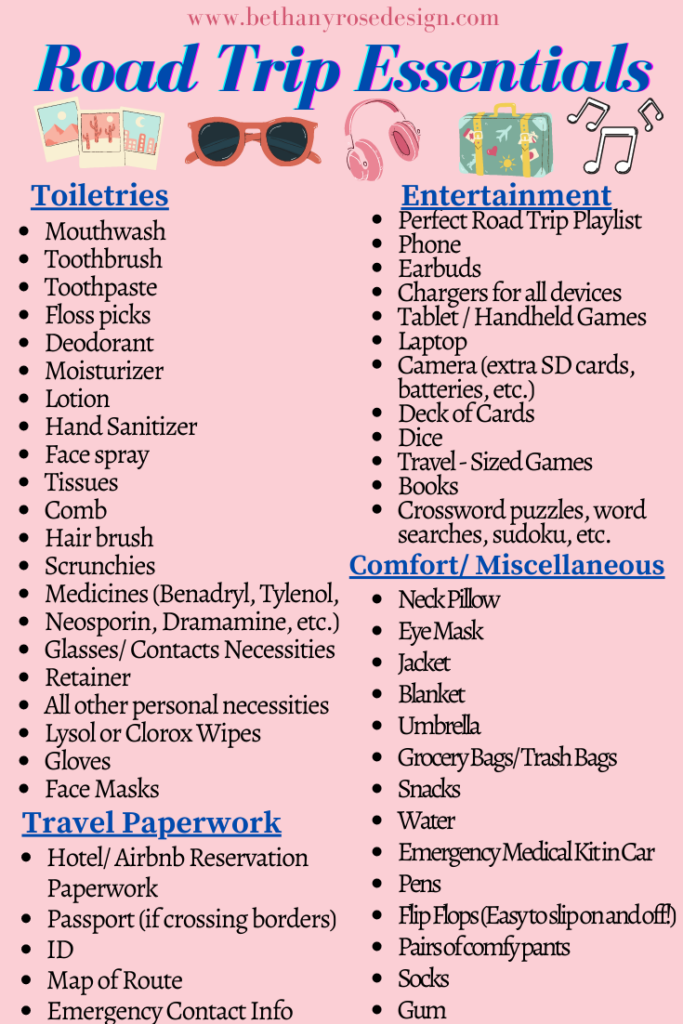 ---
What are your road trip essentials?
Don't forget to follow for more content!