December is only a few days away which means Christmas is on its way!
I typically fill my mom's stocking so I've been thinking over what I'd like to give her. Nothing below is going into her stocking (sorry, mom!); however, I wanted to share these ideas with you!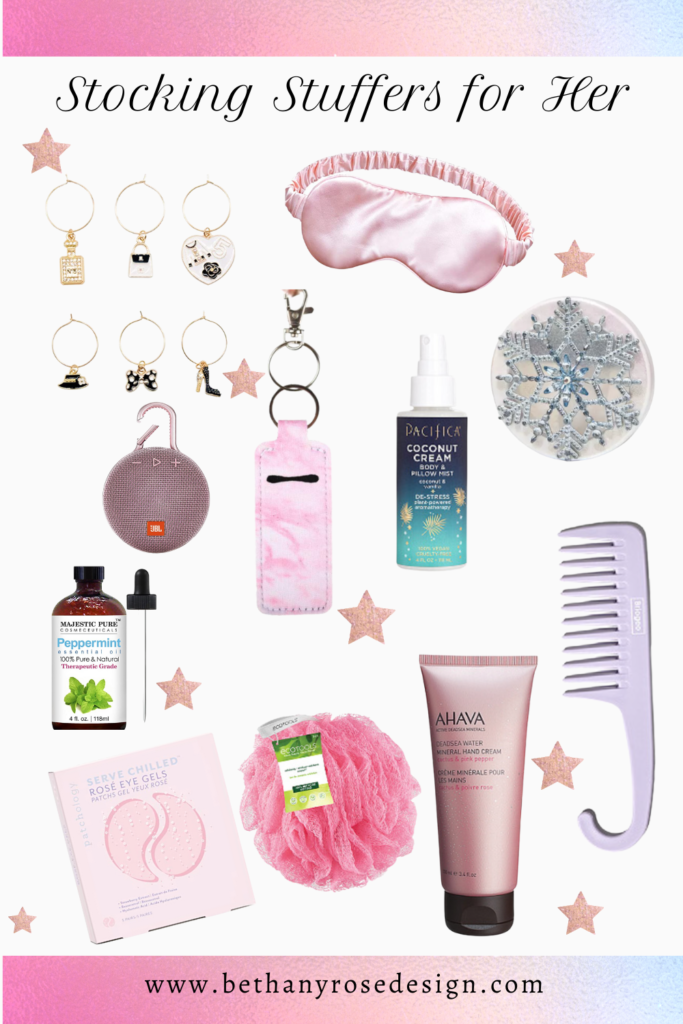 ---
Wine Charms – Sleeping Mask – Portable Speaker – Lip Balm Keychain – Body & Pillow Mist – Car Scent Clip – Peppermint Essential Oil – Comb – Gel Eye Masks – Loofah – Ahava Hand Cream
---
Wine charms make girl's nights so much more fun! Decorating your glass adds some cute décor while also helping to keep track of your drink. There are so many sets out there – this set is one of the girliest that I've seen!
Lotion, body butter, and hand cream are all great winter essentials. They're also so nice to find in your stocking! I love lotion (if you didn't know already from my 24 Things You May Not Know About Me post) and I think it would be so nice to receive lotion in my stocking. I loved using this hand cream from Ahava. It was so nourishing for my skin and smelled refreshing.
I find myself using gel eye masks more often than I ever used to! I love treating myself to a bit of me time – even if it's while I'm doing other things. I wore a similar pair while while washing dishes the other night! LOL.
I'm not one to use essential oils often but I know so many people do! Diffusers are so nice to have on around the holiday season, especially with holiday scents like peppermint. 🙂 This peppermint essential oil can be found on Amazon!
Let me know which stocking stuffer you'd prefer! 🙂 Keep an eye out for more gift guides!
Thanks for reading! ?


---
Follow my accounts below for more content!