My, oh my. Moving…moving…moving.
This week I have been packing my butt off and will continue to do so, as we are moving out this week!!! YAY!!!
---
We are moving from a pretty small condo to a very small cottage. So although we are used to a small space, I am worried that we may not have enough room for our things. So Tim and I have been working on downsizing. I knew we had a good amount of "stuff" but I didn't realize just how much "stuff" we actually have.
So far today, I've packed our entertainment center, our bar cart, and some more of the kitchen. (Tip: Write down everything that you packed into the box onto the outside. Hoping it'll make the unpacking process MUCH easier).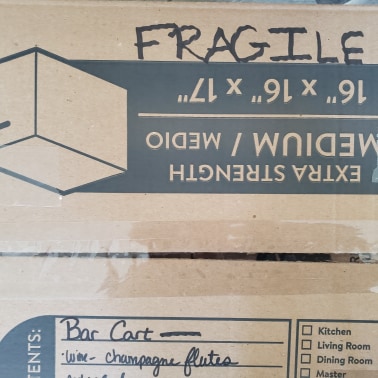 We also had a plumber to come in to fix a leaky faucet – a whole ordeal of its own. We initially had a plumber come in last week to fix the leak. He said he would have to take out the entire shower wall. Talk about nerve wracking.
So we naturally decided to look for a second opinion and thank God we did. What could have been an entire wall removal, was a simple fix that took about an hour and a half. Very thankful that it is all taken care of now!
---
Now, the rest of my day will just consist of packing, packing, & guess what? More packing!
While I pack, I will continue the purging process. What will we actually want and need in the next house? What will we want involved in our new married life? These are the questions I need to consider when packing.
I currently have a "To-Go" / Donate pile sitting on our kitchen table. I've also started going through my clothing. Why pack clothes that I haven't worn in a year? Those will need to go!
---
Once we are in our new home, storage will be a task of its own.
I'll need to follow guidelines like "The Art of Storing Things in Small Spaces" (maybe I should write a book when I get it down? haha). For instance, I was recently told by someone that they hide their sheet pans behind their couch. Something I'll have to keep in mind!
I'm sure Tim and I will become masters to this process in no time.
---
The moving process hasn't been as smooth as I had imagined it to be. Showings, unexpected walkthroughs, plumbing issues, scheduling, and just a lot of loose ends that need to be tied up. We started this process in January and it is now almost the beginning of April. To say I'm relieved is an understatement.
At the same time, it also feels surreal. This is the area that Tim and I have mostly spent our time together in. Today is our last Monday here ever, and we only have about 3 more days left!